It may have looked like I was unplugged from the internet these last few days, but even though I didn't respond to any comments, or write up any posts, or open up Google Reader, or log on to Twitter, I was busy behind the scenes working on my new template any spare minute I had. I'm sure I'll still be tweaking things here and there, and there are other little things I still want to tidy up, or re-organise, but I wanted to share it with you. And well, at last, here it is!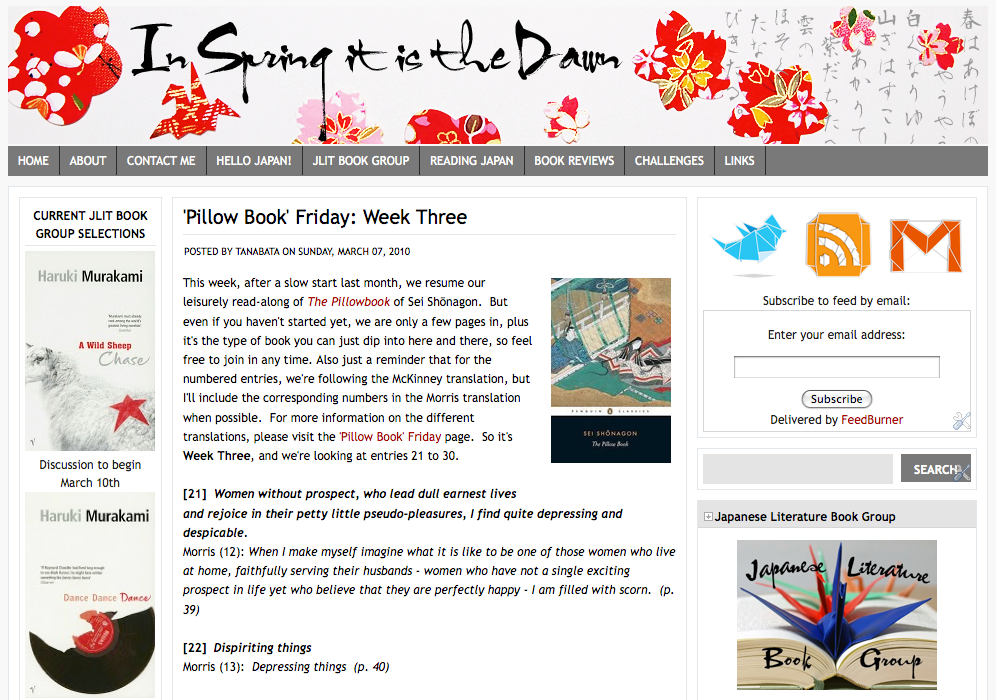 My old template served me well for quite a long time but recently I'd been feeling that my blog was too busy and cluttered, and I longed for something simpler. It didn't end up perhaps as clean and simple as I'd originally wished, because I still wanted to share information about the
Japanese Literature Book Group
and the
Hello Japan! mini-challenge
, highlight some books, and other things, on the main page, but hopefully it does all look a bit more stream-lined. I have taken a lot off the top page too, like the reading challenges I'm participating in, and other various links, so there are definitely fewer images. You can still find those though just by clicking on the appropriate links in the menu bar. The menu is now drop-down so be sure to check it out. For those of you taking part in the
Japanese Literature Read-along
, I've put the link to the schedule under the JLit Book Group tab, and you'll also find links in the sidebar.
Speaking of the sidebar, I have to say a huge thank you to my husband for adding the code for the tabbed sidebar widget, and the cool accordion feature, as well as several other little tweaks here and there. He grumbled a bit dealing with the sometimes difficult blogger restrictions, but I wouldn't have this template looking as it does without his help, and might very well be bald by now from pulling my hair out. Thanks H!
So I hope you enjoy the new look. Please have a look around and let me know what you think. And please let me know if you have any problems navigating, or if anything looks strange. I know of one bug - the code is there in the template but for some reason the Older Posts/Newer Posts links under the main post area aren't showing up properly. I'll have to try to find the problem another day. Does anyone actually use those links regularly? In the meantime, to find my older posts you can always check out my Archives or Labels, or the new Recent Posts widget there in the sidebar. I haven't had a chance to check it in many other browsers yet but for now it seems to be behaving on my Mac using Firefox or Safari.
Updated to add
: I've now checked it out in a couple more browsers. To date, it works fine in Firefox (latest versions) on both Mac and Windows, Safari, and Internet Explorer 8. If you're having problems in IE, it could be the version as some of the older versions,
especially IE6
, are famously buggy. We've also discovered that the Accordion widget doesn't work well in Chrome, and we're looking into it. Please let me know if you continue to have any problems. Thanks.
I'll be back tomorrow to get the post up for the
Japanese Literature Book Group
discussion of
A Wild Sheep Chase
. I have to admit that I'm not very far in to the book and certainly won't finish in time. That's what I get for spending all weekend on the blog, when I should have been reading! But hopefully everyone who has finished will be ready to chat about it, and if you haven't yet finished, then you're not alone. Anyway, see you tomorrow!