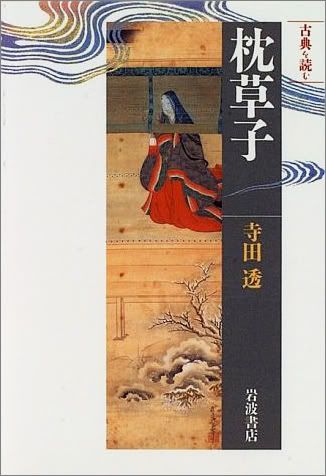 This week we're looking at entries 51 to 60 of
The Pillow Book
of Sei Shōnagon, as presented in the McKinney version. However, as always I've included the corresponding numbers in the Morris translation too, when possible, for those of you reading along with that version. For more information on the different translations, please visit the
'Pillow Book' Friday
page.
Week Six
McKinney: Entries 51 - 60 (p. 53 to 56)
Morris: Entries 36 - 41 (p. 76 to 79)
[51] Page boys - To be properly impressive and delightful, a page boy should be small, and have very neat hair, with a slight glint to it, and a crisp hairline. He should have a pretty voice, and speak decorously and politely.
[52] Ox handlers - An ox handler should be big and well-built and clever-looking, with rather wild hair and a red face.
[53] The nightly roll call of the senior courtiers is a very fine thing.
Morris (36):
The roll-call of the senior courtiers is a delightful event...
[54] It's disgusting when a well-bred young man casually calls out the name of some low-ranking woman he's visiting, in a way that reveals his intimacy with her.
Morris (37):
It is hateful when a well-bred young man who is visiting a woman of lower rank calls out her name in such a way as to make everyone realize that he is on familiar terms with her.
[55] Young people and babies should be plump.
Morris (38):
Small children and babies ought to be plump.
[56] Little children waving quaint toy bows or sticks about in play are wonderfully cute.
Morris (40):
Travelling in my carriage one day...
[57] The central gate of a grand house lies open, and a new palm-leaf carriage, all fresh and shiny, with lovely, glowing maroon-coloured inner blinds, is parked there resting on its shafts, creating a wonderful picture.
Morris (41):
Once when I was passing the house of a certain great man, the central gate was open and I could see a palm-leaf carriage, which was beautiful and new, and had inside blinds of a delightful orange tint.
[58] Waterfalls
[59] Rivers
[60] I do wish men, when they're taking their leave from a lady at dawn, wouldn't insist on adjusting their clothes to a nicety, or fussily tying their lacquered cap securely into place.
My thoughts:
Sei certainly was opinionated and had very specific ideas of how things, or people, should look or behave. In this week's reading she talks about page boys, ox handlers, young children and babies, noting quite specific details on their body shape, hair, complexion, appropriate manners, among other things. Even as her words make me chuckle to myself, I can't help wondering if
anyone
ever measured up to her ideals, other than the Emperor, and Empress, and other high-ranking individuals of course!
Entry [54], in which she complains that it's quite awful for a young man to be so obvious in revealing his intimacy with a woman of lower rank, quite amused me especially as she goes on to say,
"It's much more impressive if he pretends not to have it quite right, even though in fact he knows her name very well."
Ahh, the importance of illusion.
Entry [56] was notable for the fact that the McKinney translation is considerably different from the Morris version. Here are both of them:
Little children waving quaint toy bows or sticks about in play are wonderfully cute. It makes me want to stop the carriage and scoop them up and gaze my fill. And what a delightful whiff of incense from their clothes lingers in the air as the carriage goes on its way again. [McKinney, entry 56]
Travelling in my carriage one day, I passed a gentleman's house where I saw someone (probably a servant) spreading straw mats on the ground. I also noticed a young boy of about ten, with long, attractive hair hanging loosely down his back, and a child of about five whose hair was piled up under his jacket and whose cheeks were rosy. The child held a funny little bow and a stick of some sort. It was quite adorable. How I should have liked to stop my carriage, pick them both up, and take them along!
As I continued on my way, I presently came to another house. They were burning incense, and the air was redolent with its scent. [Morris, entry 40]
Hardly surprising, no original manuscript has survived, and the oldest recognised versions still date to several hundred years
after
Sei wrote her
Pillow Book
. For the most part, Morris and McKinney based their translations on different versions, so it's interesting to see here just how much was perhaps lost over the intervening years.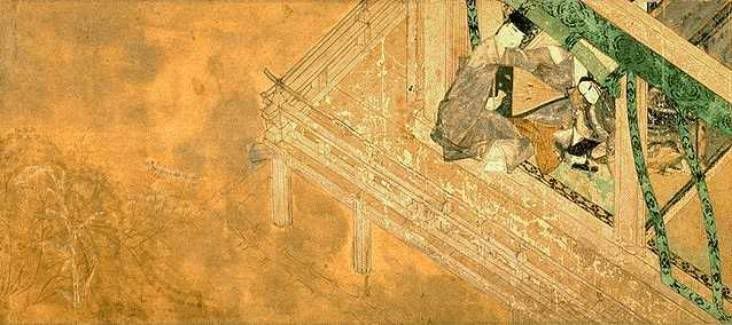 "Yadorigi" (The Ivy), Genji Monogatari Emaki. Heian period/12th century, Tokugawa Art Museum, Nagoya
My favourite entry this week was McKinney entry [60] in which Sei shows her romantic side, describing a lover's departure in the early morning hours.
There he lies, reluctant to move, so that she has to press him to rise. 'Come on, it's past dawn,' she urges. 'How shocking you are!' and his sighs reassure her that he really hasn't yet had his fill of love, and is sunk in gloom at the thought that he must leave. He sits up, but rather than proceeding to put on his gathered trousers he instead snuggles up to her and whispers a few more words from the night's intimacies; then there's a bit more vague activity, and somehow in the process his belt turns out to have been tied. Now he raises the lattice shutter and draws her out with him to the double doors, where he finally slips away, leaving her with assurances that he'll spend the day longing for their next meeting. She sits there watching as his figure disappears, filled with delightful memories. [McKinney, entry 60]
I'm definitely with Sei on this one. Sei then contrasts this scenario to one in which the lover jumps out of bed in a hurry, causes a ruckus as he dresses and gathers up his things, and leaves with a simple, 'Well, I'll be off then'. So, the behaviour of
some
men hasn't changed all that much in the last thousand years! ;)
Any thoughts on this week's entries?
Previous posts
:
Week One (Entries 1-10)
Week Two (11-20)
Week Three (21-30)
Week Four (31-40)
Week Five (41-50)
'Pillow Book' Friday will be taking a week off as next week is Good Friday. Easter isn't celebrated in Japan and we won't be doing anything special here, but I know it's a holiday for many. So we'll continue the read-along in two weeks, on April 9th.
For next time (Friday, April 9th):
McKinney: Entries 61 - 70 (p. 57 - 60)
Morris: Entries 42 - 46 (p. 80 - 82)
[61] Bridges
[62] Villages
[63] Plants
Morris (42):
Herbs and Shrubs
[64] Flowering plants
[65] Poetic anthologies
[66] Topics of poetry
Morris (43):
Poetic Subjects
[67] Disturbing things
[68] Things that can't be compared
Morris (44):
Things that cannot be compared
[69] Summer provides the most delightful setting...
Morris (45):
To meet one's lover...
[70] A man comes calling...
Morris (46):
A lover's visit...
Happy reading!
The small print: Links in this post to Amazon contain my Associates ID. Purchases made via these links earn me a very small commission. For more information visit my About Page.