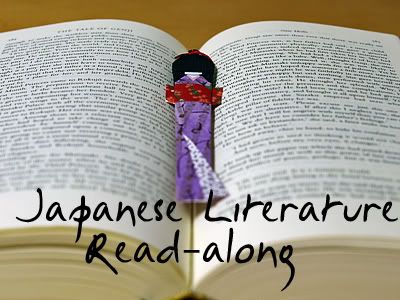 Welcome to the discussion of Book One, the first part of our 3-month read-along, of Haruki Murakami's
The Wind-up Bird Chronicle
.
Book One: The Thieving Magpie (June and July 1984)
takes us to page 172 in the Vintage paperback, both the US and UK editions. For more information on the book editions, and schedule, please visit the
Japanese Literature Read-along
page.
About the Book
The Wind-up Bird Chronicle
(ねじまき鳥クロニクル,
Nejimaki-dori Kuronikuru
) is Haruki Murakami's eighth novel. It was first published in Japan in 3 volumes, which constitute Books One to Three, in 1994-5. It was translated from the Japanese by Jay Rubin, and published in English in 1997. It received the
Yomiuri Prize for Literature
in 1995, and was a finalist for the
International IMPAC Dublin Literary Award
in 1999.
From the back cover:


Japan's most highly regarded novelist now vaults into the first ranks of international fiction writers with this heroically imaginative novel, which is at once a detective story, an account of a disintegrating marriage, and an excavation of the buried secrets of World War II.

In a Tokyo suburb a young man named Toru Okada searches for his wife's missing cat. Soon he finds himself looking for his wife as well in a netherworld that lies beneath the placid surface of Tokyo. As these searches intersect, Okada encounters a bizarre group of allies and antagonists: a psychic prostitute; a malevolent yet mediagenic politician; a cheerfully morbid sixteen-year-old-girl; and an aging war veteran who has been permanently changed by the hideous things he witnessed during Japan's forgotten campaign in Manchuria.

Gripping, prophetic, suffused with comedy and menace, The Wind-up Bird Chronicle is a tour de force equal in scope to the masterpieces of Mishima and Pynchon.
Other sources of information on
The Wind-up Bird Chronicle
:
Review in The New York Times
Exorcising Ghosts
Wikipedia entry
For more information on the author, check out the following links:
Murakami: Titan of postwar literature
(The Japan Times)
Marathon Man
(The Guardian)
Jazz Messenger
(The New York Times)
Wikipedia entry
Discussion Questions
For the sake of those following the read-along schedule, we will only be discussing Book One this month. If you have finished reading the book, or have read it previously, please consider those that haven't. Spoilers are fine for Book One, but please don't spoil the rest of the book. Thank you!
Of the more 'scholarly' discussion questions that I found online, most of them refer to the complete book so we'll perhaps take a look at those for the discussion of Book Three. So if you have any questions pertaining to Book One, please feel free to jump in and ask.
As always, the questions below are just a guide to start the conversation. Answer those that interest you, or ask any other questions that you may have about the book. Also, if you haven't had a chance to start reading yet, you're welcome to post your thoughts or comments any time.
What do you think of the story so far?
What are your initial impressions of Toru Watanabe?
What do you think of the other characters we're introduced to in Book One?
There are quite a few unusual names and nicknames for major and minor characters. Do you think the choice of names is important?
Do you have any favourite passages, or scenes, in Book One?
How does Lieutenant Mamiya's story of the war in Manchuria fit with the rest of the narrative?
What do you think is the significance of the empty box that Toru gets from Mr. Honda (at the end of Book One)?
What do you think of the translation? Does it read smoothly?
Are you looking forward to reading on? Any guesses on where the story will go from here?
(Your question here...)
The following have shared their thoughts on
The Wind-up Bird Chronicle
:
We Be Reading
(Book One)
Polishing Mud Balls
(Book One)
Dolce Bellezza
(review)
su[shu]
(review)
If you have posted about Volume One on your own blog, or a spoiler-free review of the book as a whole, please leave a link in the comments and I'll update this post so that we can all visit.
Also, just a reminder that we'll begin discussing Book Two of
The Wind-up Bird Chronicle
on April 15th, and Book Three on May 15th.
In the meantime, happy reading and discussing!
The small print: Links in this post to Amazon contain my Associates ID. Purchases made via these links earn me a very small commission. For more information visit my About Page.