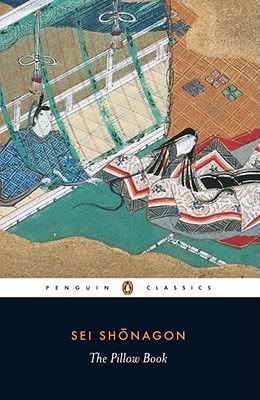 This week we're looking at entries 81 to 90 in the McKinney translation of
The Pillow Book
of Sei Shōnagon. However, as always I've included the corresponding entry numbers in the Morris version too, when possible, for anyone reading along with that version. For more information on the different translations, please visit the
'Pillow Book' Friday
page. Don't hesitate to jump in anytime, whether you've read along from the start, or not. Or if you're not reading along because you've read the book previously. It's the kind of book that can easily be dipped into here and there, and I'd love to hear your thoughts on Sei's rants and musings.
Week Nine
McKinney: Entries 81 - 90 (p. 75 - 94)
Morris: Entries 55 - 62 (p. 99 - 116)
[81] After our visit to the Guard Office, I went back to my home, and had spent some time there when a letter came informing me that Her Majesty wished me to come at once.
Morris (55):
Then a few months after our visit to the Guard-house...
[82] Once when Her Majesty was in residence in the Office of the Empress's Household, a Continuous Sutra Reading took place in the western aisle.
Morris (56):
Once when Her Majesty was residing in the Empress's Office...
[83] Splendid things
Morris (57):
Splendid Things
[84] Things of elegant beauty
[85] When Her Majesty provided the Gosechi dancers, she sent twelve lady attendants.
[86] Another elegant sight is of a handsome serving man walking past bearing a ceremonial narrow-bladed sword with flat-weave ceremonial cord attached.
[87] At the time of the Gosechi Festival somehow everything in the palace, even the people you see every day, becomes simply delightful.
[88] One day His Majesty brought along a biwa called 'Nameless', which we ladies could examine and try out.
Morris (58):
One day when the Emperor visited Her Majesty's rooms...
[89] I remember an occasion before the blinds of Her Majesty's apartment when the senior courtiers spent the whole day playing the koto and the flute.
Morris (59):
A group of senior courtiers...
[90] Infuriating things
Morris (62):
Annoying Things
My thoughts
I don't really have much to say on this week's entries. Again, some interesting accounts of life at court but I have to admit that I do sometimes get tired of her very detailed descriptions of clothing, and going into detail about all the colours and layers and whatnot. As always though some astute observations that still ring true today. So instead of any further comments from me this week I thought I'd simply quote a few lines along with a couple of photos.
Long, richly coloured clusters of wisteria blossom hanging from a pine tree. [McKinney: Entry 83, Splendid things]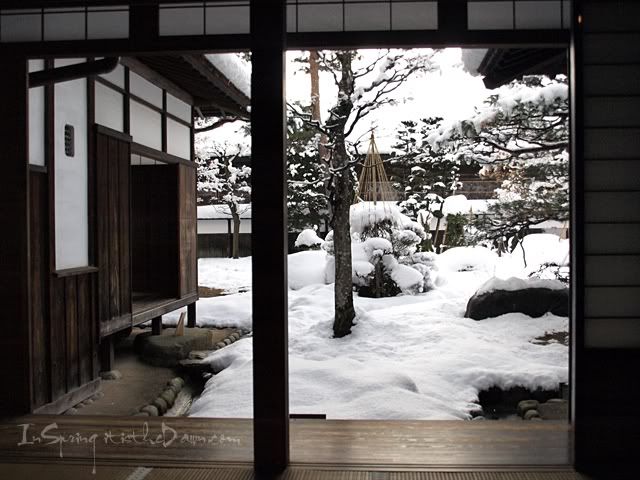 Snow lying thick in a garden. [McKinney: Entry 83, Splendid things]
This is nothing like what Sei would've seen in the grounds of one royal Palace or another, and this particular view would most likely never have made it on her list of 'Splendid things', but her note did remind me of our visit to snowy Takayama in January of 2008.
A bound book of fine paper. [McKinney: Entry 84, Things of elegant beauty]
I have a definite weakness for beautiful books, and I'm sure many book bloggers and bibliophiles would agree with me.
Thinking of one or two changes in the wording after you've sent a message to someone, or written and sent off a reply to someone's message. [McKinney: Entry 90, Infuriating things]
You can't tell me you've never sent off an email, or text, or tweet, and just as you've done so wished you'd worded it a little differently! I know I certainly have!
For next week:
[91] Things it's frustrating and embarrassing to witness
Morris (63):
Embarrassing Things
[92] Startling and disconcerting things
Morris (64):
Surprising and Distressing Things
[93] Regrettable things
[94] At the time of the Abstinence and Prayer of the fifth month...
Morris (65):
It was during the Abstinence of the Fifth Month...
[95] It was while we were in the Office of the Empress's Household...
Morris (66):
It was a clear, moonlit night...
[96] There was a large and distinguished gathering...
Morris (67):
One day when there were several people in the Empress's Presence...
[97] The Counsellor paid a visit...
Morris (68):
His Excellency the Middle Counsellor...
[98] One wet day during the endless rains...
Morris (69):
Once during a long spell of rainy weather...
[99] There could be no more splendid celebrations...
Morris (70):
When the Lady of the Shigei Sha entered the Crown Prince's Palace...
[100] A branch of plum from which the blossoms had fallen...
Previous posts
:
Week One (Entries 1-10)
Week Two (11-20)
Week Three (21-30)
Week Four (31-40)
Week Five (41-50)
Week Six (51-60)
Week Seven (61-70)
Week Eight (71-80)
Happy reading!
The small print: Links in this post to Amazon contain my Associates ID. Purchases made via these links earn me a very small commission. For more information please visit my About Page.