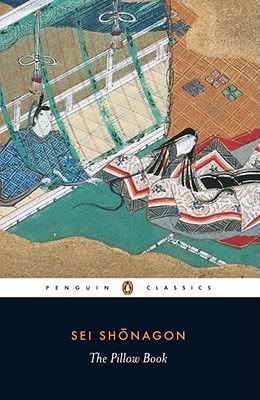 This week we're looking at entries 91 to 100 in the McKinney translation of
The Pillow Book
of Sei Shōnagon. However, as always I've included the corresponding entry numbers in the Morris version too, when possible, for anyone reading along with that version. For more information on the different translations, please visit the
'Pillow Book' Friday
page. Don't hesitate to jump in anytime, whether you've read along from the start, or not. Or if you're not reading along because you've read the book previously. It's the kind of book that can easily be dipped into here and there, and I'd love to hear your thoughts on Sei's rants and musings.
Week Ten
McKinney: Entries 91 - 100 (p. 95 - 113)
Morris: Entries 63 - 70 (p. 117 - 134)
[91] Things it's frustrating and embarrassing to witness
Morris (63):
Embarrassing Things
[92] Startling and disconcerting things
Morris (64):
Surprising and Distressing Things
[93] Regrettable things
[94] At the time of the Abstinence and Prayer of the fifth month, when Her Majesty was residing at the Office of the Empress's Household, the space between the pillars in front of the Retreat Room was made over for use as a prayer area, which gave it quite a special feel.
Morris (65):
It was during the Abstinence of the Fifth Month...
[95] It was while we were in the Office of the Empress's Household, a brilliantly moonlit night close to the full moon of the eighth month.
Morris (66):
It was a clear, moonlit night...
[96] There was a large and distinguished gathering at Her Majesty's, of various family members, nobles and senior courtiers.
Morris (67):
One day when there were several people in the Empress's Presence...
[97] The Counsellor paid a visit, and presented Her Majesty with a fan.
Morris (68):
His Excellency the Middle Counsellor...
[98] One wet day during the endless rains, Her Majesty received a visit from Aide of Ceremonials Nobutsune, who was bearing a message from the Emperor.
Morris (69):
Once during a long spell of rainy weather...
[99] There could be no more splendid celebrations conceivable than those around the time when the Shigeisa entered the court of the Crown Prince.
Morris (70):
When the Lady of the Shigei Sha entered the Crown Prince's Palace...
[100] A branch of plum from which the blossoms had fallen arrived one day from the Privy Chamber, with the message: 'What do you make of this?'
My thoughts
I have to admit to occasionally getting a little confused about who's who. Grand Chancellor this, and His Excellency that, and what the relationships are between some of them. And I often wish I could see pictures of these people as Sei describes them. To see and understand clearly the specifics of the clothing, behaviour and so on. Ah, to be a fly on the wall in the court of the Heian era Japan ...
The Shigeisa was further to the northern end of the room facing south towards me. She was dressed in layer upon layer of gowns in lighter and darker shades of plum-pink, with over this a rich damask gown. Her formal over-robe was of a reddish maroon figured silk, and the uppermost layer was a heavy brocade in spring-shoot green, which produced a beautifully youthful impression. I was deeply impressed with the way she sat throughout with her fan shielding her face, and I must say I found her utterly splendid and wonderful. [McKinney, entry 99]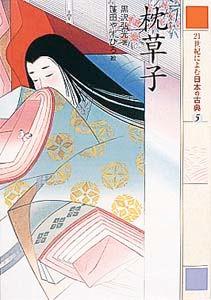 Speaking of relationships, this week's entry [99] was quite a fascinating account of a formal meeting of the Empress, her parents, and a younger sister who had just become the consort of the Crown Prince. It was fascinating in that this was a gathering of close family members but due to their different positions and places of rank, they could only follow certain levels of formality in their manner and dress. Also a not-so-subtle reminder of the fact that women were, and still are in many respects, expected to be submissive to men. In other words, you may be an Empress, but when the Emperor beckons, you obey. I suppose this is not so different from other cultures, times, and other royal families. Henry the VIII comes to mind.
Muma no Naishi later arrived bearing a message from the Emperor to say that Her Majesty's presence was required there that evening.
'Oh dear, I really can't tonight,' Her Majesty grumbled, but her father heard this and berated her roundly. 'How shocking of you!' he declared. 'You must go at once.' [McKinney, entry 99]
I also quite enjoyed entry [94] in which Sei recounts an outing to the countryside. It was fun to read about something other than the usual goings on in this or that palace.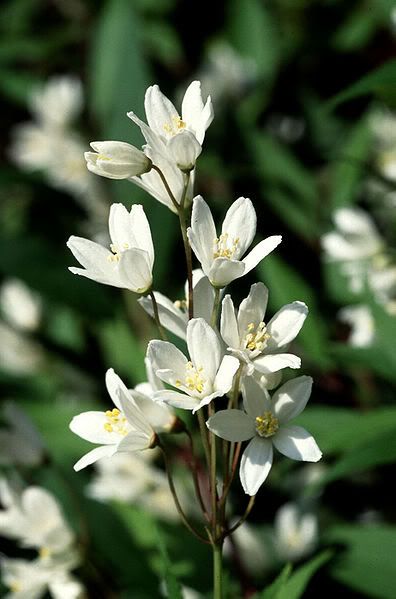 Noticing masses of white deutzia blossom along the way, we got our men to pick great sprays of it, and threaded all the blinds and sides of the carriage with flowers, and thatched the roof and ridgepole with long stems of it, till the whole carriage looked just like a hedge of flowering deutzia attached to an ox. The men were full of laughter as they helped each other poke more sprays in here and there, with cries of 'There's a gap here!' 'And here's another!' [McKinney, entry 94]
Like McKinney states in the endnote, this entry [94] also "illustrates the important role played by both occasional and formal poetry composition in the court." Not being very poetic, I don't think I'd do well in an environment that required regular poetry composition! It kind of blows my mind though thinking about how cultured and literate they were 1000 years ago!
Deutzia image courtesy of
wikipedia commons
.
Notice regarding the schedule
: I'm going to move to bi-weekly posting instead of weekly. I'll still follow the same general pace of 10 entries per week, therefore discussing 20 entries every 2 weeks, and still on Fridays. So the next 'Pillow Book' Friday post will be McKinney entries 101 to 120, on May 14th. For the Morris equivalent entries see below. Also, please note that I'll be taking 2 weeks off due to Book Expo America and Book Blogger Con so the next post after May 14th will be on Friday, June 11th. This would be a good chance for anyone to catch up in their reading. (Hint, hint!) You can check out the rest of the schedule on the main
'Pillow Book' Friday
page.
For next time (May 14th):
McKinney: Entries 101 - 120 (p. 113 - 127)
Morris: Entries 71 - 80 (p. 135 - 145)
[101] Around the end of the second month...
Morris (71):
On the last day of the Second Month...
[102] Things with far to go
[103] Masahiro is a great laughing-stock
Morris (72):
Masahiro really is a laughing-stock
[104] Things that are distressing to see
[105] Things that are hard to say
[106] Barrier gates
[107] Forests
[108] Plains
[109] Around the end of the fourth month...
Morris (73):
On the last day of the Fourth Month...
[110] Common things that suddenly sound special
[111] Things that lose by being painted
Morris (74):
Things that lose by being painted
[112] Things that gain by being painted
Morris (75):
Things that gain by being painted
[113] Winter is best when it's fearfully cold...
[114] Moving things
[115] It's delightful to be on retreat at a temple...
Morris (77):
In the First Month when I go to a temple...
[116] Deeply irritating things
[117] Miserable-looking things
[118] Things that look stifingly hot
Morris (78):
Things that give a hot feeling
[119] Embarrassing things
Morris (79):
Shameful Things
[120] Awkward and pointless things
Morris (80):
Things that have lost their power
*Please note that I couldn't find the equivalent in the McKinney for Morris entry 76.
Previous posts
:
Week One (Entries 1-10)
Week Two (11-20)
Week Three (21-30)
Week Four (31-40)
Week Five (41-50)
Week Six (51-60)
Week Seven (61-70)
Week Eight (71-80)
Week Nine (91-100)
Happy reading!
The small print: Links in this post to Amazon contain my Associates ID. Purchases made via these links earn me a very small commission. For more information please visit my About Page.