Yay! It's time for the spring edition of
Dewey's 24 Hour Read-a-thon
! I think this is the 4th time I'm joining in, although with the time difference and everything I've never stayed up for the whole 24 hours, and this time will be no different. It's a little past 9PM here in Japan, and I'm already quite tired as we spent the afternoon out with our cameras, admiring some weeping cherry trees in full bloom. I literally just finished dinner a few minutes ago. Plus it's been a busy week, and I haven't really had enough sleep the last few days in a row, so I'm not sure how long I'll last today. I'll definitely be reading most of Sunday (Japan time) though, which works out to the second half of the official read-a-thon hours. So if I disappear for a while, I will return.
Where are you reading from today?
Tokyo, Japan
3 facts about me …
I haven't had coffee in months! I miss it but my body doesn't. It's a good thing I love tea.
I can't imagine life without my books (of course!), my laptop, my camera, and my iPhone. When did I become such a geek? ;)
I have enough unread books in the house to keep me reading for several YEARS! But shhhhhhh don't tell my husband.
How many books do you have in your TBR pile for the next 24 hours?
In keeping with my "just go with the flow" mood for this read-a-thon, I haven't even put together a specific stack of books. My priority is to read Book Two of
The Wind-up Bird Chronicle
by Haruki Murakami for the discussion next week. I'd also like to read
Hotel Iris
by Yoko Ogawa. And I have some manga on hand that I expect I may get into once I get tired. I have plenty of other books to choose from too, either books to read for review commitments or just for fun. I'll just see how it goes.
Do you have any goals for the read-a-thon (i.e. number of books, number of pages, number of hours, or number of comments on blogs)?
Nope. I've usually had book or page goals for each of the previous read-a-thons that I took part in but this time I'm not going to worry about the numbers. I'll post an update every few hours. My main goal this weekend is to spend some quality time reading, to enjoy the community aspect, and most importantly, to have fun!
If you're a veteran read-a-thoner, Any advice for people doing this for the first time?
To have a successful read-a-thon, you should:
Read a few short books. It's hard to stay focused on one long, thick book.
Read manga, graphic novels, books with illustrations when you're starting to get sleepy, or your eyes are feeling tired.
Move around every so often.
Wear comfy clothes.
Eat healthy foods along with those yummy snacks.
Take photos of your books, your snacks, your reading spot, etc.
Update your blog so we know how you're doing.
Tweet your progress. Use the hashtag #readathon.
Stop by the official
24 Hour Read-a-thon blog
.
Participate in some mini-challenges if you're so inspired.
Cheer on some of your fellow read-a-thoners.
Sleep if you need to.
Have fun!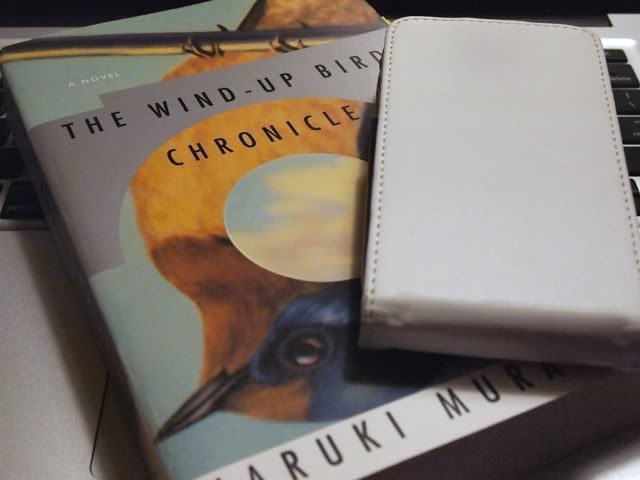 Anyway, now I'm off to read and will check in here in a few hours. I've got my book - I'm starting off with
The Wind-up Bird Chronicle
. I've got my iPhone (for tweeting purposes). Got my laptop. And the kettle is boiling. Happy read-a-thoning everyone!
The small print: Links in this post to Amazon contain my Associates ID. Purchases made via these links earn me a very small commission. For more information please visit my About Page.