It's now 5:30 PM on Sunday here in Japan. So what have I been doing since my update this morning? Well, ummm... I was reading
The Wind-up Bird Chronicle
. On the sofa. I started feeling sleepy again, and somehow I ended up taking a nap. For THREE HOURS! That's in addition to sleeping about 6 hours last night. Ooops! When I woke up I decided to exercise to get some energy and switched to listening to the audiobook of
The Good Man Jesus and the Scoundrel Christ
by Philip Pullman, which I just finished a little while ago. Yay! Ok, I was about halfway into it already but it's nice to finish at least one book this weekend. I'm going to spend some time online now visiting some read-a-thoners! I feel like I've completely missed out on the community aspect this time around from sleeping during most of it, not doing any mini-challenges, and not getting around to cheer on other readers. Oh well, I hope my
#readathonfail
has been
#readathonwin
for everyone else! :)
Time Spent Reading (since last update)
: 1 Hr 20 Min. reading + 1 Hr 30 Min. audio
Pages Read (since last update)
: 48 + approx. 100 pages*
*I read and listened to
The Good Man Jesus and the Scoundrel Christ
with the
Enhanced Edition
on my iPhone which doesn't list page numbers, but rather the percentage of the book you've read so far, including extras. I started reading it earlier in the week and when I began today I was 55% into the book. Amazon.com lists the hardcover at 256 pages, so I'm purely guessing that the story equivalent that I listened to today would be about 100 pages.
Total Time Spent Reading
: 2 Hr 50 Min. (+ 1 Hr 30 Min. audio)
Total Pages Read
: 88 (+ approx. 100 = audio equivalent)
Books Completed
: 1 (
The Good Man Jesus and the Scoundrel Christ
by Philip Pullman)
Currently reading
: Blogs,
The Wind-up Bird Chronicle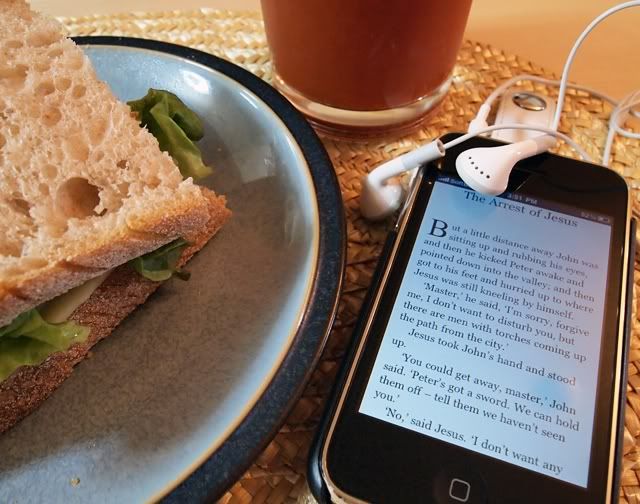 Food/Drink Consumed
: Lunch = a sandwich, vegetable juice, and a handful of salt and vinegar chips. Now drinking a mug of milky tea.
Keep on reading on!
The small print: Links in this post to Amazon contain my Associates ID. Purchases made via these links earn me a very small commission. For more information please visit my About Page.