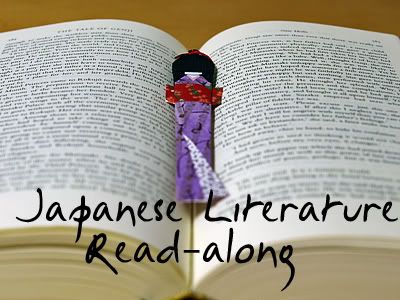 Welcome to the discussion of Book Two, the second part of our 3-month read-along, of Haruki Murakami's
The Wind-up Bird Chronicle
.
Book Two: Bird as Profit (July to October 1984)
takes us up to page 338 in the Vintage trade paperback, both the US and UK editions. For more information on the book editions, and schedule, please visit the
Japanese Literature Read-along
page. For more information about the book, please refer to
The Wind-up Bird Chronicle - Book One Discussion
post.
Since I posted the summary and basic information about the book last month, let's just jump to the discussion. The questions below are simply a guide to start the conversation. Please feel free to discuss any of the questions below that interest you, or bring up any other questions or comments that you have about Book Two, or the story so far. Anyone is welcome to join in the discussion whether they're reading along, or have read the book previously. However, if you have already read the entire book, please be mindful of any participants that have not yet read Book Three. On the other hand, for anyone who has not yet read to the end of Book Two,
please be aware that the questions and comments may contain spoilers
.
Discussion Questions
What did you think of Book Two? Were you surprised by anything that happened?
Do you have any favourite passages, or scenes, from Book Two?
What do you think caused the mark on Toru's face?
What did you think of Kumiko's letter? Toru's experience in the well? Creta Kano's story?
How do you feel about how Book Two ended? Murakami originally intended for the story to end with Book Two. It was only as a response to the complaints of fans that the book was not properly finished, that he wrote Book Three. How would you feel if the story stopped here?
Where do you think the story will go from here? What would you like to see happen in Book Three?
Plus a few questions taken and adapted from the
Random House Reading Guide
.
The Wind-up Bird Chronicle deals with other worlds or realities. This is traditionally seen as the domain of fantasy and fairy tale, but also of horror. Do you feel there is a distinct division between these categories? What other genres could The Wind-up Bird Chronicle fit into?
Toru is trying to decide what to do with his life after quitting his job, and is being constantly challenged as he encounters new people on his journey. What effect does this have on the main character? How far do you consider this story to be one of self-discovery?
Many of the twists and turns of the storyline surprise the protagonist, and at times his journey seems to have no clear purpose. To what extent are the various characters in control of the events that involve them? Such as Toru's consciousness being accessed by Creta Kano. Toru's access to the mysterious hotel is restricted. What effect does this partial revelation have on him and on the reader?
Only a few characters are aware of the wind-up bird in Murakami's novel, and Toru's first quest is a search for a missing cat. What role do animals play in the novel? Do you think they are symbolic?
(Your question here...)
The following have shared their thoughts on
The Wind-up Bird Chronicle
:
We Be Reading
(Book One)
We Be Reading
(Book Two)
Polishing Mud Balls
(Book One)
Dolce Bellezza
(review)
su[shu]
(review)
If you have posted about Book Two on your own blog, or a spoiler-free review of the book as a whole, please leave a link in the comments and I'll update this post so that we can all visit.
Also, just a reminder that we'll begin discussing Book Three of
The Wind-up Bird Chronicle
on May 15th.
Book Three: The Birdcatcher (October 1984 to December 1985)
takes us from page 339 to the end of the book. I look forward to picking up the book again next month to finish it off, but in the meantime, I'm eager to hear your thoughts on Book Two!
The small print: Links in this post to Amazon (including book covers) contain my Associates ID. Purchases made via these links earn me a very small commission. For more information please visit my About Page.