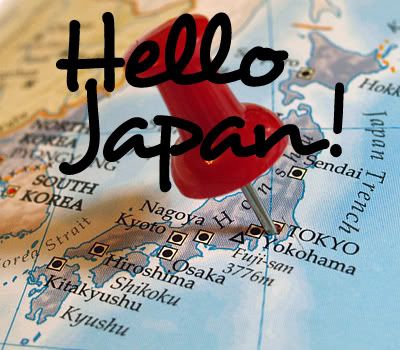 Thanks to everyone who took part in the
Hello Japan! mini-challenge
last month.
April's Hello Japan! task
was to celebrate spring, in particular the much-beloved
sakura
, and I think we had a nice variety of posts, from books to art to sweets. If you haven't yet please visit the links below, they'll surely put you in a spring-like mood!
Harvee of
Book Dilettante
reviewed The Old Capital by Yasunari Kawabata
in which cherry blossom viewing plays a role in the story.
Tony of
Tony's Reading List
reviewed Hokkaido Highway Blues by Will Ferguson
(also known as
Hitching Rides with Buddha
). A travel memoir of one ex-pat Canadian hitchhiking his way across Japan to follow the cherry blossom front as it moved north.
Teresa
's son recently moved to Japan and she shared some
photos of the sakura in his neighborhood
. (Scroll down to read her full comment).
gnoegnoe of
Graasland
had
a hanami party in the Amsterdam Woods
. Such pretty blossoms and yummy looking food! Gnoe also posted
photos of her sakura collection
from chopsticks to ice cube molds and many others lovely things.
Novroz of
Novroz' Favorite Things
highlighted some
beautiful sakura art
from the site, Deviantart.
Velvet of
vvB32 Reads
, in her
ode to all things sakura
, showcased some
sakura
art found on etsy, and in other places, along with some
sakura haiku
.
Sakura of
chasing bawa
tells
the story of her name
, and shares a special spring treat,
sakura mochi
. Sakura also
showcased the blog, she who eats
, which has some wonderful photos of
sakura
sweets to tempt you.
Linda P
shared with us a poem from the book
Geisha
by Liza Dalby.
In the chapter she explains the meaning of sakura and describes Sukurako a young Shimbashi geisha who entered the profession in the spring of 1975.

Sakura, sakura,
When is it that people
Gad about under the cherry?
From the end of March
To the middle of April,
it's nothing but
Bloomin' blooms of
Sakura.
(Scroll down to read the rest of her comment).
Claire of
Paperback Reader
stopped by Selfridges department store for their special celebration of all things Japanese last month and came away with some Japanese-inspired confectionary.
Cherry blossom cupcake, anyone
?
As for me, I had a
sakura-flavoured bagel
during the read-a-thon, and posted a couple of
photos of a weeping cherry tree
. And I have a couple of other photos to share with you soon that I didn't get around to posting last month. The
sakura
blossoms may be gone in real life but it's never too late, right?
April's Prize was this set of
sakura
tea, which includes two tea bags each of
sakura
green tea,
sakura
black tea, and
sakura hojicha
(a type of roasted green tea). Everyone who submitted a post or comment, and was mentioned above (except for me), was eligible for the prize. The names were input into random.org, and the winner of the tea is ...
gnoegnoe
! Congrats! I hope you enjoy the tea.
Stay tuned, the May mini-challenge will be up soon. So sorry for the delay.
The small print: Links in this post to Amazon contain my Associates ID. Purchases made via these links earn me a very small commission. For more information visit my About Page.