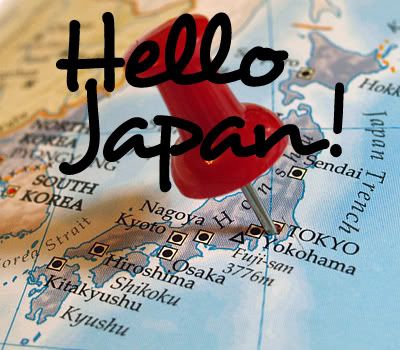 Hello Japan! is a monthly mini-challenge focusing on Japanese literature and culture. Each month there will be a new task which relates to some aspect of life in Japan. Anyone is welcome to join in any time. You can post about the task on your blog. Or if you don't have a blog, you can leave a comment on the Hello Japan! post for the month. Everyone who completes the task will then be included in the drawing for that month's prize. For more information, just click on the Hello Japan! button above, or if you have any questions please feel free to email me at inspringthedawn AT gmail DOT com.
June's Topic
Manga (漫画), literally translated, means "whimsical pictures", and the word first came into common usage in the late 18th century. However, modern manga originated in the Occupation (1945–1952) and post-Occupation years (1952–early 1960s), with such manga artists as
Osamu Tezuka
(
Astro Boy
) and
Machiko Hasegawa
(
Sazae-san
).
In Japan people of all ages read manga, and it includes a wide range of subjects: action-adventure, romance, sports and games, historical drama, comedy, science fiction and fantasy, mystery, horror, sexuality, and business/commerce, among others. Since the 1950s, manga have steadily become a major part of the Japanese publishing industry, representing a 406 billion yen market in Japan in 2007 (approximately $3.6 billion)*. Manga have also become increasingly popular worldwide, and outside of Japan, the term tends to refer specifically to Japanese comics.
*All factual information courtesy of Wikipedia, for more visit the
Wikipedia manga page
. Kanji image courtesy of Wikipedia Commons.
June's Task
This month's task is to read, or otherwise enjoy, manga. The most obvious way to complete the challenge would be to read and review a volume of any manga series that interests you. Many popular series are available in translation and can be purchased locally or online. You can also read manga online for free from some of the following sites:
One Manga
,
Manga Fox
,
Manga Volume
among others. For ideas on what to read, the New York Times posts a
Top 10 Manga list
(scroll down past the Graphic Books), or check out Bookslut's
The Best Manga of All Time
post. Some bloggers also review manga:
Rhinoa's Ramblings
,
Books & other thoughts
,
a book a week
,
Novroz' Favorite Things
(a big fan of
One Piece
), and no doubt others that I apologize for missing here. And plenty of other manga suggestions come up with a simple Google search. Also, a reminder that reading manga for the
Hello Japan! mini-challenge
this month would also count for the
Graphic Novels Challenge
and the
Manga Challenge
.
But in addition to, or instead of, reading, you could post about anything relating to manga. You could post about a favourite
mangaka
(manga artist). You could watch an anime version of a popular manga. You could visit a manga museum, or exhibit, such as the
Kyoto International Manga Museum
. You could try drawing your own manga, or take a picture of yourself in
cosplay
of a favourite manga character. Or anything else you can think of that relates to manga in some way.
June's Prize
This month's prize is
one volume of the manga of your choice
. Please note that it must be available to purchase online (no out of print or hard to find volumes, sorry), unless of course you'd like the original Japanese edition in which case I can try to get whatever you like here locally.
To be eligible for the prize, you must complete this month's mini-challenge and provide a link to your post. If you don't have a blog, you can leave a comment with the details on this post, or email me at inspringthedawn AT gmail DOT com. You are welcome to post more than once and add the links below. I love it when you are enthusiastic about a topic! However, each participant will receive only one entry per month. It doesn't matter if you've won previously, you're eligible each month that you participate. Please let me know if you have any questions.
Once you have
completed the task
, don't forget to come back here to add your link to the Mr. Linky below. Please submit the link to the actual post, not just to your top page, and please only submit links to posts relating to the Hello Japan! task for this month. All other links will be deleted. Thank you for your understanding. Have fun!
Happy manga month!
The small print: Links in this post to Amazon contain my Associates ID. Purchases made via these links earn me a very small commission. For more information please visit my About Page.
---