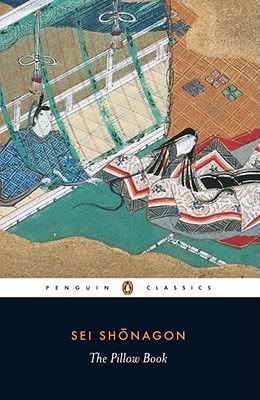 This week we're looking at entries 141 to 160 in the McKinney translation of
The Pillow Book
of Sei Shōnagon. As always, I've included the corresponding entry numbers in the Morris version too though, when possible, for anyone reading along with that version. For more information on the different translations, please visit the
'Pillow Book' Friday
page. Don't hesitate to jump in anytime, whether you've read along from the start, or not. Or if you're not reading along because you've read the book previously. It's the kind of book that can easily be dipped into here and there, and I'd love to hear your thoughts on Sei's rants and musings.
Week Thirteen
McKinney: Entries 141 - 160 (p. 148 - 163)
Morris: Entries 97 - 110 (p. 168 - 181)
[141] Things that look fresh and pure
Morris (97):
Things that give a clean feeling
[142] Distasteful-looking things
[143] Things that make the heart lurch with anxiety
[144] Endearingly lovely things
Morris (99):
Adorable Things
[145] Times when someone's presence produces foolish excitement
Morris (100):
Presumptuous Things
[146] Things with terrifying names
[147] Things that look ordinary but become extraordinary when written
[148] Repulsive things
Morris (101):
Squalid Things
[149] Occasions when something inconsequential has its day
[150] People who look as though things are difficult for them
Morris (102):
People who seem to suffer
[151] People who seem enviable
Morris (103):
Enviable People
[152] Things whose outcome you long to know
Morris (104):
Things that one is in a hurry to see or to hear
[153] Occasions for anxious waiting
[154] When Her Majesty was in mourning for the previous Regent...
Morris (105):
While we were in mourning for the Chancellor...
Morris (106):
One day Captain Tadanobu...
Morris (107):
It was late at night on the same day...
[155] The name 'Kokiden'...
Morris (108):
The name 'Kokiden'...
[156] Things now useless that recall a glorious past
[157] Situations you have a feeling will turn out badly
A son-in-law who has a fickle nature and tends to neglect his wife, and who now hasn't visited her for some time.
Someone given to lying nevertheless makes himself out to be capable and dependable, and is given an important task to undertake.
A boat with sails raised high in a strong wind.
Someone in their seventies or eighties who's been ill for some days now. [McKinney, Entry 157]
[158] Sutra readings
[159] Things that are near yet far
Morris (109):
Things that are distant though near
[160] Things that are far yet near
Morris (110):
Things that are near though distant
*Note: I couldn't find the equivalent section in the McKinney for Morris entry 98.
My thoughts
I don't have a whole lot to say about the reading this week. To be honest, I was rather sleepy, and not entirely in the mood, when I picked up the book yesterday to read through these entries. However, even though some of the lists and comments felt repetitive from those that came before, she still made me chuckle over some of her observations. Like in McKinney Entry 150,
People who look as though things are difficult for them
:
A man with two lovers, both of whom are jealous.
Haha! Some things never change.
What did I learn about Sei this week? Amongst the things that she finds
Endearingly lovely
[Entry 144], babies and small children playing, exploring, sleeping, and wearing beautiful clothes.
"And it's very endearing when a boy of eight or ten reads something aloud in his childish voice."
As well,
"in fact, absolutely anything that's tiny is endearing."
[McKinney, Entry 144] So to sum up, pretty children, and tiny things. On the other hand, a noisy, naughty child she finds quite infuriating, especially when the mother doesn't even scold him. [McKinney, Entry 145]. It seems likely she believed the old maxim that children should be seen and not heard.
In Entry 148,
Repulsive things
, she adds to the list "the inside of a cat's ear." Hmmm...
In Entry 152,
People who seem enviable
, Sei writes:
I thoroughly envy anyone - man, woman or priest - who has fine children. Also people with lovely, long, smooth hair with beautiful ends. And I very much envy great people when I see how everyone reveres them and attends to their every need. And people who write in a beautiful hand and are good at poetry, who are called on for every occasion. [McKinney, Entry 152]
I think this sums up Sei's personality and preferences quite nicely. From her repeated jottings in
The Pillow Book
, it's pretty clear that she especially admired rank, and beauty, above all else. As well, since she was apparently quite an accomplished poet, she looked down on those who were not as clever as herself.
As usual, I find the differences in the two translations fascinating. What is a single, long entry [154] in the McKinney is divided into 3 separate entries in the Morris (105-107). As they are referring to one particular past event, especially as recounted in the two later sections (Morris, Entries 106-7), the McKinney seems to make much more sense, keeping them together. It certainly reminds us that
The Pillow Book
we read from now has been altered, perhaps considerably, from Sei's original writings. I wonder just how much has been lost in the thousand years since she first wrote it.
For next time (July 9th):
McKinney: Entries 161 - 180 (p. 163 - 176)
Morris: Entries 111 - 117 (p. 181 - 193)
Previous posts
:
Week One (Entries 1-10)
Week Two (11-20)
Week Three (21-30)
Week Four (31-40)
Week Five (41-50)
Week Six (51-60)
Week Seven (61-70)
Week Eight (71-80)
Week Nine (81-90)
Week Ten (91-100)
Week Eleven (101-120)
Week Twelve (121-140)
Happy reading!
The small print: Links in this post to Amazon contain my Associates ID. Purchases made via these links earn me a very small commission. For more information please visit my About Page.
---