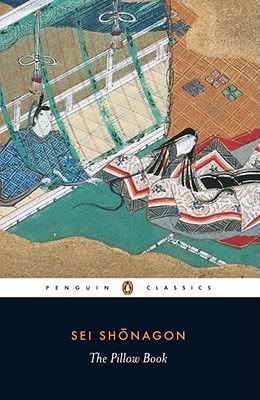 I know it's not Friday but let's just pretend it still is, ok? So, this week we're looking at entries 121 to 140 in the McKinney translation of
The Pillow Book
of Sei Shōnagon. As always, I've included the corresponding entry numbers in the Morris version too though, when possible, for anyone reading along with that version. For more information on the different translations, please visit the
'Pillow Book' Friday
page. Don't hesitate to jump in anytime, whether you've read along from the start, or not. Or if you're not reading along because you've read the book previously. It's the kind of book that can easily be dipped into here and there, and I'd love to hear your thoughts on Sei's rants and musings.
Week Twelve
McKinney: Entries 121 - 140 (p. 127 - 148)
Morris: Entries 81 - 96 (p. 145 - 168)
[121] Prayers and incantations
[122] Awkward and embarrassing things
Morris (81-82):
Awkward Things
and
When the Emperor returned from his visit to Yawata...
[123] The Regent was to emerge from the Black Door...
Morris (83):
One day we heard that His Excellency was going to appear at the Black Door...
[124] It's beautiful the way the water drops hang so thick and dripping on the garden plants after a night of rain in the ninth month, when the morning sun shines fresh and dazzling on them. Where the rain clings in the spider webs that hang in the open weave of a screening fence or draped on the eaves, it forms the most moving and beautiful strings of white pearly drops.

I also love the way, when the sun has risen higher, the bush clover, all bowed down beneath the weight of the drops, will shed its dew, and a branch will suddenly spring up though no hand has touched it. And I also find it fascinating that things like this can utterly fail to delight others. [McKinney, Entry 124]
And just for comparison, the equivalent entry in the Morris translation:
I remember a clear morning in the Ninth Month when it had been raining all night. Despite the bright sun, dew was still dripping from the chrysanthemums in the garden. On the bamboo fences and criss-cross hedges I saw tatters of spider webs; and where the threads were broken the raindrops hung on them like strings of white pearls. I was greatly moved and delighted.

As it became sunnier, the dew gradually vanished from the clover and the other plants where it had lain so heavily; the branches began to stir, then suddenly sprang up of their own accord. Later I described to people how beautiful it all was. What most impressed me was that they were not at all impressed. (Morris, Entry 84)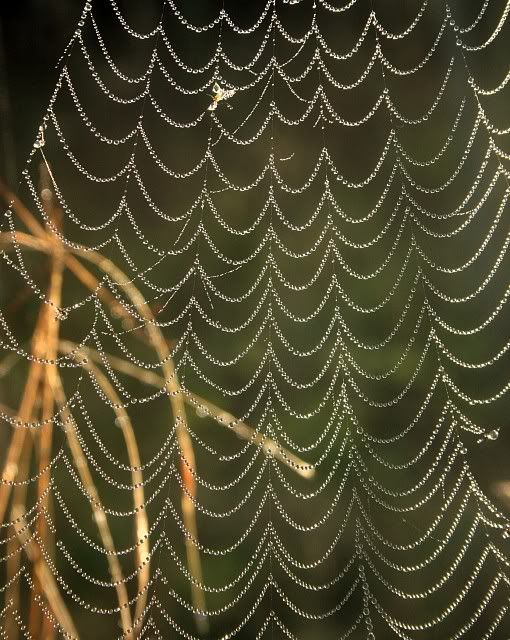 © Copyright Hugh Chevallier and licensed under a Creative Commons Licence
[125] When we gathered the herbs...
Morris (85):
On the sixth of the month...
[126] In the second month, an event called The Selection is held...
Morris (86):
One day a man from the Office of Grounds...
[127] One day someone idly said...
Morris (87):
One night the Empress's Ladies-in-Waiting...
[128] After the late Regent's death...
Morris (88):
On the tenth day of each month...
[129] One evening, Secretary Controller Yukinari...
Morris (89):
One evening Yukinari, the Controller First Secretary...
[130] One dark, moonless night in the fifth month...
Morris (90):
On a dark, moonless night in the Fifth Month...
[131] When the year of mourning for Retired Emperor Enyu's death was over...
Morris (91):
A year after Emperor Enyu's death...
[132] Occasions when the time drags by
[133] Things that relieve such occasions
[134] Worthless things
Morris (92):
Things without merit
[135] Things that are truly splendid
Morris (93):
Outstandingly splendid things
[136] After the Regent had departed this life...
Morris (94):
When His Excellency, the Chancellor, had departed from among us...
[137] It's towards the middle of the first month...
Morris (95):
On the tenth day of the First Month...
[138] A good-looking man has spent the day engrossed in playing sugoroku
Morris (96):
Two handsome men...
[139] It's also amusing to see someone of high standing playing go against a social inferior.
[140] Alarming-looking things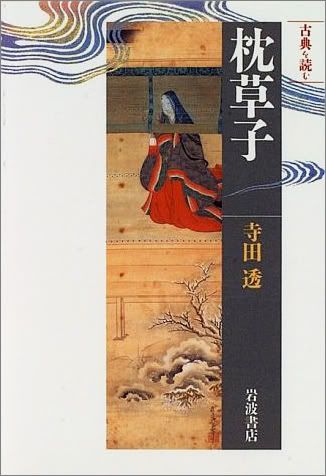 My thoughts
What with my trip to New York and everything, it's been a while since I last read from
The Pillow Book
, and I enjoyed returning to it this week. Here are some of the entries that stood out for me this week.
Entry 124, the text of which I included in full above. First of all, regarding her comment about not everyone appreciating the little beauties of nature. My husband and I like to get out and take photos, when we can, and a lot of the time that means visiting a park and taking shots of nature. Some people though, just aren't interested, and wonder why my pictures tend not to have people in them. LOL. So I understand where she was coming from.
Secondly, isn't it interesting how the two translations differ? The McKinney describes a general situation whereas the Morris recounts a specific memory. Plus the little changes in wording. I think in this instance, I prefer the Morris version. How about you?
In Entry 132,
Occasions when the time drags by
, she ends with...
"And of course the worst of all is simply a day of heavy rain." (McKinney, p. 140)
Avid bookworms all know better though, don't they? If Sei were alive today I'd suggest to her that there's nothing better than curling up with a good book when it is storming, or down-pouring, outside. She does redeem herself a little bit though, as in Entry 133,
Things that relieve such occasions
, she does mention tales. And snacks.
Sei also shows some emotion in this week's entries. Whether she's moved to tears [McKinney, Entry 122], boasting [McKinney, Entry 126], or showing some rare insecurity [McKinney, Entry 136]. Sei also gets a little defensive. At the end of Entry 134, she writes:
I never intended this book to be seen by others, so I've written whatever came into my mind, without worrying about whether people would find it strange or unpleasant. [McKinney, Entry 134]
A nice reminder that what started out as one woman's personal thoughts and jottings has by now been read by countless people over a thousand years!
And I had to chuckle at the last mention in the last of this week's entries, Entry 140,
Alarming-looking things
:
The sight of a man with a lot of hair, drying it after washing. [McKinney, p. 148]
What is it about the abundant, newly washed hair that is so alarming?
For next time (June 25th):
McKinney: Entries 141 - 160 (p. 148 - 163)
Morris: Entries 97 - 110 (p. 168 - 181)
Previous posts
:
Week One (Entries 1-10)
Week Two (11-20)
Week Three (21-30)
Week Four (31-40)
Week Five (41-50)
Week Six (51-60)
Week Seven (61-70)
Week Eight (71-80)
Week Nine (81-90)
Week Ten (91-100)
Week Eleven (101-120)
Happy reading!
The small print: Links in this post to Amazon contain my Associates ID. Purchases made via these links earn me a very small commission. For more information please visit my About Page.
---