REVIEW CONTAINS SPOILERS!
The basic premise for this series is a love story, with a predictable outcome, but that ending is mentioned below. You've been warned!
Written and illustrated by Kaoru Mori
Translated and adapted by Sheldon Drzka
Fiction/manga, CMX, 206 p.
Originally published in 2007; English translation 2009
Emma series
, volume 9 (of 10)
Meet the Merediths and experience William and Hakim's first encounter!
Catch a glimpse into the lives of the Merediths – the German family that Emma worked for – and their other maids. Join youngest son Erich on a traumatic journey to find his lost pet squirrel. Learn how Mr. and Mrs. Meredith met and discover that despite their outward appearance, they are a very happy and passionate couple. And don't miss a story that shows how the friendship between William and Hakim began! Finally, get ready to meet three new characters who are entangled in a love triangle.
Written and translated by Kaoru Mori
Translated from the Japanese by Sheldon Drzka
Fiction/manga, CMX, 228 p.
Originally published in 2008; English translation 2010
Emma series
, volume 10 (of 10)
True love conquers all barriers in this series finale!
This critically acclaimed and beloved series comes to a bittersweet end with another collection of short stories focusing on characters from Emma's world. Get to know Adele and Maria, servants to the Merediths, in the years before the German family moved to England. Join Arthur during his life at school and see how he befriends a younger student in need of guidance. Revisit the budding relationship of Eleanor and Ernest as they confess their feelings for each other. Finally, share in the big day everyone has been waiting for… the wedding of William and Emma!
As Mori herself calls them, these 'side stories' are just that, extra stories from Emma's world. They're not essential to the main narrative, which ended with volume 7, but I so enjoyed having the chance to spend some more time with Emma and William, and getting to know some of the minor characters a little better. We learn how the German couple first met. We get to see another side to Adele, the ever proper and disapproving head maid. We see William's brother Arthur at school. And several other short episodes over the two volumes that flesh out the back-stories for many of the characters.
William and Hakim's first meeting in India was a funny tale of two young boys from two different cultures, bonding over sport, and it set the stage for their relationship from that point onwards.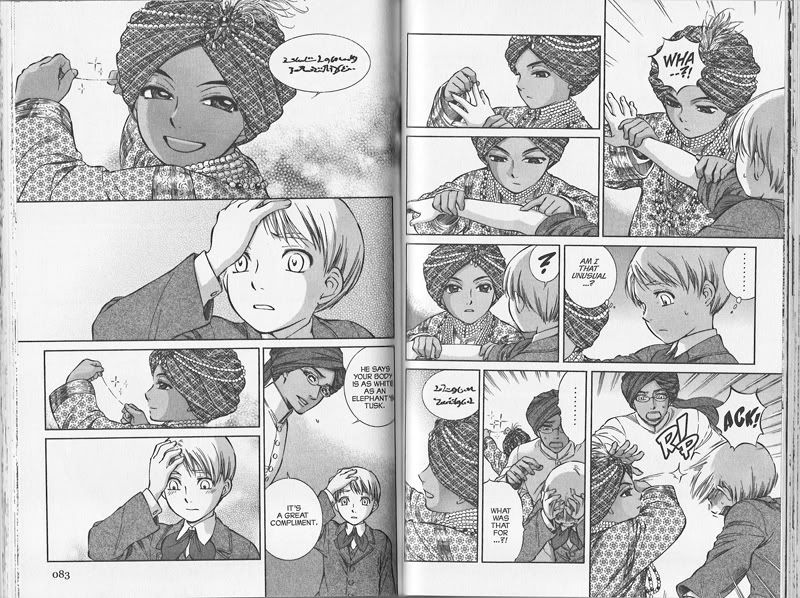 Throughout the series, the art has been gorgeous and one of my favourite chapters here was the completely frivolous story of Theo, the pet squirrel of the little boy in the family Emma worked for, lost in the woods overnight. A beautiful rendering of nature, and as always, so carefully detailed.
Volume 9 also contains a couple of chapters with brand new characters, three opera singers. The only link to the rest of the series being that they performed in an opera that William and Eleanor had attended. To be honest I would have preferred that valuable space spent on characters I already knew, but it was still a sweet tale of young, unrequited love.
Almost the last half of volume 10 returns us to Emma and William and their 'Big Day' with all the guests and celebration. Very Austenesque to finally end their story with a wedding, and very satisfying.
I'm very glad that Mori wasn't ready to leave behind Victorian England right away, and brought us these 'side stories'. Although I'm sad now, that there are no more to look forward to, but I turned the last page with a smile on my face. Reading these last two volumes has made me want to read the whole series again, and I'm sure I will. For the art, for the love story, for all of it. I haven't read that many other manga, yet, but I'm pretty sure this one will always remain one of my favourites.
My Rating: 4/5
Buy
Emma, vol. 9
at:
Amazon.com
Buy
Emma, vol. 10
at:
Amazon.com
|
BookDepository
My previous reviews of the other books in the series:
Emma, vol. 1
Emma, vols. 2 - 7
Emma, vol. 8
Also reviewed by:
things mean a lot
(vol. 1-7)
The Written World
(vol. 1-7)
Reading Adventures
(vol. 1-4)
If you've reviewed any of the
Emma
manga series, let me know and I'll link to it here.
The small print: I purchased these books for my personal library.
Links in this post to Amazon (including book cover) or The Book Depository contain my Associates or Affiliates ID respectively. Purchases made via these links earn me a very small commission. For more information please visit my About Page.
---