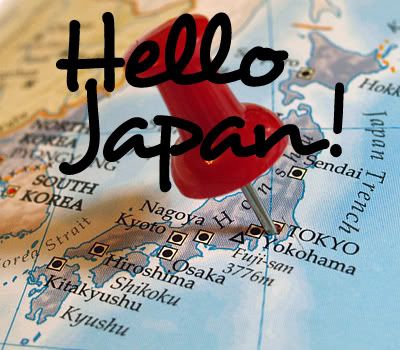 Hello Japan! is a monthly mini-challenge focusing on Japanese literature and culture. Each month there will be a new task which relates to some aspect of life in Japan. Anyone is welcome to join in any time. You can post about the task on your blog. Or if you don't have a blog, you can leave a comment on the Hello Japan! post for the month. Everyone who completes the task will then be included in the drawing for that month's prize. For more information, just click on the Hello Japan! button above, or if you have any questions please feel free to email me at inspringthedawn AT gmail DOT com.
July's Topic
In June we focused on manga, a relatively modern art form, so for a change of pace, this month we're going to look at a different kind of art, the written art of haiku. From
Wikipedia
:
Haiku
(
俳句
,
) is a form of
Japanese poetry
, consisting of 17
moras
(or
on
), in three phrases of 5, 7, and 5 moras respectively. Although haiku are often stated to have 17
syllables
, this is inaccurate as syllables and moras are not the same. Haiku typically contain a
kigo
(seasonal reference), and a
kireji
(cutting word). In Japanese, haiku are traditionally printed in a single vertical line, while
haiku in English
usually appear in three lines, to parallel the three phrases of Japanese haiku.
Previously called
hokku
, haiku was given its current name by the Japanese writer
Masaoka Shiki
at the end of the 19th century.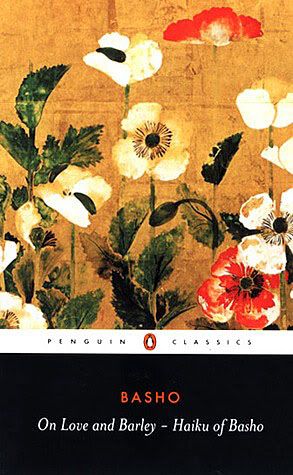 At the ancient pond
a frog plunges into
the sound of water

A lovely spring night
suddenly vanished while we
viewed cherry blossoms.
[Bashō]
July's Task
July's task is to
read, write, or otherwise appreciate, haiku
. Now don't worry, you don't have to be a poetry afficionado to take part. You just have to take a moment to enjoy a haiku or two during these hot summer days (or cold winter nights depending which hemisphere you call home).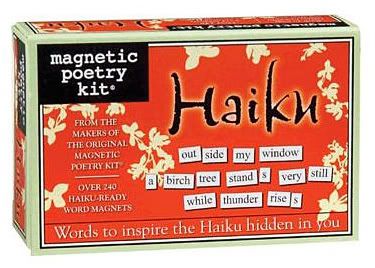 Haiku, a poem,
Five, seven, five syllables.
Life frozen in words.

Line one sets the stage,
Line two tells more about it.
Line three is the heart.
[From Enchanted Learning]
Here are a few suggestions on how you can complete this month's haiku mini-challenge:
*write your own haiku (
How to Write a Haiku
)
*read a book, or collection, of haiku (
Japanese haiku online
)
*share a favourite haiku, or two, or three...
*share a photo of a place mentioned in a haiku
*learn about one of the famous haiku poets, like
Bashō
,
Buson
,
Issa
, or others
*instead of traditional haiku, go for something modern (
Zombie Haiku
)
*or anything else that relates to haiku in some way
July's Prize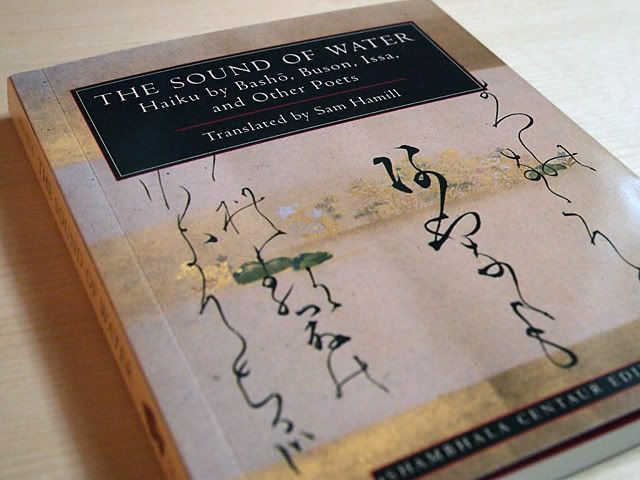 July's prize is this cute little book,
The Sound of Water: Haiku by Bashō, Buson, Issa, and Other Poets
.
To be eligible for the prize, you must complete this month's mini-challenge and provide a link to your post. If you don't have a blog, you can leave a comment with the details on this post, or email me at inspringthedawn AT gmail DOT com. You are welcome to post more than once and add the links below. I love it when you are enthusiastic about a topic! However, each participant will receive only one entry per month. It doesn't matter if you've won previously, you're eligible each month that you participate. Please let me know if you have any questions.
Once you have
completed the task
, don't forget to come back here to add your link to the Mr. Linky below. Please submit the link to the actual post, not just to your top page, and please only submit links to posts relating to the Hello Japan! task for this month. All other links will be deleted. Thank you for your understanding. Have fun!
Happy haiku!
The small print: Links in this post to Amazon contain my Associates ID. Purchases made via these links earn me a very small commission. For more information please visit my About Page.
---