Welcome to the
Japanese Literature Read-along
discussion of Book One of
The Makioka Sisters
by Junichiro Tanizaki. In the Vintage paperback, Book One takes us from the beginning up to page 150.
About the author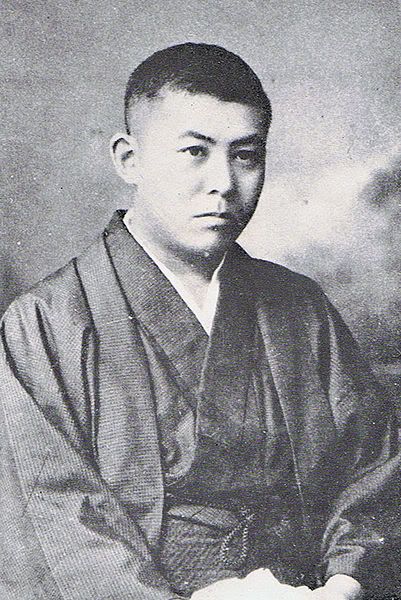 Junichiro Tanizaki
was born in Tokyo in 1886. He began his literary career in 1909, which was followed by the publication of several stories, and a brief career in Japanese silent cinema. His reputation grew when he moved to Kyoto after the
Great Kanto Earthquake
in 1923. Most of his well-known books, at least in the West, came from this time. He was awarded the
Order of Culture
by the Japanese government in 1949 and in 1964 was elected to honorary membership in the American Academy and Institute of Arts and Letters, the first Japanese writer to be so honoured. He is considered "one of the major writers of modern Japanese literature, and perhaps the most popular Japanese novelist after Natsume Sōseki." He died in 1965 at the age of 79.
*Factual information and image courtesy of Wikipedia
About the book
The Makioka Sisters
, was originally published serially from 1943-1948 as 細雪 (
Sasameyuki
), which literally means "light snow".
From the back cover:


In Osaka in the years immediately before World War II, four aristocratic women try to preserve a way of life that is vanishing. As told by Junichiro Tanizaki, the story of the Makioka sisters forms what is arguably the greatest Japanese novel of the twentieth century, a poignant yet unsparing portrait of a family - and an entire society - sliding into the abyss of modernity.

Tsuruko, the eldest sister, clings obstinately to the prestige of her family name even as her husband prepares to move their household to Tokyo, where that name means nothing. Sachiko compromises valiantly to secure the future of her younger sisters. The unmarried Yukiko is a hostage to her family's exacting standards, while the spirited Taeko rebels by flinging herself into scandalous romantic alliances. Filled with vignettes of upper-class Japanese life and capturing both the decorum and the heartache of the protagonists, The Makioka Sisters is a classic of international literature.
Vocabulary and Cultural Context
These links provide further explanation or illustration of some of the cultural or other references that I thought might enhance your reading of the book. (Click on the links for more information. Page numbers refer to the Vintage International paperback, ISBN: 0679761640)
"I almost forgot." She looked up. "I feel a little shot on 'B.' Would you tell Yukiko, please?"
Beri-beri was in the air of this Kobe-Osaka district, and every year from summer into autumn the whole family - Sachiko and her husband and sisters and Etsuko, who had just started school - came down with it. The vitamin injection had become a family institution. They no longer went to a doctor, but instead kept a supply of concentrated vitamins on hand and ministered to each other with complete unconcern. (p. 5)
Beri-beri
is caused by a lack of thiamine, B1, and was very common in Asia, where polished white rice was, and still is, the everyday staple food.
Taeko had at first had a six-mat Japanese room, but recently she had moved into larger quarters... (p. 16)
The mat refers to the traditional woven straw
tatami
mats typically used as flooring. Japanese rooms are still measured in mats, or the unit of "jo" (one "jo" equals one mat), regardless if they actually have tatami flooring or not. So, for example, when we were looking at apartments last year, all the listings would describe each room by "jo" and the total "jo" even though it's quite common now for modern apartments and houses to have just one tatami room.
"Jo" conversion chart
In addition to the complications we have already described, however, yet another fact operated to Yukiko's disadvantage: she had been born in a bad year. In Tokyo the Year of the Horse is sometimes unlucky for women. In Osaka, on the other hand, it is the Year of the Ram that keeps a girl from finding a husband. Especially in the old Osaka merchant class, men fear taking a bride born in the Year of the Ram. (p. 18)
"We had koto lessons when we were children, and lately I've been thinking I would like to learn again. Sometimes I take the koto out to see what I still remember. My youngest sister has started taking dancing lessons, you know, and I have any number of chances to hear the koto." (p. 45)
Teinosuke had laughed when, on their honeymoon in the Hakone mountains south of Tokyo, he asked Sachiko what her favorite fish was and learned that is was the sea bream. The sea bream was far too ordinary a fish to have for a favorite. Sachiko said, however, that the sea bream, both in appearance and in taste, was the most Japanese of all fist, and that a Japanese who did not like sea bream was simply not a Japanese. (p. 85)
(Click the link for pictures and Japanese-style cooking suggestions for sea bream.)
Teinosuke preferred not to be too deeply involved in domestic problems, and particularly with regard to Etsuko's upbringing he was of the view that matters might best be left to his wife. Lately, however, with the outbreak of the China Incident, he had become conscious of the need to train strong, reliant women, women able to support the man behind the gun. (p. 118)
Etsuko was back from school. The long-awaited telegram was brought in as her mother and O-haru were helping arrange her festival dolls.
It was the practice in Osaka to celebrate the Doll Festival in April, a month later than in Tokyo, but this year they were bringing the dolls out a month ahead of time. They had heard some four or five days earlier that Yukiko would be coming. (p. 126)
"It is amazing how quickly children take to the language of a place. I noticed even when I was in Tokyo last November. They had been there no more than two or three months, and they all had the most beautiful Tokyo accents. The younger they were the better the accents."
"I suppose Tsuruko is too old to learn," said Sachiko.
"Much too old. And besides, she has no intention of learning. All the passengers on the bus turn and stare when she breaks out with her Osaka accent, but she never seems to mind. She lets them stare. And sometimes someone says, 'That Osaka accent isn't bad at all.'" (p. 129)
Discussion Questions
The questions below are simply a guide to get the discussion going. Feel free to pick and choose, and answer those ones that interest you. Plus if you have any other questions or thoughts on the book, please don't hesitate to bring them up. For anyone who hasn't yet read the book, please be warned that the
questions and comments may contain spoilers, so please proceed at your own risk!
What do you think of the story so far?
How about the translation? Does it read smoothly?
Are the characters believable? Could you relate to any of them in any way? Who is your favourite character so far?
Do you have a favourite scene or passage from Book One?
How do you feel about arranged marriage? Were you surprised at how thoroughly both families were investigated during the negotiations?
What did you think of the miai (o-miai) that took place? And the formality of the proceedings?
Was there anything (else) that surprised you?
What do you think Tanizaki is saying about the move toward Westernization in Japan at the time the story is set, prior to WWII?
Is the setting important? Did you feel you were experiencing the time and place in which the book was set?
Are you looking forward to reading Book Two? Where do you think the story will go from here?
[Your question here]
I look forward to hearing your thoughts on the book, whether you're reading along with us or have read the book previously. If you
have
completed the book though, please be considerate to those who haven't regarding spoilers for Book Two and Three.
Also, just a reminder that we'll be looking at Book Two of
The Makioka Sisters
on August 15th. Please refer to the
Japanese Literature Read-along
page for additional information, and please feel free to email me if you have any questions.
The Makioka Sisters
has been reviewed by:
chasing bawa
Rebecca Reads
Shelf Life
Page247
The Reading Life
In Spring it is the Dawn
(I first read it in 2007, this is my earlier review.)
If you've also reviewed this book, let me know and I'll link to it here.
The small print: Links in this post to Amazon contain my Associates ID. Purchases made via these links earn me a very small commission. For more information please visit my About Page.
---