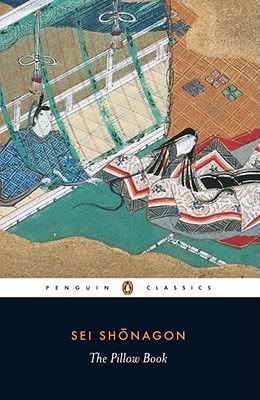 This week we're looking at entries 181 to 200 in the McKinney translation of
The Pillow Book of Sei Shōnagon
. As always, I've included the corresponding entry numbers in the Morris version too though, when possible, for anyone reading along with that version. For more information on the different translations, please visit the
'Pillow Book' Friday
page. Don't hesitate to jump in anytime, whether you've read along from the start, or not. Or if you're not reading along because you've read the book previously. It's the kind of book that can easily be dipped into here and there, and I'd love to hear your thoughts on Sei's rants and musings.
Week Fifteen
McKinney: Entries 181 - 200 (p. 176 - 185)
Morris: Entries 118 - 119 (p. 193 - 194), 172 (p. 254), 177 - 180 (p. 257 - 259)
[181] It is delightful to see someone who's a great ladies' man, and is pursuing numerous love affairs, arriving home at dawn from who knows what night-time tryst.
Morris (177):
A Young Bachelor
[182] It's the middle of a fiercely hot day, and you're finding it impossible to stay cool.
Morris (178):
It is noon on a summer day...
[183] The floorboards of the southern or perhaps the eastern aisle are polished to a reflective shine...
Morris (179):
The floor-boards in the Ante-Room...
[184] It's enchanting to overhear...
Morris (180):
At first dawn a carriage passes...
[185] Things that prove disillusioning
[186] It's very unseemly for a man who's visiting a gentlewoman to eat while with her.
Morris (172):
I cannot bear men to eat...
[187] Winds
Morris (118):
Winds
[188] The day after a typhoon is extremely moving, and full of interest.
Morris (119):
On the day after a fierce autumn wind...
[189] Elegantly intriguing things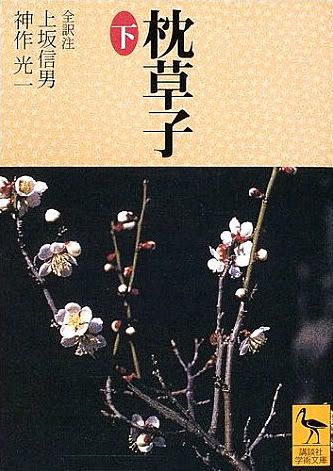 [190] Islands
[191] Beaches
[192] Bays
[193] Woods
[194] Temples
[195] Sutras
[196] Buddhas
[197] Chinese Writings
[198] Tales
[199] Darami incantations
[200] Musical performances
My thoughts
Entry 182 starts out
'It's the middle of a fiercely hot day, and you're finding it impossible to stay cool - your fan only moves the warm air about, and you keep dipping your hands in ice water and moaning about the heat'.
I feel that I certainly relate to that. With rainy season officially over, this past week has been very hot, and I've been moaning about the heat quite a lot. I can honestly say that I would never have lasted in Japan this long without air conditioning! I can't imagine living in Heian era in the summer time, although I'm guessing it at least seemed a bit cooler then, without all the concrete and high rises trapping the heat in the cities, but still!
In Entry 185,
Things that prove disillusioning
, she mentions how
'If the author of a tale uses poor language it makes you quite despair, and you find yourself squirming with embarrassment for the writer as well.'
As avid bookworms, I think we can all relate to that one. How disappointing to pick up a book that you were looking forward to, only to find it poorly written!
As I mentioned last time, one of Sei's strengths as a writer is in her descriptions. There were several entries in this batch, especially in Entry 189,
Elegantly intriguing things
, but in some of the others as well, that were wonderfully vivid, visual scenes. Scenes that almost seem like movie stills, or photos, in the way that they were described. Lovely!
[A] most elegant and beautiful lady, wearing a dark purple robe with a sheen muted by wear, and a brocaded formal over-robe of autumn-leaf ochre, or a thin weave, now appears, having only just risen after a night made sleepless by the clamour of the wind. She emerges a little distance from the Inner Chamber on her knees, the hair hanging about her shoulders somewhat puffed and disarrayed by the wind. She gazes with evident emotion at the garden... [Entry 189, The day after a typhoon]
Entries 190 to 200 were again just short lists of various places and things. I read the endnotes, when available, to get a sense for why she composed a certain list, but otherwise I find myself skimming over them. The names of places and various texts are just that, names which unfortunately have little meaning to a modern reader, or at least to this modern reader. However, Entry 198,
Tales
, did make me a little sad to know that of the old stories that she refers to here apparently only two of them have survived. It's quite something to think of the existence of these tales that were popular and being read over 1000 years ago. I wonder what literary treasures we're missing out on.
For next time (August 6th):
McKinney: Entries 201 - 220 (p. 185 - 194)
Morris: Entries 120 - 128 (p. 195 - 203)
Previous posts
:
Week One (Entries 1-10)
Week Two (11-20)
Week Three (21-30)
Week Four (31-40)
Week Five (41-50)
Week Six (51-60)
Week Seven (61-70)
Week Eight (71-80)
Week Nine (81-90)
Week Ten (91-100)
Week Eleven (101-120)
Week Twelve (121-140)
Week Thirteen (141-160)
Week Fourteen (161-180)
Happy reading!
The small print: Links in this post to Amazon contain my Associates ID. Purchases made via these links earn me a very small commission. For more information please visit my About Page.
---