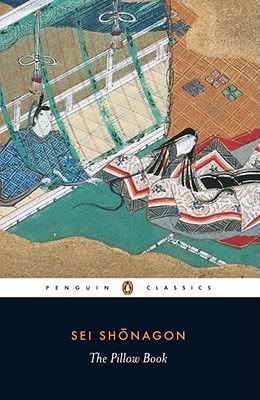 This week we're looking at entries 161 to 180 in the McKinney translation of
The Pillow Book of Sei Shōnagon
. As always, I've included the corresponding entry numbers in the Morris version too though, when possible, for anyone reading along with that version. For more information on the different translations, please visit the
'Pillow Book' Friday
page. Don't hesitate to jump in anytime, whether you've read along from the start, or not. Or if you're not reading along because you've read the book previously. It's the kind of book that can easily be dipped into here and there, and I'd love to hear your thoughts on Sei's rants and musings.
Week Fourteen
McKinney: Entries 161 - 180 (p. 163 - 176)
Morris: Entries 111 - 117 (p. 181 - 193), 171 (p. 253), 175 (p. 255)
[161] Wells
[162] Plains
[163] Court Nobles
[164] Nobles
[165] Acting Provincial Governors
[166] Commissioners
[167] Priests
[168] Ladies
[169] Sixth-rank Chamberlains
Morris (111):
Gentlemen of the Fifth Rank
[170] A place where a lady lives alone...
Morris (112):
When a Woman Lives Alone...
[171] The home of a lady in court service should ideally have both parents living there.
Morris (113):
When a Court Lady is on leave from the Palace, it is pleasant if she can stay with her parents.
[172] One day in the ninth month, at a certain place, a gentleman who, though not exactly a court noble, was renowned at that time as a man of marvellous charm, taste and sensibility, pays a visit to Lady Someone.
*Morris (175):
One night in the Ninth Month a certain lady was visited by a young man...
[173] It's quite delightful when the snow is falling, not thick on the ground, but softly, to lie as a thin cover.
Morris (114):
It is delightful when there has been a thin fall of snow...
[174] Once, during the reign of the former Emperor Murakami, there was a great fall of snow.
Morris (115):
One evening during the reign of Emperor Murakami...
[175] The lady known as Miare no Seji once made for the Emperor a delightful little five-inch doll...
[176] When I first went into court service, everything seemed to overwhelm me with confusion and embarrassment...
Morris (116):
When I first went into waiting at Her Majesty's Court...
[177] People who feel smug
[178] Nothing is more splendid that rank
Morris (117):
People who look pleased with themselves...
[179] Awe-inspiring things
[180] Illnesses
*Morris (171):
Illnesses
*Please note that these corresponding entries in the Morris translation occur later in that version. The entry numbers and page numbers are indicated above.
My thoughts
This week's reading started off with several short, simple lists of place names and various ranks and titles, and so on, which aren't terribly interesting to read, especially because of reading it in translation we miss out on the puns and other references. I'm sure these lists are quite useful for scholars but for me, anyway, they're kind of filler. But luckily those short lists only make up a small portion of all the entries in
The Pillow Book
.
One of Sei's strengths in her writing is her descriptions. She does a wonderful job of setting a scene, such as the following entry which kind of appealed to me.
A place where a lady lives alone, in a badly dilapidated dwelling surrounded by a crumbling earth wall, the garden pond full of water weed, and the courtyard, if not literally overrun with wormwood, at any rate with patches of green weeds showing here and there through the gravel, is a truly forlorn and moving sight. There's nothing more boringly unromantic than a place where the lady has got down to business and had everything repaired and smartened up, meticulously locks her gate each evening and generally keeps the place run in punctilious fashion. [McKinney, Entry 170]
Doesn't it sound deliciously gothic?
This next one also appealed to me:
It's also delightful on an evening when the snow lies piled high and the two or three congenial friends settle down together around a brazier near the veranda to talk of this and that. Darkness descends as their conversation continues, but no lamp is lit nearby, and the light from the high-heaped snow beyond shines wonderfully white, while they sit idly stirring the ash in the brazier with the fire tongs as they talk on together, of moving and entertaining matters. [McKinney, Entry 173]
I so want to be sitting there next to the fire, snow falling and a beautiful view outside, chatting with a few good friends, enjoying their company. We could chat about books, and life and whatever else took our fancy. Doesn't that sound wonderful?
In one of the longer entries in this week's selection, I quite enjoyed reading about when Sei first went into service at court, which she describes in some detail.
When I first went into court service, everything seemed to overwhelm me with confusion and embarrassment, and there were times when I could barely hold back my tears. I attended Her Majesty each night, behind her low standing curtain, and she would bring out pictures and so on to show me, but I was so hopelessly nervous that I could scarcely even stretch out a hand to take them. [McKinney, Entry 176]
It's kind of hard to imagine that she was so shy and so in awe of those around her. She never does lose her reverence for wealth and high rank, but as we know she settles in nicely, becoming the snarky, witty Sei we've come to expect.
The ladies responded with tales of the doings of this or that senior courtier, and hearing all this I felt as if I was witnessing angels or creatures descended to earth from some higher plane - though later when I'd grown used to court service I realized how little this was the case in fact! [McKinney, Entry 176]
Lastly, I couldn't help being both reminded and amused by mention of a couple of the superstitions regarding sneezing. Back in Heian Japan, on any regular day, a sneeze meant something bad was looming. Yet, a sneeze at the beginning of the New Year was a sign of long life! There is also the belief, even now in Japan, that if you sneeze, it means someone is talking about you, at that particular moment. Kind of like the English idiom,
(someone's) ears are burning
. So remember that the next time you sneeze, and just hope that whatever they're saying about you is kind.
*Image source unclear.
For next time (July 23rd):
McKinney: Entries 181 - 200 (p. 176 - 185)
Morris: Entries 118 - 119 (p. 193 - 194), 172 (p. 254), 177 - 180 (p. 257 - 259)
Previous posts
:
Week One (Entries 1-10)
Week Two (11-20)
Week Three (21-30)
Week Four (31-40)
Week Five (41-50)
Week Six (51-60)
Week Seven (61-70)
Week Eight (71-80)
Week Nine (81-90)
Week Ten (91-100)
Week Eleven (101-120)
Week Twelve (121-140)
Week Thirteen (141-160)
Happy reading!
The small print: Links in this post to Amazon contain my Associates ID. Purchases made via these links earn me a very small commission. For more information please visit my About Page.
---