I've been meaning to read Gogol for ages and in fact, I've had this copy of his short stories sitting on my shelf unread for quite a few years now. So the Classics Circuit
Imperial Russian Literature Tour
was just the perfect nudge to finally take it off the shelf and dive in. I have to admit that I haven't read all the stories yet, so I hope you don't mind that today I'll just talk about three of them.
My knowledge of Russian literature and authors is almost non-existant. I've read a couple of the Russian masters; Tolstoy's
Anna Karenina
, and
The Death of Ivan Ilyich
, as well as Dostoevsky's
Crime and Punishment
so many years ago that I barely remember it. That pretty much sums up my experience with Russian literature, so before starting to read any of these stories by Gogol, I went in expecting more of the same serious, dramatic writing that I'd read in these other works. If you're familiar with Gogol, you can imagine how delightfully wrong I was. Sure, there is still bleakness, and poverty, and death, and personal torment, and strict issues of class, but I also discovered, much to my delight, witches, and ghosts, and other fantastical creatures.
This anthology, published by Granta, and translated from the Russian by Richard Pevear and Larissa Volokhonsky, is divided into two sections, "Ukrainian Tales", and "Petersburg Tales", divisions both chronological and thematic. According to the little I've read in the Preface and online, his earlier stories were inspired by the folktales of "Little Russia", or modern-day Ukraine, were he was born. Whereas his later stories largely tend to describe life in St. Petersburg, where he moved soon after finishing his studies.
The first of the "Ukrainian Tales" that I read was '
St. John's Eve
'. A story of a poor, young man in love with his boss's daughter. You can perhaps guess that the father soon finds them out, forbids her to see him, and arranges her marriage to another, much more respectable, man. In an attempt to drown his sorrows, the young Petrus meets a man who takes him to a place where he encounters none other than
Baba Yaga
, and well, I don't want to tell you anymore. You'll have to read it for yourself to find out what becomes of him. I will say though that this one is very much a fairytale with a moral.
The second of the "Ukrainian Tales" that I read was '
Viy
', the title based on a character supposedly from Little Russian folklore, described in a footnote by the author as "the chief of the gnomes, whose eyelids reach to the ground." In this story, a young student, a philosopher at the seminary, has a bizarre meeting with an old woman in the countryside, but which he proceeds to soon forget after he escapes and returns to the city. However, he is soon summoned by a wealthy landowner to come read the prayers for his daughter who is on the verge of death. The daughter requested him specially. So he goes, and ... let's just say this would be a fantastic story to read during Carl's next R.I.P. Challenge.
Minor spoiler in the following quote:
He turned and wanted to step away; but with strange curiosity, with the strange, self-contradictory felling that will not leave a man especially in a time of fear, he could not refrain from glancing at her as he went, and then, with the same feeling of trepidation, glancing once more. Indeed, the deceased girl's sharp beauty seemed frightful. Perhaps she even would not have struck him with such panic terror if she had been slightly ugly. But there was in her features nothing dull, lusterless, dead. The face was alive, and it seemed to the philosopher that she was looking at him through closed eyes. It even seemed to him that a tear rolled from under her right eyelash, and when it stopped on her cheek, he made out clearly that it was a drop of blood.
These two stories reminded me a bit of
The King's Bride
by E.T.A Hoffmann that I read last year. Not only for the fantasy element but in general flavour as well. And I see that
Wikipedia
calls Gogol "one of the first masters of the short story", along with Hoffmann, Pushkin, Prosper Mérimée, and Nathaniel Hawthorne. I guess I now have some more short stories, and their authors, to discover.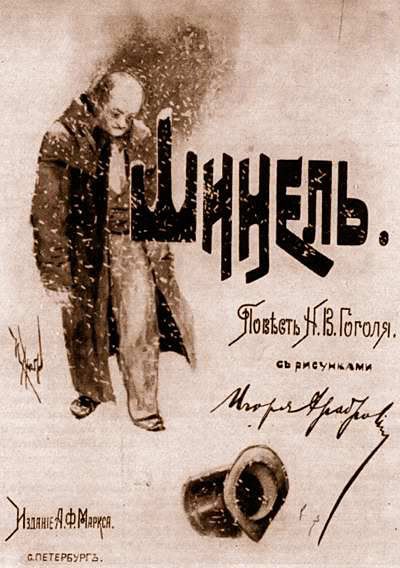 For my third story I flipped right to the back of the book, to the last story in "Petersburg Tales", and read 'The Overcoat'. I mentioned at the start that I had long been meaning to read Gogol and it was especially for this story that I picked up this book in the first place. Why? Because of Jhumpha Lahiri's
The Namesake
. In it, the main character is named Gogol because of the special fondness his father had for this story. It's been several years already since I read the book but watching
The Namesake
, the movie version of the book, last year reminded me that I still hadn't read 'The Overcoat'. So, at long last, I can now say I have.
'The Overcoat' is the story of a poor clerk and copyist who scrimps and saves to buy a new overcoat since his old one has almost fallen to pieces.
It was... it's hard to say precisely which day, but it was probably the most festive day in Akaky Akakievich's life, when Petrovich finally brought the overcoat.
As a lead-up this may not sound very exciting, but it's what happens after he acquires the new coat that is the heart of the story. It actually seemed much bleaker than the other two stories I read, with the unforgiving Russian winter, the poverty, the tragedy. Yet it was also quite moving, and meaningful. And again with a touch of the unreal, and even a little humour.
I thoroughly enjoyed these three stories and my only regret is that I waited so long to pick up this book in the first place. And I am now very much looking forward to reading the rest of the stories in it. Thanks again to Rebecca and everyone who put together this
Imperial Russian Literature tour
for the
Classics Circuit
, and giving me the push I needed. For the rest of the tour schedule, please click on the button, or the link above.
*Author image and Russian cover of 'The Overcoat', courtesy of Wikipedia Commons.
The small print: I purchased this book for my personal library.
Links in this post to Amazon (including book cover) or The Book Depository contain my Associates or Affiliates ID respectively. Purchases made via these links earn me a very small commission. For more information please visit my About Page.
---