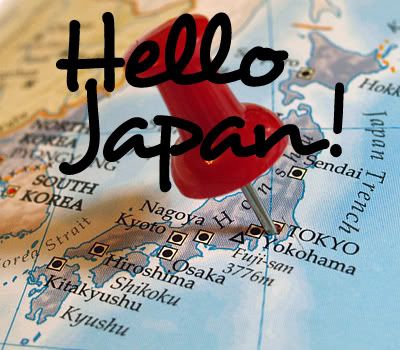 Hello Japan! is a monthly mini-challenge focusing on Japanese literature and culture. Each month there will be a new task which relates to some aspect of life in Japan. Anyone is welcome to join in any time. You can post about the task on your blog. Or if you don't have a blog, you can leave a comment on the Hello Japan! post for the month. Everyone who completes the task will then be included in the drawing for that month's prize. For more information, just click on the Hello Japan! button above, or if you have any questions please feel free to email me at inspringthedawn AT gmail DOT com.
August & September's Topic
When it comes to things we enjoy, like books, movies, art, music, food, or whatever else, I think it's safe to say that we usually want more. Whether it's reading a second book by a favourite author. Or watching the movie of a beloved book. And then we can't help but compare them. Which one did we like better? How were they different? How were they the same? So the next mini-challenge is inspired by an idea Gnoe of
Graasland
mentioned when we were brainstorming ideas a few months back. And instead of the usual one month time frame, this mini-challenge will last for the months of August and September.
August & September's Task
Sometime during the next two months, the new task is to compare two (or more if you so choose) works or other elements of Japanese literature, culture, or entertainment. There are so many possibilities and combinations, but here are some suggestions to get you started.
*Two books by the same author
*Two different books by award-winning authors
*Two movies by the same director
*Two books or movies set in the same place
*Two works of art by the same artist
*Two artists from the same time period
*Two albums by the same band
*Two cultural differences between Japan and your home country
*Two dishes with the same ingredient
*Two different Japanese restaurants
*A book or short story and the movie based on it.
*Manga and the anime based on the manga series.
*Japanese movie and the Hollywood remake
*A non-fiction book and a fiction book about the same person or time period or setting.
*A book or movie and then visiting a location mentioned in it.
*A sake, or green tea tasting.
... and so on.
You also don't have to start from scratch, as it were. For example, I read
Battle Royale
last month and just got my hands on
the movie
which I hopefully plan to watch soon. I could complete the mini-challenge by writing a blog post or leaving a comment on this post in which I talk about both versions and what I think of them. Or I could compare two of the Murakami books I read earlier this year. Etc. Basically the idea is just to compare any two Japanese things. So it's very open to your interpretation, and creativity. I look forward to seeing what you come up with.
August & September's Prize
The prize is
one Japanese literature book of your choice.
Please note that it must be available at
The Book Depository
and can be up to a value of $15.
To be eligible for the prize, you must complete this month's mini-challenge and provide a link to your post. If you don't have a blog, you can leave a comment with the details on this post, or email me at inspringthedawn AT gmail DOT com. You are welcome to post more than once and add the links below. I love it when you are enthusiastic about a topic! However, each participant will receive only one entry per month. It doesn't matter if you've won previously, you're eligible each month that you participate. Please let me know if you have any questions.
Once you have
completed the task
, don't forget to come back here to add your link to the Mr. Linky below. Please submit the link to the actual post, not just to your top page, and please only submit links to posts relating to the Hello Japan! task for this month. All other links will be deleted. Thank you for your understanding. Have fun!
The small print:
Links in this post to Amazon or The Book Depository contain my Associates or Affiliates ID respectively. Purchases made via these links earn me a very small commission. For more information please visit my About Page.
---