Welcome to the
Japanese Literature Book Group
discussion of
Goodbye Tsugumi
and
Kitchen
by Banana Yoshimoto.
About the author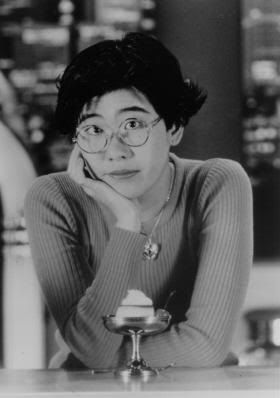 Banana Yoshimoto is the pen name of Mahoko Yoshimoto. She was born in Tokyo in 1964 and graduated from Nihon University's Art College, with a major in Literature. She has written 12 novels, many of which have been translated into English, as well as published in more than 20 countries. Her debut novel,
Kitchen
, was an instant success when it was first published in Japan, and won the 16th Izumi Kyoka Literary Prize in January 1988.
Goodbye Tsugumi
won the 2nd Yamamoto Shugoro Literary Prize in March 1989. Both
Kitchen
and
Goodbye Tsugumi
have been made into films.
Banana Yoshimoto's website
Interview with Banana Yoshimoto at Bookslut
Article on Banana Yoshimoto in Metropolis magazine
*Factual information courtesy of
Wikipedia
and
Banana Yoshimoto's website
.
About the books
From the publisher, Faber and Faber:
Kitchen juxtaposes two tales about mothers, transsexuality, bereavement, kitchens, love and tragedy in contemporary Japan. It is a startlingly original first work by Japan's brightest young literary star and is now a cult film. When Kitchen was first published in Japan in 1987 it won two of Japan's most prestigious literary prizes, climbed its way to the top of the bestseller lists, then remained there for over a year and sold millions of copies. Banana Yoshimoto was hailed as a young writer of great talent and great passion whose work has quickly earned a place among the best of modern literature, and has been described as 'the voice of young Japan' by the Independent on Sunday.
Translated from the Japanese by Megan Backus
Also included is the companion story, Moonlight Shadow.
New York Times review of Kitchen
From the publisher, Faber and Faber:
An elegiac story of two young cousins coming of age at the Japanese seaside, Goodbye Tsugumi is an enchanting novel from one of Japan's finest writers.

Banana Yoshimoto's novels have made her an international sensation. Now she returns with a magical, offbeat story of a deep and complicated friendship between two female cousins that ranks among her best work.

Maria is the only daughter of an unmarried woman. She has grown up at the seaside alongside her cousin Tsugumi, a lifelong invalid, charismatic, spoiled and occasionally cruel. Now Maria's father is finally able to bring herself and her mother to Tokyo, ushering Maria into a world of university, impending adulthood, and a 'normal' family. When Tsugumi invites her cousin to spend a last summer by the sea, a restful idyll becomes a time of dramatic growth as Tsugumi finds love, and Maria learns the true meaning of home and family. She also has to confront both Tsugumi's inner strength and the real possibility of losing her.
Translated from the Japanese by Michael Emmerich
About the translator (of Goodbye Tsugumi)
Michael Emmerich started studying Japanese as a Princeton undergraduate while an English major. He submitted a translation of Kawabata's short stories,
First Snow on Fuji
, as his senior thesis, and Counterpoint Press later published the complete collection. Since then he has translated the works of many other Japanese authors such as Taichi Yamada, Genichiro Takahashi, Mari Akasaka, and so on.
*Factual information from the following:
Interview with Michael Emmerich in Quarterly Conversation
Article on Michael Emmerich in Spike Magazine
Discussion Questions
I couldn't find any specific discussion guides for either book so the following are general discussion questions, and the questions below are simply a guide to get the discussion going. Feel free to pick and choose, and answer those ones that interest you. Plus if you have any other questions or thoughts on the book, please don't hesitate to bring them up. For anyone who hasn't yet read the book, please be warned that the
comments may contain spoilers, so please proceed at your own risk!
Did you enjoy the book(s)? Why, or why not?
If you have read both books, how do they compare? Did you like one more than the other?
Have you read any other books by the same author?
What do you think of the author's style?
What did you think of the translation? Did it read smoothly?
Could you relate to the characters? Did you empathise with them? Were the characters believable?
Was the setting important? Unique? Did it enhance the story?
Do you have any favourite scenes or quotes to share?
From
Wikipedia
:
Critics think that much of her work is superficial and commercial; her fans however, think it perfectly captures what it means to be young and frustrated in modern Japan. Yoshimoto herself identifies her two main themes as "the exhaustion of young people in contemporary Japan" and "the way in which terrible experiences shape a person's life."
Do you agree?
Both books have been made into movies. Would you be interested in watching them? Do you think these stories would translate well to film?
Were you satisfied with how the book(s) ended?
Would you recommend either of these books to other readers?
Kitchen
also reviewed by:
We Be Reading
Page247
Tony's Reading List
Sycorax Pine
A Striped Armchair
Adventures in Reading
An Adventure In Reading
Regular Rumination
The Reading Life
(also reviewed
Moonlight Shadow
)
Bibliojunkie
(review of both
Kitchen
and
Goodbye Tsugumi
)
Bookie Mee
Lesley's Book Nook
1morechapter.com
Goodbye Tsugumi
reviewed by
things mean a lot
Melody's Reading Corner
Fluttering Butterflies
The Reading Life
Ready When You Are, C.B.
Goodbye Tsugumi
katrina's reads
If I've missed your review, let me know and I'll link to it here.
Author photo © Etichiro Sakata and Kadokawa Shoten Publishing co. Ltd.
The small print: Links in this post to Amazon contain my Associates ID. Purchases made via these links earn me a very small commission. For more information please visit my About Page.
---