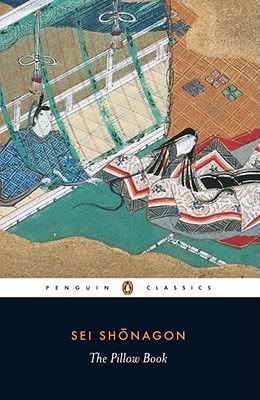 Life got in the way of the planned 'Pillow Book' post earlier this month and even though Friday has passed once again, I couldn't go the whole month without posting on it, so I'm going to double up on the entries this time to catch up with the original schedule. So this week we're looking at entries 201 to 240 in the McKinney translation of
The Pillow Book of Sei Shōnagon
. As always, I've included the corresponding entry numbers in the Morris version too, when possible, for anyone reading along with that version. For more information on the different translations, please visit the
'Pillow Book' Friday
page. Don't hesitate to jump in anytime, whether you've read along from the start, or not. Or if you're not reading along because you've read the book previously. It's the kind of book that can easily be dipped into here and there, and I'd love to hear your thoughts on Sei's rants and musings.
Week Sixteen
McKinney: Entries 201 - 240 (p. 185 - 204)
Morris: Entries 120 - 130 (p. 195 - 203), 135 - 141 (p. - 212)
[201] Games
[202] Dances
[203] Plucked instruments
[204] Wind instruments
Morris (120):
Wind instruments
[205] Spectacles
Morris (121):
Things Worth Seeing
[206] Around the fifth month it's great fun to make an excursion to a mountain village.
Morris (122):
In the Fifth Month...
[207] When it's fearfully hot...
Morris (123):
During the hot months...
[208] On the evening of the fourth day of the fifth month...
[209] On the way to Kamo Shrine, women are out planting the rice fields...
[210] At the end of the eighth month, I went on a pilgrimage to Uzumasa.
Morris (140):
Towards the end of the Eighth Month...
[211] Soon after the twentieth day of the ninth month, on a pilgrimage to Hase...
Morris (141):
Shortly after the twentieth of the Ninth Month...
[212] Setting off to climb the slope up to Kiyomizu and suchlike temples, it's delightful to find oneself deeply moved by the scent of burning firewood.
[213] The sweet flag leaves from the fifth month...
[214] A well-scented robe that's been left on the scenting frame for two or three days...
Morris (124):
One has carefully scented a robe...
[215] On a bright moonlit night, when your carriage is crossing a stream, it's lovely the way the water will spray up in shining drops at the ox's tread, like shattered crystal.
Morris (125):
When crossing a river...
[216] Things that should be big
Morris (126):
Things that should be large
[217] Things that should be small
Morris (127):
Things that should be short
[218] Things that a house should have
[219]
On your way somewhere, if you come across a slender, fine-looking fellow hurrying along the road with an official straight-folded letter, you do wonder where he can be off to.
[220] It irritates me more than anything to see some poorly-decked-out person, off on an excursioin in a miserable carriage.
Morris (128):
Nothing annoys me so much...
[221] I heard people saying there'd been a man in the Long Room who had no business being there.
Morris (129):
There was a man in the Corridor early this morning who had no business to be here...
[222] When Her Majesty was in the Sanjo Palace, a palanquin full of sweet flags arrived on the fifth day, and festive herbal balls were presented.
Morris (130):
When the Empress was staying in the Third Ward...
[223] When Nurse Taifu went off to Hyogo...
[224] Once when I was in retreat at Kiyomizu temple...
Morris (160):
Once when I had gone to Kiyomizu Temple...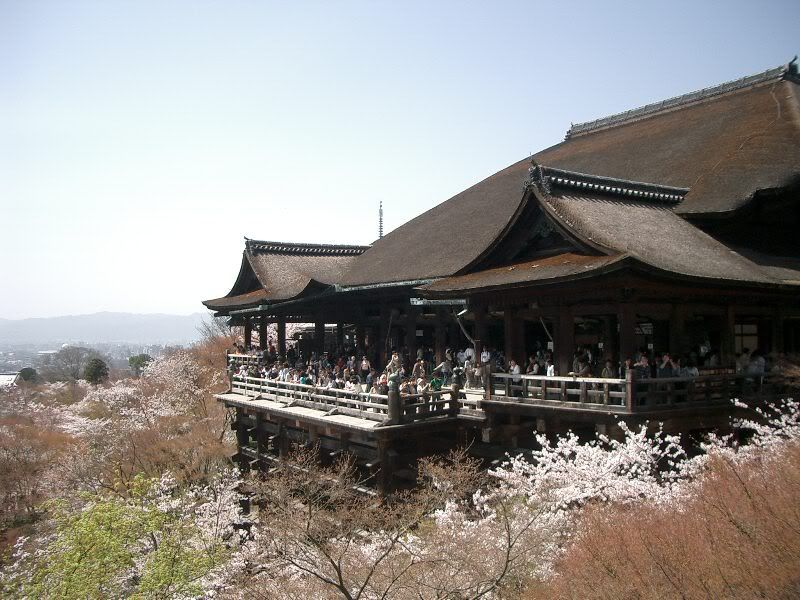 Kiyomizu-dera
in spring
Photo courtesy of Wikipedia Commons
[225] Posting stations
[226] Shrines
Morris (135):
Shrines
[227] The Ichijo Palace went by the name of 'The Temporary Palace'.
[228] Among the people who show you what it must be like to be reborn as a heavenly being...
Morris (138):
Someone who has been serving as a mere maid-of-honour is appointed to be...
[229] It's lovely to see, on a day when the snow lies thick on the ground...
Morris (139):
One day, when the snow lay thick on the ground...
[230] It's also charming to witness, very early in the morning when you open the sliding door of the Long Room...
[231] Hills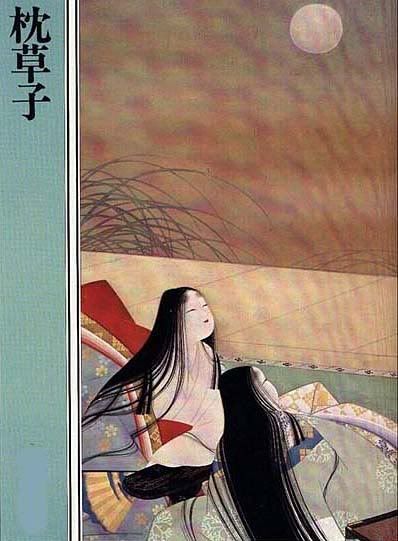 [232] Things that fall
Morris (136):
Things that fall from the sky
[233] Kinds of sun
[234] Kinds of Moon
[235] Stars
[236] Clouds
Morris (137):
Clouds
[237] Things that create a disturbance
[238] Slovenly-looking things
[239] People of rough speech
[240] People who are smug and cocky
My thoughts
Sei has a wonderful eye for human nature and observing the beauty that surrounds her, but there are also many times that I just don't agree with her. In Entry 207, Sei suggests that,
When it's fearfully hot, it's a deliciously cooling sight to witness, just at that point in the cool of the evening when the dusk has begun to blur the shapes of things, a passing carriage, perhaps that of some gentleman with outriders ahead, or even just some everyday carriage going by with the blinds up at the rear and one or two men inside.
Really? As we're in the hottest part of the summer right now here in Tokyo, I would have to say that I personally can't imagine that the sight of a carriage at dusk would be especially cooling. I can think of plenty of other sights I'd rather see on a fearfully hot day! Other than things that would involve electricity, impossible in Heian Japan, most of mine involve water of some sort. A snow-capped mountain. A waterfall. A small stream running through a stand of trees. Even a koi pond in a Japanese garden seems to me much more 'cooling' and appealing on a hot summer day. Don't you think?
I really enjoy reading Japanese folk tales, like
Momotaro
for example, and the superstitions of ancient Japan, like those in
Tales of Moonlight and Rain
by Akinari Ueda, so the folktale that Sei recounts in Entry 226,
Shrines
, was quite fun to read.
Once upon a time there lived an Emperor who cared only for young people, and killed everyone once they turned forty. People fled and went into hiding in distant lands, and no one over forty was left in the capital. There was at that time a Captain, a brilliant and popular man, who parents were both nearing seventy years of age...
Instead of fleeing, the Captain hides them in a secret room built under his house. Meanwhile the Chinese Emperor presents the Japanese Emperor with several difficult puzzles to complete, in an attempt to show his superiority. However, the young Captain, after consulting his father, provides the Emperor with solutions to these various puzzles. The Emperor offers him a reward for his assistance and the Captain requests simply that his parents be once again allowed in the capital. The moral of the tale is no doubt to respect the wisdom of our elders.
As much as I do enjoy Sei's observations of life at court, her descriptions of the beauty of nature and her biting opinions on all that takes place around her, it does get a bit repetitive at times so that also made this tale a nice diversion from her usual diary entries.
As expected, there were some lovely descriptions though, especially in Entries 233, 234, and 236, about the sun, the moon and the clouds. As well as some vivid descriptions of little inconsequential situations that took place in the palace and elsewhere. I've mentioned before that she has a very visual outlook, and sometimes you really feel like you can "see" the scene taking place.
Soon after the twentieth day of the ninth month, on a pilgrimage to Hase, I stayed along the way in a very rough and simple lodging house. I was quite exhausted, and fell into a deep sleep.
Late that night, I woke and was deeply moved at the sight of the moonlight shining in through a window and casting its white light over the bedclothes of the sleeping forms around me. This is precisely the sort of moment when people compose poems. [McKinney, Entry 211]
Finally, I had to chuckle at "
present-day three-year-olds
" being the first mention in Entry 240,
People who are smug and cocky
. How true!
For next time (September 10th):
McKinney: Entries 241 - 260 (p. 205 - 230)
Morris: Entries 131 - 132 (p. 204 - 205), 142 - 147 (p. 213 - 216), 149 - 150 (p. 218 - 235)
Previous posts
:
Week One (Entries 1-10)
Week Two (11-20)
Week Three (21-30)
Week Four (31-40)
Week Five (41-50)
Week Six (51-60)
Week Seven (61-70)
Week Eight (71-80)
Week Nine (81-90)
Week Ten (91-100)
Week Eleven (101-120)
Week Twelve (121-140)
Week Thirteen (141-160)
Week Fourteen (161-180)
Week Fifteen (181-200)
Happy reading!
The small print: Links in this post to Amazon contain my Associates ID. Purchases made via these links earn me a very small commission. For more information please visit my About Page.
---