It's Day Two of
Book Blogger Appreciation Week, 2010
, and that means it's time for the annual Interview Swap! This year I got to swap questions and answers with Sheila of the blog,
Book Journey
. Sheila is a very active blogger, and is the hostess of
It's Monday, What are You Reading?
among all the other things she's involved with. I got to meet Sheila, briefly, in New York earlier this year for Book Expo America, but it was great to get to know her a little better from this interview, and I hope you enjoy getting to know her a little better too! So please give her a warm welcome here, and be sure to stop by
Book Journey
too!
How long have you been blogging, and why did you decide to start a book blog?
Sheila: I started book blogging in early 2009 more as an online journal for the books I read. At that time I did not know about book blogging and when I had a comment on my blog (a comment! That was scary!) I followed it to see if it was spam and it opened up a whole new world to me. I could not believe there were people out there just like me. :) That day - that I now refer to as my Blogiversary was on June 9th, 2009.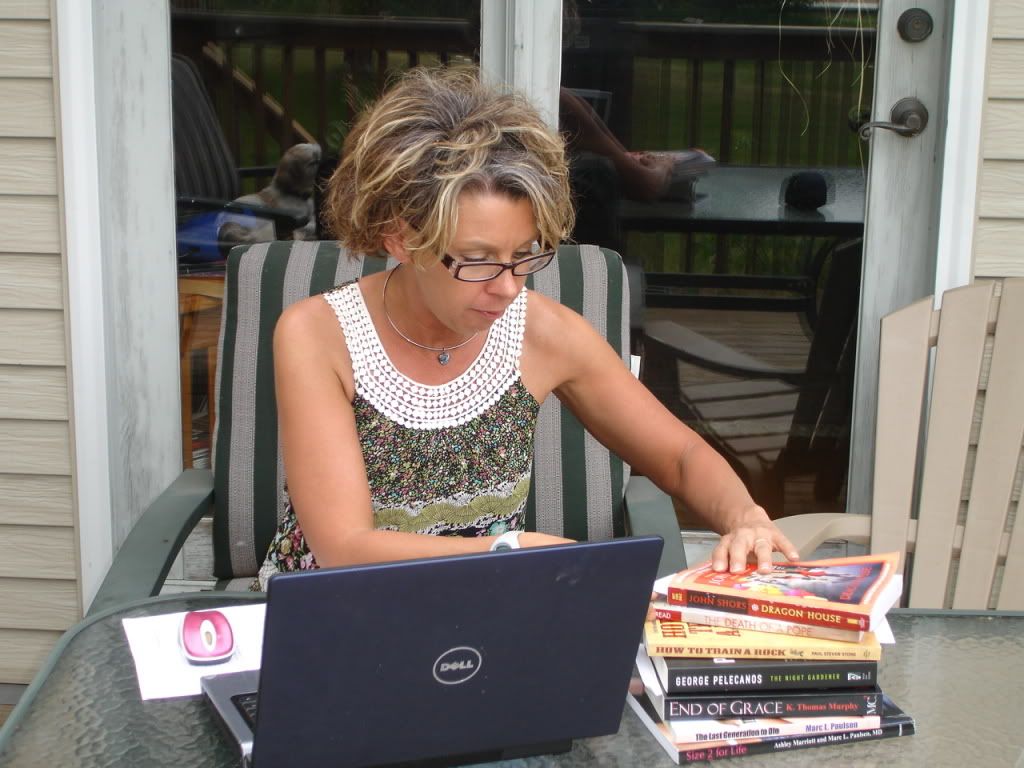 Congratulations on celebrating your first blogiversary earlier this year!
Has your taste in books, or how you read, changed since you started your blog?
Sheila: Yes! They have expanded greatly. I love reading other blogs and when a blogger raves about a book I find myself wanting to read it too. I have picked up many books through other blogs that I would have never considered if I would have passed them in a book store.
I can definitely relate. Book blogs have introduced me to all kinds of books I might never have heard of otherwise, as my groaning bookshelves can attest to.
So, what's the best book (or books if you can't narrow it down) that you've read so far this year?
Sheila: Actually I have had a couple surprises. On audio - The Passage
blew me away. 35 hours of audio that took me two months to listen too.... but the story was so well done, I was never bored. I never thought wow, they could have cut off 10 hours and still had a great story. This book will go far. Trust me. Also - another surprise, To Kill A Mockingbird
. I read that for the first time in my life and it has went to the top books I have ever read pile.
I still haven't read The Passage, although it's currently residing on my desk, staring at me!
When we signed up for the interview swap, we had to list our favourite book (what a difficult question!). You put down The Summerhouse
by Jude Deveraux for yours. I also noticed you're giving away a copy of The Summerhouse as one of your BBAW giveaways this week! Can you tell us why it's one of your all-time favourite books?
Sheila: I have always been impressed with stories that go outside of the cookie cutter pattern. By that I mean same story line, plot, etc... just juggling around a few names, scenes... Summerhouse is the story of three women who had met at age 16 at the drivers license bureau, and then had an opportunity to meet again for their 40th birthday. For fun, they go to a place in town where a woman claims to be able to take you back in time and let you do choose the path you did not take. The gals of course think this is all in fun so as a birthday treat they decide to do it. This is the story. Each woman goes back to a time in her life when they made a decision that altered their life forever. By going back, they have the opportunity to change that choice and see what the outcome would have been.

The book is unique and is one of the best discussions my book club has ever had.

Every time I talk about it I want to toss aside every book I am reading and run for it. I think I have 5 copies on the shelf currently. I am always passing it on to others to read.
It does sound good. There are a couple of past events in my life that I might be tempted to change if I could...
When you're reading, do you have any reading rituals, or quirks? (bookmarks, music, favourite place to read, etc)?
Sheila: Hmmmm..... I must have a bowl of 12 green m&m's beside my reading chair and a Vlasic pickle. Just kidding. No rituals. I like to read outside on the deck in the summer. In the winter I curl up in the recliner with a blanket and a book or two beside me.
Sheila
sleeping at the Library
before the annual fall book sale.
Haha! Or at the library? ;)
What type of books do you usually read? Are there any genres or authors you won't read? Why?
Sheila: I like all sorts of books - fiction and non fiction, almost all genres. I do not like erotica or any kind of heavy romance read. I do not really like science fiction either. I do not have any author I won't read unless they are strictly authors of the genres I do not enjoy - but that is certainly nothing against the author - just my preference as a reader. :)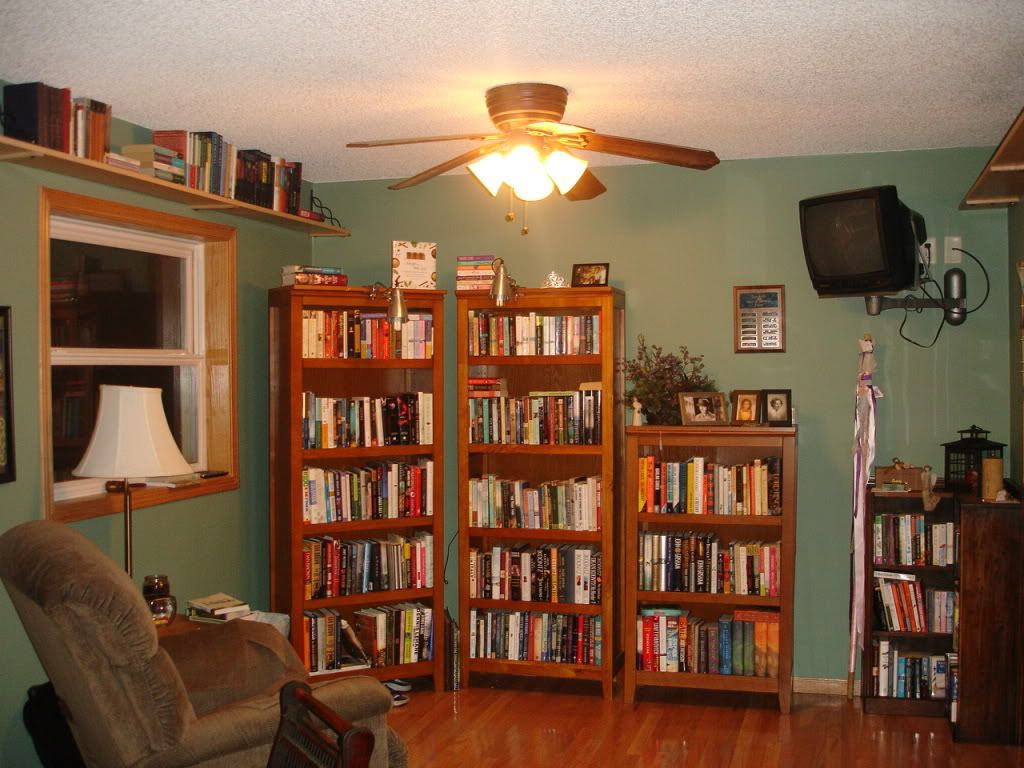 A section of Sheila's home library
That looks like such a cozy room to read in!
Have you always been a reader? What is the first book you remember getting lost in?
Sheila: I remember having the whole set of Little House On The Prairie
Books when I was a kid. Oh yeah.... I was that cool. :) As far as getting lost in books though, I think it was Judy Blume who wrote books that made me feel like I was growing up and I loved her characters.
I'm pretty sure I had the whole set of Little House on the Prairie books too. Does that mean I was just as cool as you?! ;)
What are three books that you think everyone should read?
Sheila: Wow. The pressure.

1. The Harry Potter series
(I know, I know, it is more than one but seriously they are like potato chips - you can not just read one.) I think these books are future classics and if you have never taken the time or think they are not for you, you are mistaken.... must reads.

2.
Safely Home
by Randy Alcorn is an amazing book.... Highly recommend. It is about persecution in China....

3.
To Kill A Mockingbird
is a right of passage and we all must indulge in this book.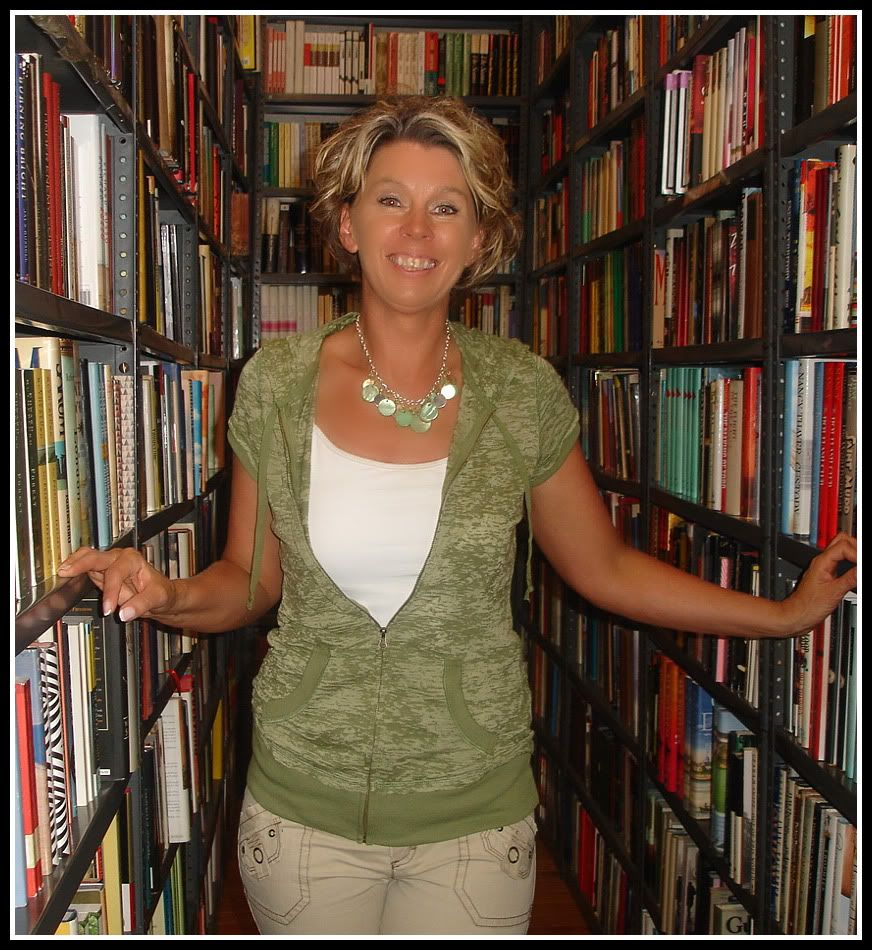 Sheila at The Strand Bookstore in New York City
I've never heard of Safely Home before. I'm going to have to check it out.
Besides reading and blogging, what non-bookish things do you like to do?
Sheila: I love to ride bike and participate in many long distance rides throughout spring - fall in Minnesota. I have completed many 50 and 75 mile rides, twice I have done a two day 150 mile ride and I am hoping in a couple weeks here to do my first ever 100 mile ride in one day.

I also go to Honduras at least once a year with a team of people and we work with street kids in the area or with the kids who live in the dump. I hope to do this as long as I am able.

I also rollerblade, take a weight lifting class three times a week, hang out with friends and explore Minnesota and beyond whenever I get the chance. Currently my friend Heidi and I are trying to get tickets to Oprah. Its true. :)
Wow, you're really active! I wonder how you find time to do it all.
One last question... how would you complete this sentence:
There's nothing I like better …
Sheila: ...than chocolate. Holy smokes I answered that a little too fast!
LOL. But chocolate does go so well with reading!
Thanks so much Sheila for taking the time to answer my questions.
And I hope you'll take a few minutes to read
Sheila's interview of me
over at Book Journey. You just might learn something about me you didn't know before!
The small print: Links in this post to Amazon contain my Associates ID. Purchases made via these links earn me a very small commission. For more information please visit my About Page.
---