Welcome to the
Japanese Literature Book Group
discussion of
The Sound of the Mountain
by
Yasunari Kawabata
. (My apologies for the delay, it took longer than expected to put together the links for this post).
About the author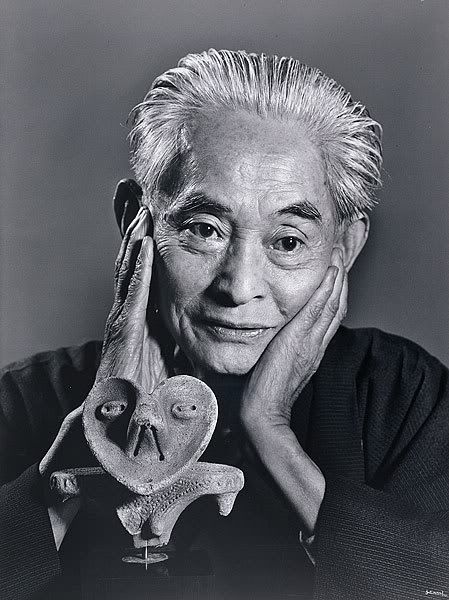 Yasunari Kawabata, son of a highly-cultivated physician, was born in 1899 in Osaka. After the early death of his parents he was raised in the country by his maternal grandfather and attended the Japanese public school. From 1920 to 1924, Kawabata studied at the Tokyo Imperial University, where he received his degree. He was one of the founders of the publication
Bungei Jidai
, the medium of a new movement in modern Japanese literature.
Kawabata made his debut as a writer with the short story,
Izu dancer
, published in 1927. After several distinguished works, the novel
Snow Country
in 1937 secured Kawabata's position as one of the leading authors in Japan. In 1949, the publication of the serials
Thousand Cranes
and
The Sound of the Mountain
was commenced.
The Lake
(1955),
The Sleeping Beauty
(1960) and
The Old Capital
(1962) belong to his later works, and of these novels,
The Old Capital
is the one that made the deepest impression in the author's native country and abroad.
In 1968, Kawabata was the first Japanese novelist to win the
Nobel Prize in Literature
.
He was found dead in 1972, apparently by suicide, although his family believed it to be accidental.
*Photo of Yasunari Kawabata by
Yousuf Karsh
.
*Factual information courtesy of the
Nobel Prize website
, and
Wikipedia
.
About the book
Original Japanese title: 山の音 (
Yama no oto
)
Published in 1954, English translation in 1970
Translated from the Japanese by Edward G. Seidensticker
Vintage, trade pb, 276 p., ISBN: 978-0679762645
From the back cover:


Few novels have rendered the predicament of old age more beautifully than The Sound of the Mountain. For in his portrait of an elderly Tokyo businessman, Yasunari Kawabata charts the gradual, reluctant narrowing of a human life, along with the sudden upsurges of passion that illuminate its closing.

By day Ogata Shingo is troubled by small failures of memory. At night he hears a distant rumble from the nearby mountain, a sound he associates with death. In between are the relationships that were once the foundation of Shingo's life: with his disappointing wife, his philandering son, and his daughter-in-law Kikuko, who instills in him both pity and uneasy stirrings of sexual desire. Out of this translucent web of attachments – and the tiny shifts of loyalty and affection that threaten to sever it irreparably – Kawabata creates a novel that is at once serenely observed and enormously affecting.
Vocabulary and Cultural context
The following links provide further explanation or illustration for some of the cultural or other references to enhance your reading of the book. (Click on the links for more information. Page numbers refer to the Vintage paperback, ISBN: 978-0679762645)
The year before, the year he had entered his second cycle of sixty years...
(p. 6)
Based on the Chinese calendar, the 12 animal zodiac years and the 5 elements, when used together create a complete
60-year cycle
. One's 60th birthday, or
kanreki
, is essentially a 'return to infancy' as you are once again under the same calendar sign under which you were born. To this day, it is still an important celebration.
Shuichi leaned over the paper. "Tanizaki said today that a classmate of hers was looking for work. We do need a maid, you know. I said we'd take her."
(p. 18)
Tanizaki is not an overly common name in Japan. By naming one of the characters in the book Tanizaki, one can assume that perhaps Kawabata was giving a nod to fellow author, Junichiro Tanizaki, although the character in the book, Eiko Tanizaki, is female.
The weather forecast had said that that most ominous of days, the two-hundred-tenth after the beginning of spring, was likely to pass without incident, but Shingo suspected that there would be winds and showers to bring down the temperature.
(p. 34)
September 1st is typically called
nihyaku toka
(literally "210th day") which is the 210th day since
risshun
(February 4th, the official beginning of spring according to the old traditional
Japanese calendar
). There is apparently an old saying that the weather always turns stormy on this day, which perhaps isn't too surprising since it's usually in the middle of typhoon season.
September 1st was also designated as
National Disaster Prevention Day
as it's the memorial of the
Great Kanto Earthquake
which struck Tokyo on September 1st, 1923.
Shingo was in the kotatsu making tea.
(p. 76)
As Japanese homes tend not to have central heating,
kotatsu
are still one of the most common ways of staying warm in winter.
Who was it that gave us the gyokuro? In return for a funeral offering, I think. That was when we started drinking it again. We used to drink it all the time, and never bancha.
(p.76)
Gyokuro
is an expensive, high-grade green tea.
Bancha
is everyday, lower-grade green tea.
It is customary to give an offering of money at a funeral, and to receive a small thank-you gift in exchange.
Japanese funeral rituals
Last night he had dreamed of Matsushima Bay and its islands.
[...]
And it occurred to him that at his age he had been to only one of the "three great sights of Japan." He had seen neither Matsushima nor the strand at Amanohashidate. Once, on his return from a business trip to Kyushu, he had had a look at the Miyajima Shrine.
(p. 79)
Nihonsankei
, or the
three most scenic spots in Japan
.
Regarding the Noh masks:
"This one is the jido mask, I'm told, and this the kasshiki. They're both children."
"This one is a child?" Shingo took up the kasshiki mask by the paper cord that passed from ear to ear.
"It has hair painted on it. See? In the shape of a gingko leaf. That's the mark of a boy who hasn't come of age. And there are dimples."
(p. 83)
"They're by different makers, but from the same period. About the time of Toyotomi Hideyoshi."
(p. 87)
On New Year's Day the occidental way of reckoning ages became official. Shingo was therefore sixty-one, Yasuko sixty-two.
(p. 94)
Based on the Chinese practice, traditionally in Japan babies were considered one year old at birth, then each lunar New Year (rather than on one's birthday) one year was added to each person's age. This practice was rendered obsolete in 1902 when Japan adopted the Western system, but because it was still being widely used, a law was re-established again in 1950.
From Wikipedia:
East Asian age reckoning
When the three came to the temple precincts, the "procession of little princes" was weaving its way up the flagstone walk before the Great Buddha.
(p. 151)
The
Great Buddha
, or
Daibutsu
, is an impressive statue within the grounds of the
Kōtoku-in
temple in Kamakura.
"A kimono," she persisted. "A kimono."
"Grandfather said he'll buy you one for Three-five-seven Day," said Fusako insinuatingly.
(p. 153)
Three-five-seven Day, or
Shichi-go-san
(literally "seven five three"), is held on November 15th. Children (specifically girls aged 3 and 7, boys aged 5) wear kimono and visit shrines, with their parents of course, to wish for a long life.
"She said that on the anniversary of Rikyu's death this year the head of the Enshu School arranged a tea ceremony in the museum tea cottage."
(p. 157)
Sen no Rikyū
, although not the first to introduce the tea ceremony to Japan, he is usually considered the historical figure to have had the most profound effect on the Japanese "Way of Tea".
She suggested that they meet at the Shinjuku Garden
. (p. 187)
Shinjuku Gyoen
is a large park (144 acres) near Shinjuku station in Tokyo, that is a popular spot for cherry blossom viewing in spring.
Discussion Questions
The questions below are simply a guide to get the discussion going. Feel free to pick and choose, and answer those ones that interest you. Plus if you have any other questions or thoughts on the book, please don't hesitate to bring them up. For anyone who hasn't yet read the book, please be warned that the
questions and comments may contain spoilers
, so
please proceed at your own risk!
Did you enjoy the book? Why, or why not?
Have you read any other books by the author? If so, how do they compare?
What did you think of the translation? Of the author's writing style?
On page 72, we are introduced to the character Kinu, Shuichi's mistress. There is a footnote at the bottom which reads: "Translator's note: The name is Kinuko in the original. It has here been shortened, with Mr. Kawabata's permission, to avoid confusion with Kikuko" [Shuichi's wife]. Do you think this was necessary?
Could you relate to the characters? Did you empathise with them? Were the characters believable?
With this story, what is the author saying about the Japanese family dynamic?
Shingo asks, "How much responsibility must a parent take these days for his children's marriages?" (p. 70) What do you think? Are parents responsible for their children's happiness as adults?
The story mostly takes place in Kamakura, an ancient city, still filled with temples and shrines, about 50 km outside of Tokyo, and in Tokyo itself. Was the setting important? Unique? Did it enhance the story?
"When you read that a young person has been killed or committed suicide you just say to yourself it's happened again," mused Yasuko. "But with old people it really hits you. 'People should go away while they are still loved.'" (p. 147) Any thoughts on the Japanese "acceptance" of suicide, or "dying with dignity"?
In Japan, when a couple divorces, the children can only "belong" to one parent. In many cases, the other parent may never see them again. How does this differ from in other countries?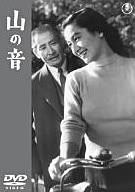 Do you have any favourite scenes or quotes to share?
Were you satisfied with how the book ended?
Would you recommend this book to other readers? Are you likely to read other books by Kawabata?
*****
The Sound of the Mountain
has been reviewed by:
Madeleine's Book & Photo Blog
If you have also reviewed this book, let me know and I'll link to it here.
And just a reminder that our last
Japanese Literature Book Group
selection for this year is
The Temple of the Golden Pavilion by Yukio Mishima
which we will begin to discuss on November 29th. I hope you'll join us.
The small print: Links in this post to Amazon contain my Associates ID. Purchases made via these links earn me a very small commission. For more information please visit my About Page.
---