First of all, Happy
Book Blogger Appreciation Week
, a week of celebrating all things blogging and bookish, that begins today. It kind of snuck up on me this year what with being away until last week and then the jetlag which I'm just beginning to get over. So I'm completely unprepared and I'm abstaining from participating in today's topic because I can't possibly choose just one or two special bloggers. But please know that I truly appreciate all of you! Really, I do!
Instead, today, to get back into this blogging thing, I'm going to tell you a little about what I did on my summer holiday. It had been about a year and a half since I'd last been "home", so first of all it was so nice to see my dad (who is looking a bit older but still keeping well), my favourite aunt and uncle, and to catch up with friends, a couple of them with new babies for me to meet.
Another big highlight was being able to escape the heat and humidity in Japan, for those few days at least. This has apparently been the hottest summer in Japan in over 100 years!! Or so one of my students told me. It's basically been in the mid-30s or so everyday, but with a "feels like" temperature well into the high 40s, since late June/early July. A seemingly endless summer! The weather in Victoria was mostly good, with only one rainy day, a couple of warmer days, and lots of just plain comfortable days. So nice! I also spent some time admiring the water view that I love so much.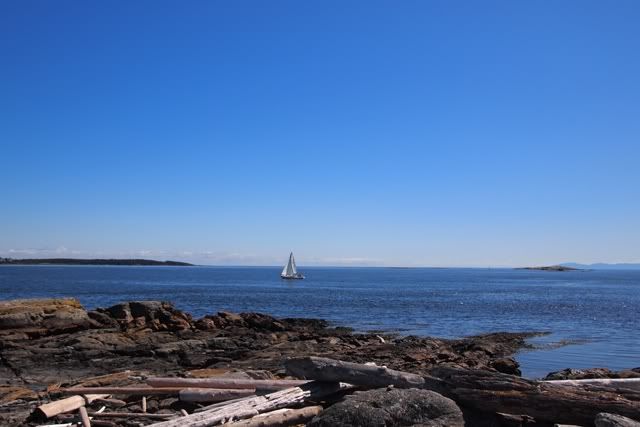 View from Cattle Point, Victoria, BC
I also enjoyed some of the different foods that aren't readily available in Japan. Like root beer, poutine, Reese's peanut butter cups, salt and vinegar chips, rhubarb pie, and so on. I promise I ate regular food too though, not just snacks and junk food.
And shopping. Whenever I'm back in Canada I stock up on clothes and other things that I just can't get in Japan. Of course I always have to make the rounds of my usual bookstores (Munro's, Chapters, and Bolen Books) as well and pick up a few books while I'm at it, and this time was no exception. I usually try to get Canadian books that are harder for me to find in Japan, but I also can't resist a good sale. I think I was quite restrained though as I only got 8 books this time.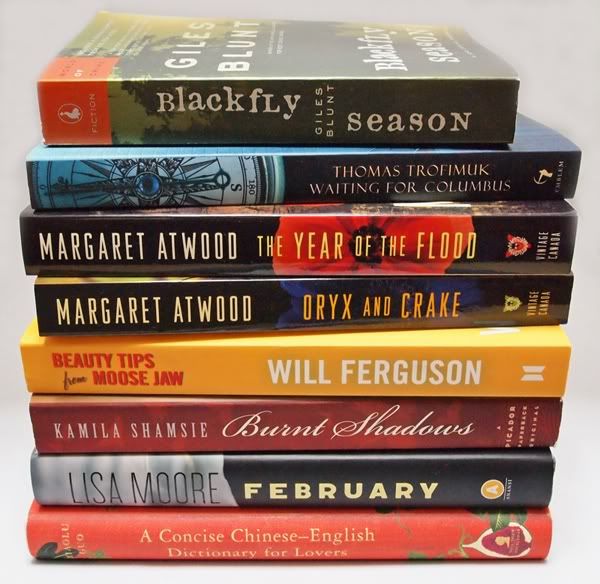 The books:
Blackfly Season
by Giles Blunt
This is the third book in his
Detective Cardinal series
and as I've read the first two I needed to pick up the next one.
Waiting for Columbus
by Thomas Trofimuk
I've heard so many good things about this book that I had to add it to my little pile.
The Year of the Flood
by Margaret Atwood
Oryx and Crake
by Margaret Atwood
I've been wanting to read
The Year of the Flood
and was waiting for it to be out in paperback. I'd also like to reread
Oryx and Crake
before I read
The Year of the Flood
. (I read a library copy of
Oryx and Crake
for a book group a few years ago which is why I don't have my own copy). So I picked up both of them since they make such a nice set, don't you think? When I mentioned my idea on Twitter a little while ago, of reading
Oryx and Crake
, then
The Year of the Flood
together, there was a little bit of interest in reading along, so we just might do a read-along next year. If anyone else is interested, please keep it in mind.
Beauty Tips from Moosejaw
by Will Ferguson
I've chuckled while reading both his
Hitching Rides with Buddha
, and
How to Be a Canadian
so I when I found this one on the sale shelves at Munro's I just had to have it.
Burnt Shadows
by Kamila Shamsie
Another one from Munro's sale shelves. I've heard mixed reviews of this one but I'm curious, it does have a Japanese angle, and it
was
on sale.
February
by Lisa Moore
Also found at Munro's on sale, how could I resist this Canadian author that was on the Man Booker longlist this year?
A Concise Chinese-English Dictionary for Lovers
by Xiaolu Guo
I've had this one on my wishlist since it was shortlisted for the Orange Prize a few years ago, so even though it's not a Canadian author, it was another sale find, this time at Chapters.
Reading is one thing that I didn't do much of while I was away. I had jetlag on that end too (I'm feeling old!) so I kept falling asleep in the evenings, plus I was just so busy visiting with everyone that I didn't find much time to read. Even on the plane there and back, I mostly watched some shows or slept. I did manage to do a little reading though. I had originally planned to just order the paperback from The Book Depository to read later on sometime, but I caved and downloaded the ebook of
Mockingjay
just before I left so I had it with me. So I read that, but I feel a bit like I must be the only person on the planet who wasn't that impressed with this series. I know some people have posted about how vehemently disappointed they were in this last book, but I found the whole series to be kind of boring, to be honest. (Please don't hurt me!) I just don't care enough about it to have any strong feelings either way. Anyway, on a more positive note, I also had
Vanishing and Other Stories
by Deborah Willis with me and have thoroughly enjoyed the stories I've read in it so far. I still have a few to go and I hope to finish this week.
All in all, it was a great holiday, and although I'm glad to be home with the boys (cats and husband included), I also kind of wished I didn't have to leave. Ah well, summer in Japan can't last forever, can it? Fingers crossed, just a few more weeks...
I hope you've all had a good summer, filled with good books!
The small print:
Links in this post to Amazon or The Book Depository contain my Associates or Affiliates ID respectively. Purchases made via these links earn me a very small commission. For more information please visit my About Page.
---