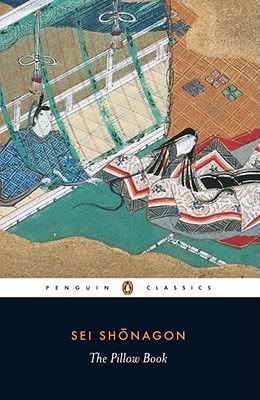 This week I'm looking at entries 241 to 260 in the McKinney translation of
The Pillow Book of Sei Shōnagon
. As always, I've included the corresponding entry numbers in the Morris version too, when possible, for anyone reading along with that version. For more information on the different translations, please visit the
'Pillow Book' Friday
page. Don't hesitate to jump in anytime, as I'd love to hear your thoughts on Sei's rants and musings.
Week Seventeen
McKinney: Entries 241 - 260 (p. 205 - 230)
Morris: Entries 131 - 132 (p. 204 - 205), 142 - 150 (p. 213 - 235)
[241] Things that just keep passing by
[242] Things that no one notices
[243] I particularly despise people who express themselves poorly in writing.
[244] Horrid filthy things
[245] Terrifying things
[246] Things that give you confidence
[247] A son-in-law is brought in after elaborate preparations...
Morris (142):
A family has finally arranged the marriage of their daughter...
[248] Being disliked by others is really a most distressing thing.
Morris (143):
To feel that one is disliked by others is surely one of the saddest things in the world.
[249] Men have the most peculiar and unlikely feelings.
Morris (144):
Men really have strange emotions and behave in the most bizarre ways.
[250] Nothing is more wonderful than sympathy.
Morris (145):
Sympathy is the most splendid of all qualities.
[251] I really can't understand people who get angry when they hear gossip about others.
Morris (146):
It is absurd of people to get angry because one has gossiped about them.
[252] The thing about someone's face that's particularly fine...
Morris (147):
Features that I particularly like in someone's face...

[253] Old-fashioned people put on their gathered trousers in a very time-consuming and awkward way.
[254] Once, towards the middle of the tenth month...
[255] Captain Narinobu was wonderful at distinguishing people's voices.
Morris (131):
Captain Narinobu has an amazing memory for voices.
[256] No one has sharper ears than the Minister of the Treasury.
Morris (132):
I have never come across anyone with such keen ears as Masamitsu, the Minister of the Treasury.
[257] Things that give you pleasure
Morris (148):
Pleasing Things
[258] I was talking with some people in Her Majesty's presence...
Morris (149):
One day, when Her Majesty was surrounded by several ladies...
[259] On the twenty-first day of the second month...
Morris (150):
On about the twentieth of the Second Month...
[260] Venerable things
My thoughts
With my summer holiday to Canada and everything, it had been about a month since I last picked up
The Pillow Book
. With the random diary entries, it's the kind of book that it is easy to dip into though so I had no problem falling back into the world of Heian Japan as Sei describes it.
Entry 241,
Things that just keep passing by
, is very short but captures the melancholy suggested by the title.
Things that just keep passing by -
A boat with its sail up.
People's age.
Spring. Summer. Autumn. Winter.
[McKinney, Entry 241]
I couldn't help myself but chuckle at Entry 249, which starts out, "
Men have most peculiar and unlikely feelings
." Even a thousand years ago men and women couldn't quite fathom each other!
Entry 251 perfectly describes Sei's regard, or lack thereof, for others.
I really can't understand people who get angry when they hear gossip about others. How can you not discuss other people? Apart from your own concerns, what can be more beguiling to talk about and criticize than other people? But, sadly, it seems it's wrong to discuss others, not to mention the fact that the person who's talked about can get to hear of it and be outraged.
Of course if it's someone you have a close bond with, you pause and consider the pain you might cause, and choose to keep your criticism to yourself - though it it weren't someone close to you you'd no doubt go ahead and say it, and have a laugh at their expense.
[McKinney, Entry 251]
As much as I cringe sometimes at her critical view of others, if she hadn't enjoyed gossiping about others we'd never have had this Pillow Book of hers to entertain us all these years later.
There are lots of things in the entry,
Things that give you pleasure
, that still ring true today. Such as, "
It's very pleasing when you've finally recovered from a nasty illness that's plagued you day in, day out for months. This is even more the case when it's not your own illness but that of someone you love.
" or "
How could you fail to feel pleased when you win at a matching game, or some other kind of competition?
"
But the one I think most book lovers can agree with is the following:
"
You've read the first volume of a tale you hadn't come across before, and are longing to go on with it - then you find the other volume.
" We've all been in the situation where we finish the first book in a series and can't wait to read the second, haven't we? She goes on to say, "
The rest of it can sometimes turn out to be disappointing, however.
" Which is unfortunately also sometimes the case, isn't it? It's kind of fun to think of Sei as an early bookworm.
Entry 259 is one of the longest in The Pillow Book, and in it Sei recounts a grand procession and ceremony which was attended by the Empress and her family. I quite like these few longer entries as they have more of a narrative to them than her short, seemingly random observations, and paint a lovely, detailed scene of what life was like then.
For next time (October 22nd):
McKinney: Entries 261 - 297 (p. 230 - 249)
Morris: Entries 151 - 159 (p. 235 - 243), 161-169 (p. 244 - 252)
Previous posts
:
Week One (Entries 1-10)
Week Two (11-20)
Week Three (21-30)
Week Four (31-40)
Week Five (41-50)
Week Six (51-60)
Week Seven (61-70)
Week Eight (71-80)
Week Nine (81-90)
Week Ten (91-100)
Week Eleven (101-120)
Week Twelve (121-140)
Week Thirteen (141-160)
Week Fourteen (161-180)
Week Fifteen (181-200)
Week Sixteen (201-240)
*Image (page from
The Pillow Book
) source:
Nishio city collection
The small print: Links in this post to Amazon contain my Associates ID. Purchases made via these links earn me a very small commission. For more information please visit my About Page.
---