It's my pleasure to have another guest post for you today from author Jacob Ritari. Jacob's debut novel,
Taroko Gorge
, was published earlier this year, and last month he shared some of his unpublished short stories with us. If you haven't read them yet, be sure to check out the links at the end of this post. He's currently living just outside of Tokyo as he continues his Japanese studies. Today he has a recommendation for us, for our reading and watching pleasure.
Meitantei Conan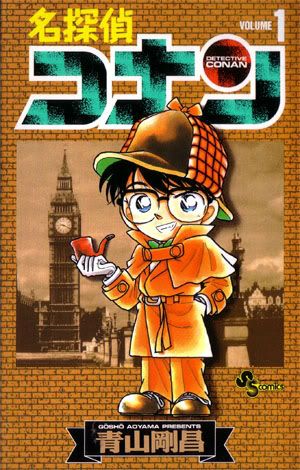 I'm always on the lookout for ways to draw people into the world of anime and manga. I've discussed elsewhere the current reason for my interest in the medium: not that it offers anything revolutionary in terms of ideas, plots, imagery (though it frequently does); but that it's churned out in such huge quantities and read and watched so avidly. While the American publishing industry is collapsing beneath its own dead weight, manga artists are thriving, and instead of reaching after some muddled idea of "literature," providing people with stories they need to live. What's more, the way in which manga series become anime mirrors the current triumph of HBO dramas over the novel: imagine if every bestselling novel became a TV miniseries. That potentiality might cause certain authors to craft stories people might actually, gasp, care about.