It's a little past 5PM on Saturday afternoon here in Tokyo. The read-a-thon officially begins at 9PM Japan time but I've finished off the chores and other things I needed to get done today so I'm going to begin reading now, to take advantage of some quiet time before the craziness begins.
I'm taking a pretty laid back approach to the read-a-thon this time. I'm looking forward to reading, especially since I haven't been doing all that much of it the last couple weeks, but I'm not at all worried about how much, or how long exactly I spend reading. I have no specific goals. So I'm not going to keep track of the numbers (pages read, time spent reading, etc.) this time. And I plan to post just a couple of updates. I'm guessing near the halfway point, and at the end. My main purpose is to have fun!
I've also signed up for the first time as an "official" cheerleader (Go Team Metaphor!), so I will be around though, visiting blogs and on Twitter. Let me know if you're reading today, and I'll be sure to stop by to see how you're doing, and to cheer you on.
As for what I'm going to read, there's no way I'll get through all, or probably even half, of these but here are the books I have on my pile to choose from this weekend.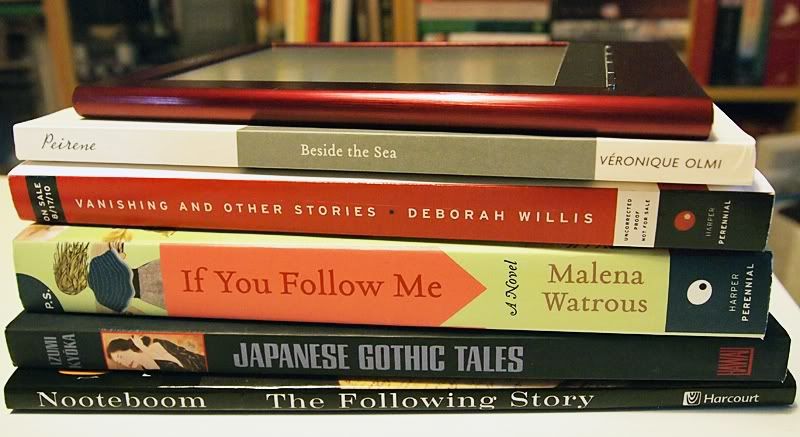 Beside the Sea
by Véronique Olmi
Vanishing and Other Stories
by Deborah Willis
If You Follow Me
by Malena Watrous
Japanese Gothic Tales
by Izumi Kyōka
The Following Story
by Cees Nooteboom (which I'll hopefully be buddy reading with Gnoe of
Graasland
)
And on my ereader I'll choose from these:
The Handbook of Lightning Strike Survivors
by Michele Young-Stone
Damage
by Josephine Hart
The Masuda Affair
by I.J. Parker
Safe from the Sea
by Peter Geye
Happy read-a-thoning everyone!
The small print: Links in this post to Amazon contain my Associates ID. Purchases made via these links earn me a very small commission. For more information please visit my About Page.
---