Today I'm very happy to welcome author
Jacob Ritari
back to
In Spring it is the Dawn
. I hope you enjoyed the short stories he shared with us last month, and if you haven't read them yet, be sure to check out the links at the end of this post. Jacob recently moved to Japan to continue his studies and currently lives just outside of Tokyo. This time he has been inspired by the season, and talks about his visit to the National Museum in Ueno and in particular some ancient scrolls he saw there. Coincidentally his guest post ties in nicely with this month's
Hello Japan! mini-challenge
, which is focusing on all things spooky. So without further ado, here is Jacob on...
Ghouls, Goblins and Hungry Ghosts
All Hallows Eve is soon upon us, and while it may not yet have the currency in Japan of Christmas (a popular day to book a room at the local "Love Hotel") or Valentine's Day (another fine opportunity to induce feelings of anxiety and inadequacy among high school students), Hall'ween still carries a higher profile than Thanksgiving or Easter. The Peko-chan mascots outside the local eateries are festooned with witch's hats, and the ground floor of the Yokohama Tokyu Hands displays a rather lovely Michael Jackson mock-up, while further back, latex masks depicting Japan's last five disgraced prime ministers are on sale.
Japan of course is known for its wealth of ghost and monster lore. Intelligent, ambivalent spirits such as the kitsune (fox) and tanuki (raccoon) are staples of fiction; traditional ghost stories find new life in film; and one of my favorite guilty pleasure TV shows, Destination Truth, recently traveled to Japan in search of the river-dwelling kappa. Wikipedia provides a laundry list of such creatures; but recently one in particular caught my attention.
The National Museum in Ueno hosts a National Treasure Gallery, in which one of Japan's thousand-odd national treasures is on display at a given time. Art objects are divided into those they could presumably pitch out, "important cultural properties," and finally, national treasures—I haven't the faintest idea who makes these decisions. One such treasure is a picture scroll, dated tentatively to the Heian period, entitled "The Realm of The Gaki (Hungry Ghosts)."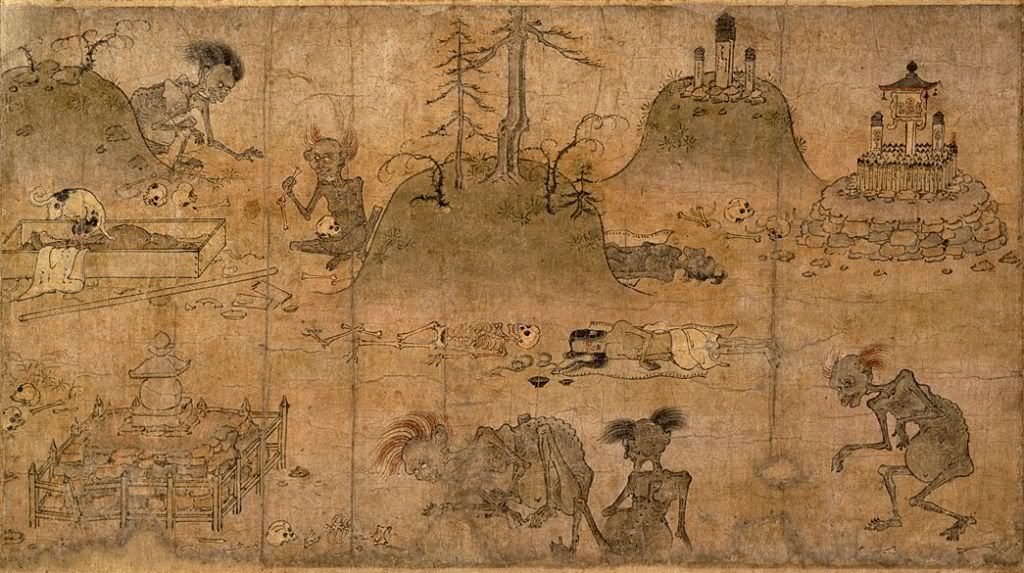 Scene from the Gaki Zoshi (Scroll of the Hungry Ghosts) at the Tokyo National Museum
Originally a feature of preexistent Buddhist mythology, hungry ghosts are one of the six stages of rebirth (the others being divine, pseudo-divine, human, animal and hell); greedy or lustful beings reborn with swollen bellies and tiny puckered mouths, cursed with insatiable hunger, but unable to feed themselves. The scroll depicts their miserable existences: skulking about the household, foraging in alleys and graveyards for human excrement and fresh corpses, and finally returning to hell to be harassed by ferocious demons. It's a breathtaking and bone-chilling work of art. As I was viewing the scroll, the thought struck me: this isn't a ghost story, it's an illustration of humanity. How many of us, after all, eke out just such miserable existences, unattractive and unloved, living from hand to mouth, anticipating only—whether in the modern sense we "believe" or not—inscrutable punishments for crimes we only vaguely comprehend.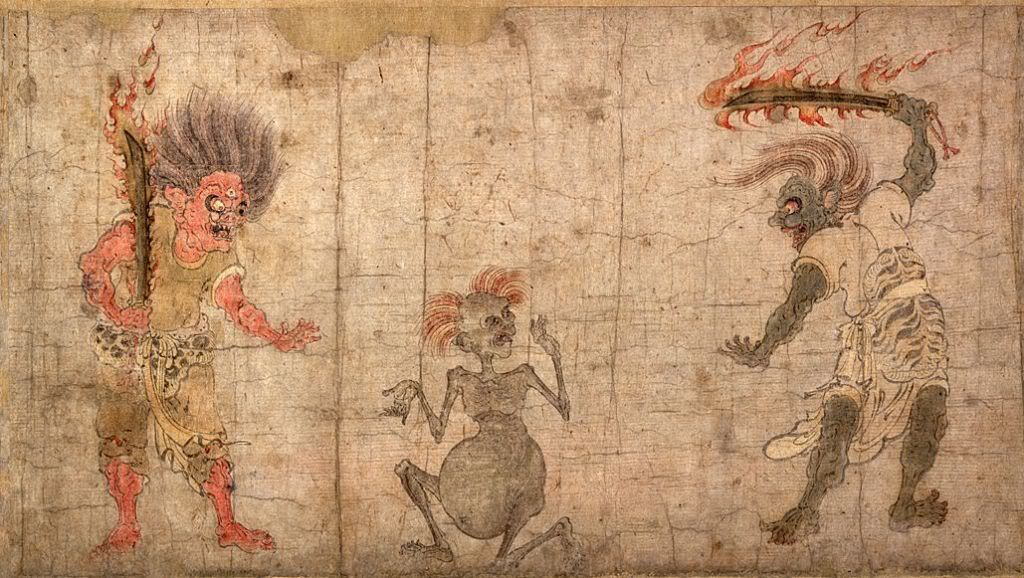 Scene from the Gaki Zoshi (Scroll of the Hungry Ghosts) at the Tokyo National Museum
Incidentally, a craze for gaki art corresponded to several cruel famines during the late Tokugawa period. Artists found plentiful subjects for, after all, in life starving people display the very physical characteristics of gaki. Or as the poet Issa wrote, in haiku, at the time of a famine: "The hungry ghosts I see are real people."
I venture that the Japanese have a particular relationship with suffering. For all the long Tokugawa period, a large sector of the population lived in want. The reforms of the Meiji era and the "modern" relief they brought were, of course, short-lived. It is a trope of folklorists that ghosts and monsters embody displaced human anxiety, and although I am no folklorist, I can imagine how the suffering of everyday life transforms tree branches into witches, sexual predators into vampires, violent, drink-crazed men into werewolves. I suppose all I mean to say is that, in this holiday season, let us gather together and reflect on the true meaning of Halloween. Being that, as Emerson says: "Every man is still a little afraid of the dark, although candles and Christianity have been introduced."
*****
Links
:
Wikipedia:
Hungry Ghosts
Tokyo National Museum:
Gaki Zoshi (Scroll of Hungry Ghosts)
e-Museum:
Gaki Zoshi (Stories of Hungry Ghosts) at Kyoto National Museum
*Images copyright
Tokyo National Museum
*****
For more on Jacob and his writing, visit
Jacob Ritari's website
, or
follow him on Twitter
.
If you missed them, please also check out his short stories:
The Sound of the Train
Futaride
Maintaining Radio Silence
Fukkatsu no Jumon
City of Dreams
Read more about Jacob's debut novel,
Taroko Gorge
, including an excerpt, at the
Unbridled Books website
.
Buy
Taroko Gorge
at:
Amazon.com
|
BookDepository
| via
IndieBound
The small print: Links in this post to Amazon, or The Book Depository contain my Associates or Affiliates ID respectively. Purchases made via these links earn me a very small commission. For more information please visit my About Page.
---