It's my pleasure to have another guest post for you today from author Jacob Ritari. Jacob's debut novel,
Taroko Gorge
, was published earlier this year, and last month he shared some of his unpublished short stories with us. If you haven't read them yet, be sure to check out the links at the end of this post. He's currently living just outside of Tokyo as he continues his Japanese studies. Today he has a recommendation for us, for our reading and watching pleasure.
Meitantei Conan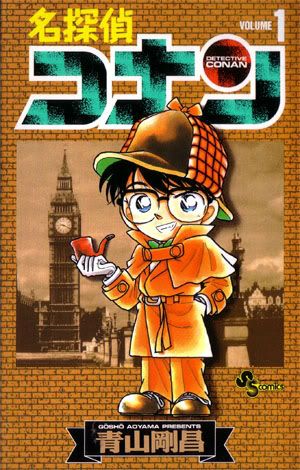 I'm always on the lookout for ways to draw people into the world of anime and manga. I've discussed elsewhere the current reason for my interest in the medium: not that it offers anything revolutionary in terms of ideas, plots, imagery (though it frequently does); but that it's churned out in such huge quantities and read and watched so avidly. While the American publishing industry is collapsing beneath its own dead weight, manga artists are thriving, and instead of reaching after some muddled idea of "literature," providing people with stories they need to live. What's more, the way in which manga series become anime mirrors the current triumph of HBO dramas over the novel: imagine if every bestselling novel became a TV miniseries. That potentiality might cause certain authors to craft stories people might actually, gasp, care about.
But anime/manga suffers the onus of schoolgirls, tentacles, giant robots; those who have discovered Neon Genesis Evangelion, or the films of Hayao Miyazaki, describe them as some rare treasure salvaged from the tropics. Certainly, many series strike the Western viewer as odd at first glance, and today I'd like to recommend one of a different stripe.
Meitantei Conan (literally "Famous Detective Conan") is family entertainment. The animation is subdued, the plot is easy to follow, and it tackles contemporary issues. That said, the premise is indeed rather odd: Shinichi Kudou, famed high school detective, is injected with poison by members of a criminal brotherhood. This has the unforeseen effect of reverse-aging him into a ten-year-old boy. He then hijacks the private detective business of a childhood friend's father (an ex-cop) in hopes of tracking down the miscreants. He takes the name "Conan" from his idol, Arthur Conan Doyle, and each episode is a straightforward (if often remarkably clever) whodunit, with dramatic interludes as he pursues his long-term goal.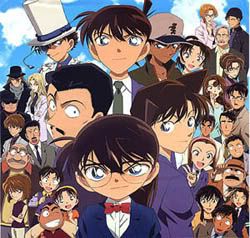 This is one of those rare series I think can honestly be said has "something for everyone:" child characters in the form of Conan's friends; teenaged characters such as his childhood friend and former crush, Ran, and rival Osakan detective Hattori Heiji; and finally the incompetent but tough and good-hearted detective, Ran's father Mori, his estranged wife, and a cast of the most likeable Japanese policemen one will never meet in life. It bears repeating that the mystery plots are clever, and with almost five hundred episodes and fourteen movies, the inventiveness of the writers is staggering.
I highly recommend this series to literally anyone; mystery buffs especially. Much of it is available on YouTube, though to protect the brave uploaders from banning, I won't post direct links. A quick search ought to turn them up. Enjoy, and remember: "Shinjitsu wa, itsumo hitotsu!"
*****
Note:
Shinjitsu wa, itsumo hitotsu
! is translated into English as "one truth prevails".
Meitantei Conan
(Detective Conan) is known in English as
Case Closed
.
*Images courtesy of
Wikipedia
and
Detective Conan World
. Click on the links for more information on Detective Conan.
*****
For more on Jacob and his writing, visit
Jacob Ritari's website
. You can also
follow him on Twitter
.
If you missed them, please check out his short stories:
The Sound of the Train
Futaride
Maintaining Radio Silence
Fukkatsu no Jumon
City of Dreams
Read more about Jacob's debut novel,
Taroko Gorge
, including an excerpt, at the
Unbridled Books website
.
Buy
Taroko Gorge
at:
Amazon.com
|
BookDepository
| via
IndieBound
The small print: Links in this post to Amazon, or The Book Depository contain my Associates or Affiliates ID respectively. Purchases made via these links earn me a very small commission. For more information please visit my About Page.
---