I ended up staying up much later than I'd expected last night but I finally decided to get to bed at around 5AM, and then showered and stuff and read to about 6. Slept for about 4 hours and have now been breakfasted and juiced and am working on waking myself up properly despite the fact that it's almost noon on Sunday here. I'll do another round of cheering in a bit but first a little update.
I've spent a good portion of the read-a-thon so far (when I've been awake that is) on the computer visiting and commenting on other blogs. So the reading hasn't been progressing all that quickly but I figured as much going in so that's ok. Along with my breakfast (a pumpkin bagel, with orange juice - a very orange-coloured breakfast!) I did finish the last 20 or so pages of
The Following Story
by Cees Nooteboom that
Gnoe
and I read together. Now having reached the end, I think I need to go back and read some of the earlier parts again with a better understanding of where the story is going. But I'll leave that for another day when I don't have all the distractions of the read-a-thon.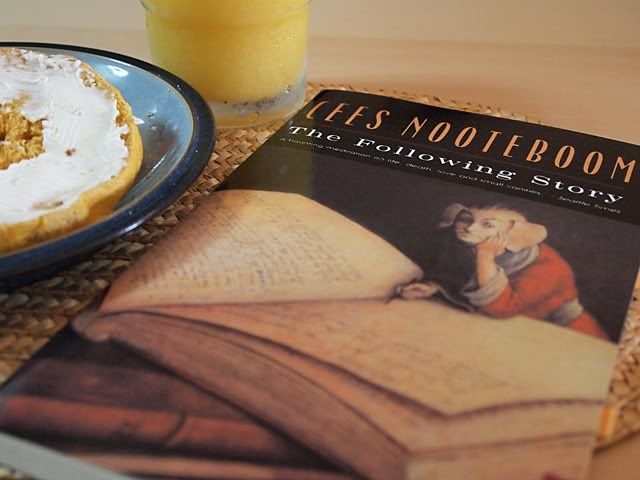 So I've finished one and a half books so far (with the half of the book I read earlier yesterday). I'm not sure what I'll pick up next. I might go back to read more of the stories in
Vanishing and Other Stories
. They're really wonderful and I'm enjoying them a lot. Or maybe a novel,
The Handbook for Lightning Strike Survivors
which I've also read a couple of chapters in already. Decisions. But first, it wouldn't be a read-a-thon without the requisite cat photo. This was Jiro snoozing on the sofa last night while I was trying to read.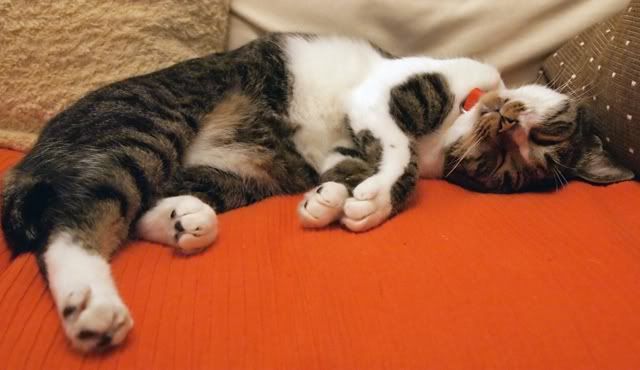 And now for some cheering!
I hope you're having a great weekend. And good luck for everyone participating in the read-a-thon! Only 9 hours left, you can do it!
The small print: Links in this post to Amazon contain my Associates ID. Purchases made via these links earn me a very small commission. For more information please visit my About Page.
---