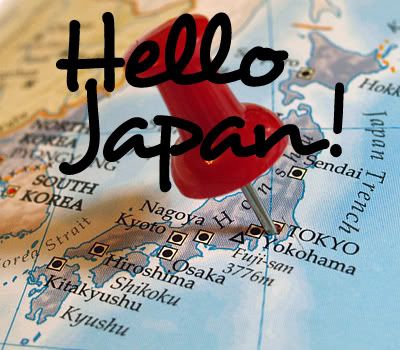 Somehow it's the end of November already! How did that happen? But I couldn't let the month pass by without doing
this month's Hello Japan! mini-challenge
, the Hello Japan! meme. I also thought it might be fun to ask my husband the five questions and get his answers, so I've included them below with my own. Here goes:
1. My favourite Japanese ________________ is ________________ because ____________________________________.
H:
My favourite Japanese
food
is
ramen
because it's
delicious
!
Me:
Perhaps not surprisingly, my favourite Japanese
season
is
spring
for the plum and later the
cherry blossoms
. The Japanese celebrate spring and the cherry blossom for good reason. It's such a pretty time of year here. Autumn is a very close second for me though for the beautiful red Japanese maple leaves.
2. The best Japanese ______________ I've read/seen/eaten/etc this year is ____________________________________.
H:
The best
ramen
I've eaten this year is 油そば (
abura soba
, "oil noodles") at a local ramen shop called Kidoya.
From Wikipedia:
Abura soba
is "essentially ramen and toppings served without the soup, but with a small quantity of oily soy-based sauce instead."
Me:
The best Japanese
experience
I've had this year was being invited to tag along and watch a couple of my students' tea ceremony lesson. It was held in the special tea room at the instructor's house and it was interesting to watch her guide them on the correct movements and positioning of everything right down to the smallest details. The teacher was very friendly and since it was just a lesson, not a formal occasion, it was quite casual and fun. They even let me whisk up some of the powdered
matcha
although I'm absolutely certain I was neither graceful nor elegant. Ah well.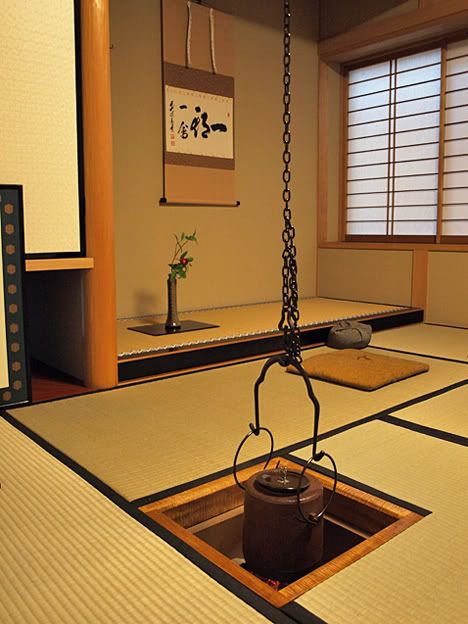 The tea room, with the fire pit (炉) for making the tea.
A
couple more photos
from that day.
3. What Japanese author(s) or book(s) have you enjoyed that you would highly recommend to others?
H:
I don't read much Japanese literature but I'd recommend Natsume Soseki's
I Am a Cat
.
Me:
Well, Haruki Murakami of course. He's now the Japanese author I've read the most. It was fun to re-read
The Wind-up Bird Chronicle
as a
Japanese Literature Read-along
selection this year, as well as some of his earlier novels that I hadn't read before. Although I think
Hard-boiled Wonderland and the End of the World
might still be my favourite. I think I need to re-read it though, as it's been quite a few years now since I first read it.
This year I also discovered Yoko Ogawa, first with
The Housekeeper and the Professor
, and then
Hotel Iris
. I thoroughly enjoyed both books and the fact that they were so different from each other makes me both regard her highly, and very eager to read more.
I've mentioned it here before, more than once, but I also love Junichiro Tanizaki's
The Makioka Sisters
. I want to read more by all the well-known Japanese authors, the Japanese classics, but I think next year I'll make a point of specifically reading more by Tanizaki.
And for manga, the
Emma
series by Kaoru Mori is simply fabulous!
4. What is something Japanese that you'd like to try but haven't yet had the chance?
H:
I'd like to go to Okinawa.
Me:
I'm determined to finally read
The Tale of Genji
next year. Otherwise, I've always wanted to study 書道 (
shodo
, Japanese brush writing). I've done some English calligraphy over the years and I love looking at beautifully written scrolls and whatnot. (Even on the computer I love playing around with fonts!) Of course it would help if I could understand the kanji characters properly before trying to write them, I suppose.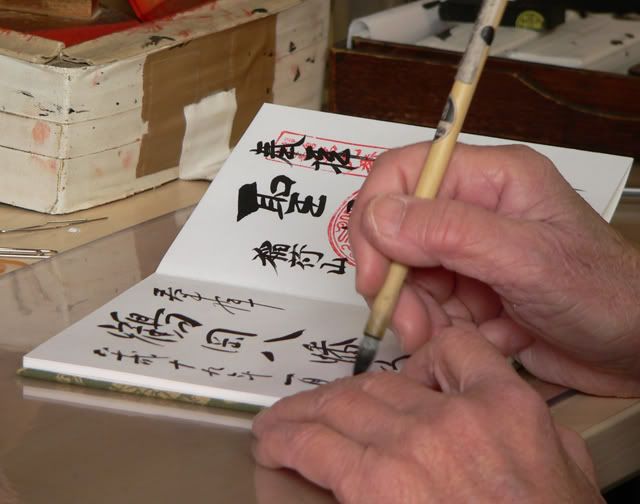 A monk at Tsurugaoka Hachimangu Shrine in Kamakura, writing in our 朱印帖 (
shuin-cho, or stamp book
), essentially an accordian-style book in which to collect the stamps of all the temples or shrines you visit.
5. You're planning to visit Japan next year. Money is not a concern. What is on the top of your list of things you most want to do?
In our case, I asked H where in Japan, other than Tokyo where we live, he would most like to visit if time and money weren't an issue, and what he wanted to do there.
H:
I would travel around Hokkaido and take pictures. Especially I want to see the wide open spaces. Hokkaido is the only place in Japan where you can see a flat horizon without any mountains.
Me:
Since in this scenario money isn't a problem, I'd take 3 or 4 months off. Start in early spring in Okinawa before it got too hot. Then work my way back up north stopping off in Kyushu and then Honshu, with a detour to Shikoku, and finally Hokkaido. In other words, all of Japan! Ideally we'd rent a house in Kyoto for a month or so and leisurely visit the city and the surrounding areas like Nara and Uji. And I agree with H about Hokkaido. I've only been to Sapporo for a few days during the winter Snow Festival and would love to see more of the island, especially in the summer season. If I could only choose one destination though it would be Kyoto/Nara. It's been several years since I've been there and I'm dying to go back with my camera and try to get some good shots.
Well, there are our answers. How about you? What's the best, or most memorable, Japanese thing you've done this year?
I won't be posting the November wrap-up until Thursday, so you've still got a little bit of time if you'd like to join in with the mini-challenge and have a chance at the prize.
The small print: Links in this post to Amazon contain my Associates ID. Purchases made via these links earn me a very small commission. For more information please visit my About Page.
---