I'm happy to share with you another guest post from author Jacob Ritari today. For anyone just tuning in, Jacob's very enjoyable debut novel,
Taroko Gorge
, was published earlier this year, and during the month of September he shared some of his unpublished short stories with us here on In Spring it is the Dawn. If you haven't read them yet, there are links to the stories at the end of this post. He's currently living just outside of Tokyo as he continues his Japanese studies, and every couple of weeks or so he continues to share his thoughts with us on all things Japanese. Today he talks about one of his favorite Japanese writers, Osamu Dazai.
---
"Love is Revolution": Osamu Dazai
In an
earlier guest post
here, I touched on the story of Sen no Rikyuu and Toyotomi Hideyoshi; the contemplative, aesthete tea master and the brutal warlord; the former of whom eventually fell victim to the philistine envy of the latter. In one of his autobiographical fragments, the great Japanese writer Osamu Dazai recasts the story humorously, with himself as Rikyuu and his forward-thinking, practical elder brother as Hideyoshi.
Dazai belonged to a generation of writers (including Yukio Mishima and Yasunari Kawabata) with direct adult experience of World War II. Dazai was outlived by the aforementioned; in 1948, he and his mistress drowned themselves in a canal in Mitaka, near the present-day site of the Studio Ghibli museum. He was thirty-nine. An earlier suicide attempt resulted in the death of his then-girlfriend; in another, chilling autobiographical fragment, he recounts how on that night, he was spurred to make the suggestion on hearing the rustling of her clothing against the bedding: "She died because she turned over in her sleep."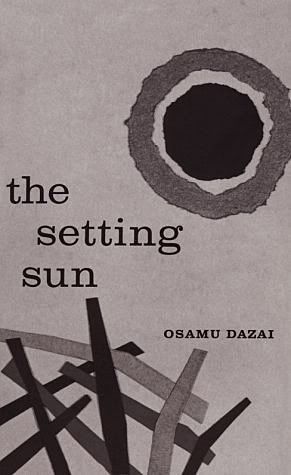 Dazai, one of my favorite Japanese writers, combines a sense of the terminus of human misery with a desperately jaunty sense of humor. His two major novels ("The Setting Sun" and
Ningen Shikkaku
—often translated as "No Longer Human," though a more accurate translation would be "Disqualified From Being Human") try to cast his personal crisis in more universal, "literary" terms; in the former, a woman resolves to overcome the despair of postwar Japan by raising her child without the aid of a husband.
The revolution is love, love is the revolution
, she declares. But at least to me, such formulae ring hollow. The real Dazai is revealed in his fragmentary autobiography, much of which was collected under the English title of "Self-Portraits," translated by Ralph F. McCarthy. Though it is now out of print, I can't recommend it highly enough.
While the irreverent, hard-drinking Dazai might seem at first glance to have little in common with the sage Rikyuu, both found it impossible to live in the time fate placed them in. Dazai was the first of many suicides; Mishima and Kawabata followed him in the succeeding years. Even while Japan made a startling economic recovery, the voices of artists protested that something was not quite right. Artists are, I believe, something like seismographs, enormously sensitive to phenomenon they do not always themselves consciously understand.
A writer is, almost by definition, powerless; all they can do is reflect the times in which they live. Dazai strikes me as a kind of Japanese J.D. Salinger, stuck in a protracted adolescence. Their work can hardly offer a solution to the fundamental problems of life, but stand as a protest against the hollow utterances of politicians, industrialists, educators; a mute refusal of false values. Dazai continues to find readers in modern Japan, in an age when the sense of disillusionment, especially among the young, is sharper than ever. In such an age, just such a "useless" man may be just what we need.
---
Wikipedia page on Osamu Dazai
*Photo of author courtesy of Wikipedia Commons
---
For more on Jacob and his writing, visit
Jacob Ritari's website
. You can also
follow him on Twitter
.
If you missed them, please check out his short stories:
The Sound of the Train
Futaride
Maintaining Radio Silence
Fukkatsu no Jumon
City of Dreams
Read more about Jacob's debut novel,
Taroko Gorge
, including an excerpt, at the
Unbridled Books website
.
Buy
Taroko Gorge
at:
Amazon.com
|
BookDepository.com
|
BookDepository.co.uk
|
via
IndieBound
The small print: Links in this post to Amazon, or The Book Depository contain my Associates or Affiliates ID respectively. Purchases made via these links earn me a very small commission. For more information please visit my About Page.
---