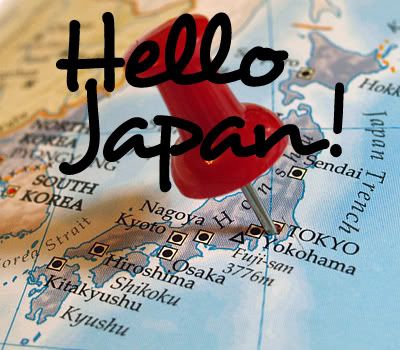 Thank you to everyone who took part in the
Hello Japan! mini-challenge
for October.
October's Hello Japan! task
was to read or watch something scary, spooky, or suspenseful.
Here's what you came up with:
Novroz of
Novroz' Favorite Things
definitely showed her enthusiasm for all things Japanese and spooky by sharing 4 posts with us! I love it when people get excited about a topic!
First she commented on the anime series of
Yuyu Hakusho: The Dark Tournament
(
Yuyu Hakusho
translates into English as "Ghost Files").
Next she wrote her thoughts on the manga
Doubt by Yoshiki Tonogai
, about a deadly game the characters are forced to play.
Then she wrote a review of the detective crime novel
The Tokyo Zodiac Murders by Soji Shimada
. A serial murder story that she couldn't put down!
And finally, she tells us about a
Japanese vampire movie, Moon Child
.
Thanks also to
The Parrish Lantern
for his multiple posts!
He read some of Ryunosuke Akutagawa's short stories, focusing first on the story
Hellscreen
, and then reviewing the rest of the stories in the collection,
Rashomon and 17 Other Stories
.
Plus he also shared his earlier review of
Out by Natsuo Kirino
, which is just like he says, a gritty, thought-provoking page-turner.
Teresa
talked about
Kwaidan
by Lafcadio Hearn, which if you remember is also the October prize.
I read "Kwaidan" by Lafcadio Hearn. The book is divided into 2 sections, the longer one called "Kwaidan," which means 'weird tales' (there are 17 of them) and a shorter section called "Insect-Studies," which is comprised of 3 different essays about butterflies, mosquitoes and ants. All the writings are from a Japanese perspective, though Hearn points out where the tradition is even older and likely comes from an earlier Chinese telling.

In the "Kwaidan" section I was reminded of other folklorists who've done the same kind of 'archiving' for other communities. The details in the stories may be very different from other traditions, but many times the fears embodied in the stories seem the same, giving them a universal feel. Certain stories even helped explain the modern-day Japanese horror stories and movies in which the spirit cannot rest because of a grudge it held at the time of its earthly death.

I previously knew how much at peace Hearn felt in Japan, knowing that here is where he found his true home, becoming a citizen and marrying a local woman. The well-written essays with his philosophical musings show how much he had embodied the essence of Japan.
And Litera of
Litera-tour
reviewed the Japanese horror movie,
Dark Water
, based on the book by Koji Suzuki.
I'd hoped to read
Ring
by Koji Suzuki last month but never quite managed to fit it in. As I think I've said before I'm quite a wimp as far as horror movies go, but Novroz convinced me that the book is less horror and more thrilling than the movie so I ordered a copy and will have to give it a try before too long.
Now on to the prize, which like I mentioned above, is a copy of
Kwaidan: Ghost Stories and Strange Tales of Old Japan
by Lafcadio Hearn. And the winner, thanks to a little help from
random.org
, is ...
The Parrish Lantern
! I'll be in touch soon for your mailing address.
I hope you all had a great October and if you celebrated it, a Happy Halloween!
The small print: Links in this post to Amazon contain my Associates ID. Purchases made via these links earn me a very small commission. For more information please visit my About Page.
---