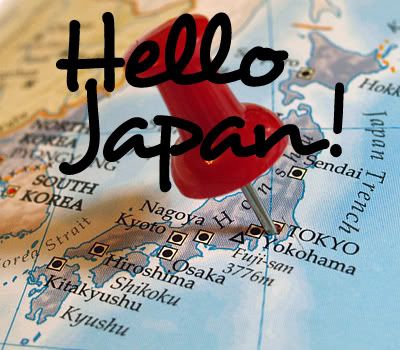 Hello Japan! is a monthly mini-challenge focusing on Japanese literature and culture. Each month there will be a new task which relates to some aspect of life in Japan. Anyone is welcome to join in any time. You can post about the task on your blog. Or if you don't have a blog, you can leave a comment on the Hello Japan! post for the month. Everyone who completes the task will then be included in the drawing for that month's prize. For more information, just click on the Hello Japan! button above, or if you have any questions please feel free to email me at inspringthedawn AT gmail DOT com.
November's Topic
It's hard to believe it's been just over a year already since I
started the Hello Japan! mini-challenge
(in October 2009) with a little help and enthusiasm from you! The idea behind it was simply to give you the chance
to experience a little taste of Japan no matter where you live, and to learn more about the fascinating country that is Japan
, regardless if you're already familiar with Japan, or just discovering it. Heck, I've lived here for several years now and am still learning new things. Some of the mini-challenges and topics were more popular than others, but I hope that you have all enjoyed sharing some of your adventures with Japanese literature and culture over the past year, and I hope that you'll continue to do so.
November's Task
We're going to do things a little differently this month. Instead of a general topic to post on, I have five questions about Japan for you to answer. A kind of short Japan meme, if you will, just as a fun way to talk about some of what we like about Japan, and perhaps get some suggestions from each other of other things to try. Feel free to elaborate, add photos, or include whatever else you feel like.
Hello Japan! meme
My favourite Japanese ________________ is ________________ because ____________________________________.
The best Japanese ______________ I've read/seen/eaten/etc this year is ____________________________________.
What Japanese author(s) or book(s) have you enjoyed that you would highly recommend to others?
What is something Japanese that you'd like to try but haven't yet had the chance?
You're planning to visit Japan next year. Money is not a concern. What is on the top of your list of things you most want to do?
Bonus question(s):
(Not required but I'd really love your input).
What was your favourite Hello Japan! mini-challenge topic?
What topic(s) would you like to see as a Hello Japan! mini-challenge in 2011?
You can see a list of all the previous topics by referring to the main
Hello Japan! mini-challenge
page.
November's Prize
The prize this month is a copy of the lovely illustrated book,
A Year in Japan
by Kate T. Williamson.
The Land of the Rising Sun is shining brightly across the American cultural landscape. But the only way for a Westerner to get to know the real Japan is to become a part of it. Kate T. Williamson did just that, spending a year experiencing, studying, and reflecting on her adopted home. She brings her keen observations to us in A Year in Japan, a dramatically different look at a delightfully different way of life. Avoiding the usual clichés -- Japan's polite society, its unusual fashion trends, its crowded subways -- Williamson focuses on some lesser-known aspects of the country and culture. In stunning watercolors and piquant texts, she explains the terms used to order various amounts of tofu, the electric rugs found in many Japanese homes, and how to distinguish a maiko from a geisha. She observes sumo wrestlers in traditional garb as they use ATMs, the wonders of "Santaful World" at a Kyoto department store, and the temple carpenters who spend each Sunday dancing to rockabilly. A Year in Japan is a colorful journey to the beauty, poetry, and quirkiness of modern Japan -- a book not just to look at but to experience.
My short
review of A Year in Japan
.
To be eligible for the prize, you must complete this month's mini-challenge by writing a blog post and adding a link to your post, or leaving a comment with your answers on this post. Or if you prefer, you can also email me at inspringthedawn AT gmail DOT com with your submission. You are welcome to post or comment more than once and add the relevant links below. I love it when you are enthusiastic about a topic! However, each participant will receive only one entry per month. It doesn't matter if you've won previously, you're eligible each month that you participate. Please let me know if you have any questions.
Once you have
completed the task
, don't forget to come back here to add your link to the Mr. Linky below. Please submit the link to the actual post, not just to your top page, and please only submit links to posts relating to the Hello Japan! task for this month. Any other links will be deleted. Thank you for your understanding.
Have fun!
The small print: Links in this post to Amazon contain my Associates ID. Purchases made via these links earn me a very small commission. For more information please visit my About Page.
---