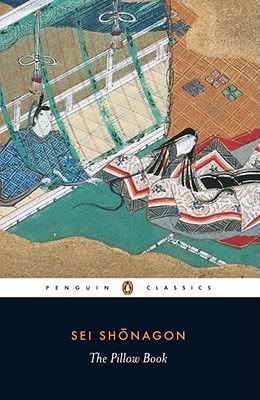 This week I'm looking at entries 261 to 297, plus the 29 supplementary entries in the McKinney translation of
The Pillow Book of Sei Shōnagon
. As always, I've included the corresponding entry numbers in the Morris version too, when possible, for anyone reading along with that version. For more information on the different translations, please visit the
'Pillow Book' Friday
page. Please scroll down for my thoughts on this section. Also, apologies to anyone who was looking for this to be up much earlier, as it has been delayed more than once.
Week Eighteen
McKinney: Entries 261 - 297 (p. 230 - 249) + Supplementary entries 1-29 (p. 249 - 256)
Morris: Entries 151 - 159 (p. 235 - 243), 161-169 (p. 244 - 252), 173 (p. 254), 176 (p. 256), 182 (p. 260-1), 184 - 5 (p. 263)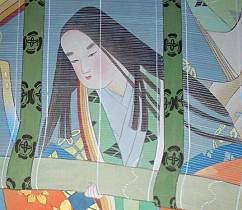 [261] Songs
[262] Gathered trousers
[263] Hunting costumes
[264] Shifts
[265] Formal train-robes
[266] Fan ribs
[267] Cypress fans
[268] Deities
[269] Promontories
[270] Huts
[271] The calling of the night watch is a wonderful thing.
[272] At noon on a beautiful sunny day...
Morris (151):
At noon when the sun is shining brightly...
[273] Captain Narinobu is the son of His Reverend Highness, Minister of War.
Morris (152):
Captain Narinobu is a son of His Reverend Highness, the Minister of Military Affairs.
[274] You have a lover who always sends a next-morning poem...
Morris (153):
On one occasion a man, ...
Morris (154):
One day the sky, which until then had been quite clear...
[275] Things of splendour and spectacle
[276] When there are great thunderclaps...
Morris (155):
The Thunder Guards are inspiring...
[277] The Kongenroku screen is a fascinating thing.
[278] A seasonal directional taboo or the like has sent you on a roundabout route...
Morris (156):
One has taken a roundabout way...
[279] The snow was piled high...
Morris (157):
One day, when the snow lay thick on the ground...
[280] The little boy employed by the Yin-Yang masters...
Morris (158):
The boys employed by Masters of Divination...
[281] In the third month, I left the court to perform an abstinence...
Morris (159):
Once in the Third Month...
[282] On the twenty-fourth day of the twelfth month...
Morris (161):
On the twenty-fourth of the Twelfth Month..
[283] When gentlewomen in the palace leave their own particular courts and gather somewhere...
Morris (162):
It is delightful for the Master of a Household...
[284] Things that imitate
[285] Things one must be wary of
Morris (163):
Times when one should be on One's Guard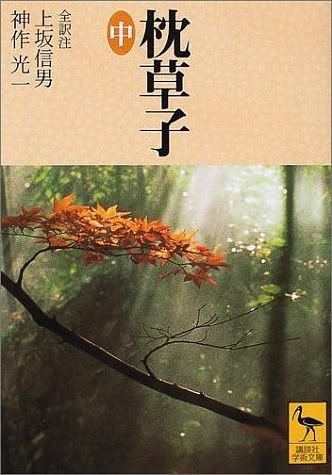 [286] A certain Officer of the Right Gate Watch...
Morris (164):
A Certain Lieutenant...
[287] The mother of the Ohara gentleman...
[288] The letter Narihira's mother the Princess sent him...
[289] It's terribly depressing to discover...
Morris (165):
Once I wrote down a poem...
[290] If a mere common woman...
Morris (166):
If a servant girl...
[291] The Officers of the Left and Right Gate Watch...
[292] Grand Counsellor Korechika presented himself one day...
Morris (167):
One evening Korechika, the Major Counsellor...
[293] I was sitting one day with Bishop Ryuen's nurse...
Morris (168):
One day I was in the apartment of...
[294] There was a man whose mother died.
Morris (169):
A young man has lost his mother.
[295] A certain gentlewoman was courted by the Governor of Totomi's son.
[296] Stealing an illicit conversation with someone in an awkward place...
[297] 'Can it be true that you're leaving the capital before long?' someone asked.
My thoughts
These last entries are more of the same. More lists. More poems. More musings on the beauty of nature. More accounts of various events that took place at the palace. More thoughts on the people at the Heian court. But this isn't a bad thing. Each entry gives a little more insight into what life was like at that time, a time which still fascinates me.
I know I've said it before, but one of Sei's strengths is truly in her vivid descriptions that make a scene so visual.
Captain Narinobu is the son of His Reverend Highness, Minister of War. Not only is he extremely handsome, he also has a delightful personality. I felt very sorry for him when the Governor of Iyo, Kanesuke, took his daughter back to Iyo with him, leaving poor Narinobu unable to forget her. How touching to imagine his lonely cloaked figure making its way home beneath the moon at daybreak, after bidding her farewell before her dawn departure. [McKinney, Entry 273]
Can't you just feel the melancholy in that scene?
Another charming scene is of a lovely lady, with fine features and hair falling long over her forehead, who receives a letter in a dark room and is so anxious to open it that she doesn't take the time to light the lamp, but instead picks up a glowing coal from the brazier with the fire tongs and sits straining to make out the words by its light. [McKinney, Entry 274]
In this one I can really sense the impatience as the lady eagerly sets to read the much-anticipated letter.
The supplementary entries, which I'll list below, are mostly more short lists but I quite enjoyed her lists of
Things that are better at night
[Entry S1], or
Things that are hard on the ear
[Entry S3] such as a "
person who has nothing particular to recommend her, talking with her mouth full
" (p. 250). How true.
I also found supplementary Entry 23 (p. 251) quite interesting as it basically describes an exorcism. I suppose it fascinates me the level of religious superstition that existed then, and even now.
I have written in this book things I have seen and thought, in the long idle hours spent at home, without ever dreaming that others would see it. Fearing that some of my foolish remarks could well strike others as excessive and objectionable, I did my best to keep it secret, but despite all my intentions I'm afraid it has come to light. [McKinney, Entry S29]
The final entry tells how Sei came to start writing in this "bundle of paper" her thoughts on "all manner of odd things", and how she originally intended to keep it a private diary. She obviously added this final entry after it became widely known and read.
Overall, I have chosen to write about the things that delight, or that people find impressive, including poems as well as things such as trees, plants, birds, insects and so forth, and for this reason people may criticize it for not living up to expectations and only going to prove the limits of my own sensibility. But after all, I merely wrote for my personal amusement things that I myself have thought and felt, and I never intended that it should be placed alongside other books and judged on a par with them. I'm utterly perplexed to hear that people who've read my work have said it makes them feel humble in the face of it. (p. 255-6)
I, for one, am glad that at least some of her thoughts and writings have been preserved, so that we can appreciate them still a thousand years later.
Well, that brings us to the end of this very leisurely reading of
The Pillow Book
of Sei Shonagon. Thanks to anyone who has read along. I really enjoyed revisiting
The Pillow Book
and reading it more closely this time with the longer McKinney version. I'll post my final thoughts and a review of sorts sometime in the next couple of weeks.
[S1] Things that are better at night
[S2] Things that look worse by firelight
[S3] Things that are hard on the ear
[S4] Things whose Chinese characters make no sense
[S5] Things that look lovely but are horrible inside
[S6] Women's outer gowns
[S7] Chinese jackets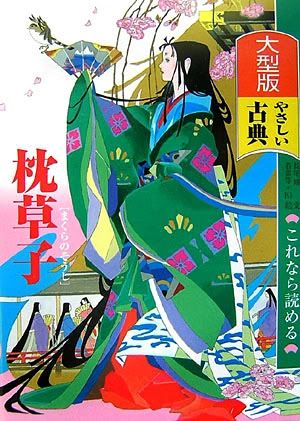 [S8] Trains
[S9] Girls' over-robes
[S10] Figured silks
[S11] Damask patterns
[S12] Thin paper and decorated paper
[S13] Writing boxes
[S14] Writing brushes
[S15] Inksticks
[S16] Shells
[S17] Comb boxes
[S18] Mirrors
[S19] Lacquer designs
[S20] Braziers
[S21] Tatami mats
[S22] Palm-leaf carriages
[S23] A grove of tall pines shades the mansion...
Morris (182):
The house had a spacious courtyard...
[S24] The best places for palace service
[S25] A dilapidated house with a garden overgrown with trailing weeds...
[S26] A palace with a pond, in the fifth month when the rains are falling...
[S27] I found it most offensive...
Morris (173):
It is very annoying...
[S28] When gentlewomen come and go from the palace...
Morris (176):
It often happens that a Court lady...
[S29] I have written in this book...
Morris (184):
When the Middle Captain of the Left Guard Division...
Morris (185):
It is getting so dark...
Previous posts
:
Week One (Entries 1-10)
Week Two (11-20)
Week Three (21-30)
Week Four (31-40)
Week Five (41-50)
Week Six (51-60)
Week Seven (61-70)
Week Eight (71-80)
Week Nine (81-90)
Week Ten (91-100)
Week Eleven (101-120)
Week Twelve (121-140)
Week Thirteen (141-160)
Week Fourteen (161-180)
Week Fifteen (181-200)
Week Sixteen (201-240)
Week Seventeen (241-260)
The small print: Links in this post to Amazon contain my Associates ID. Purchases made via these links earn me a very small commission. For more information please visit my About Page.
---