I'm very pleased to share with you another guest post from author Jacob Ritari today. For anyone just tuning in, Jacob's debut novel,
Taroko Gorge
, was published earlier this year, and during the month of September he shared some of his unpublished short stories with us here on In Spring it is the Dawn. If you haven't read them yet, there are links to the stories at the end of this post. He's currently living just outside of Tokyo as he continues his Japanese studies, and every couple of weeks or so he continues to share his thoughts with us on all things Japanese. Today he talks about a famous historical figure, Sakamoto Ryōma (Japanese-style of surname first), who has recently been getting a lot of attention.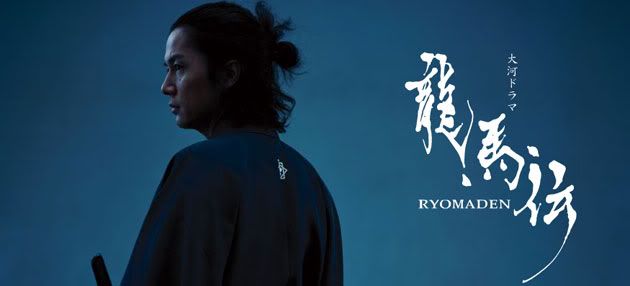 Oi, Ryouma!
Recently, a high-profile Japanese television drama drew to a close, centering on a historical figure who has been of interest to me for some time. Naturally it wasn't until the final episode that I figured out I got the relevant channel after all, and tuned in just in time to watch him being murdered. This would be Ryouma Sakamoto, one of the famous Bakumatsu (end of the Tokugawa shogunate) reformers who helped modernize Japan. Although I regret missing 99.9% percent of it, I'm certain that his short, eventful life and tragic violent death made for a gripping series.
I became aware of Ryouma rather late in the day; I had already visited the hometown of Saigo Takamori, the real-life basis for Tom Cruise's "Last Samurai," before I knew that Ryouma had existed. But once I saw his portrait in a museum dedicated to Saigo's life, I began to notice him everywhere—and I mean everywhere. Recent years have seen Ryouma soda, Ryouma candy and finally this television series, Ryouma-den ("The Legend of Ryouma"). The next year found me in his hometown of Kouchi, Shikoku, standing beneath a massive statue of Ryouma gazing out into the Pacific—at America presumably; though in his time I wonder if anyone gave America a thought.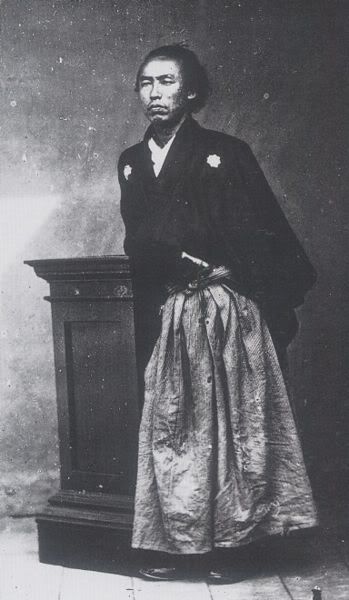 Why is this, at least to the average foreigner, rather obscure figure so popular in contemporary Japan? He certainly cuts a more dashing figure than the portly Saigo; he was reputedly a master swordsman, and the story of his assassination by pro-shogunate gangsters at a soy sauce dealership in Kyouto is the stuff of, well, television drama. And lest I sound dismissive, his impact on Japanese history was by all means profound; he helped to broker the treaty between Saigo and the Choshu domain that laid the groundwork for the Meiji restoration. Still.
A Japanese man recently told me: "People these days want a revolution. But they don't really know what to do, so everyone looks to Ryouma." Alright, it was just a guy I met in a bar, but you have to admit that's more substantive than most of the "evidence" I offer in support of my conclusions. That makes a great deal of sense to me. Still, I have to wonder about the wisdom of placing, so to speak, all of one's ideological eggs in one basket.
Americans don't really have this problem, possibly due to our profound ignorance of our own history, and just about everything else. Recently, when a certain prominent politician (I won't name names, but he or she is highly knowledgeable about Russia) was asked to name their "favorite founding father," they replied: "All of them!" I suppose when you idolize one historical figure, you are at least grounded in a sort of reality.
All that said, Ryouma's final moments as portrayed in the drama are profoundly moving. Drunk, spinning a world globe, he ponders with his friend the foreign countries they might someday visit. An international outlook, even with the sole view of strengthening one's own country, is something valuable. What would that sort of outlook mean today—when countries have had perhaps too much of each other? When Ryouma's statue, gazing across the Pacific, is confronted with me, who crossed that ocean? What would Ryouma think of modern Japan? I can't claim to know, but the times have changed. While respecting tradition, we need new heroes for the present day.
---
NHK's Ryomaden website
Sakamoto Ryōma Wikipedia page
*
Ryomaden
image © NHK
*Sakamoto Ryōma photo courtesy of Wikipedia Commons
---
For more on Jacob and his writing, visit
Jacob Ritari's website
. You can also
follow him on Twitter
.
If you missed them, please check out his short stories:
The Sound of the Train
Futaride
Maintaining Radio Silence
Fukkatsu no Jumon
City of Dreams
Read more about Jacob's debut novel,
Taroko Gorge
, including an excerpt, at the
Unbridled Books website
.
Buy
Taroko Gorge
at:
Amazon.com
|
BookDepository.com
|
BookDepository.co.uk
|
via
IndieBound
The small print: Links in this post to Amazon, or The Book Depository contain my Associates or Affiliates ID respectively. Purchases made via these links earn me a very small commission. For more information please visit my About Page.
---