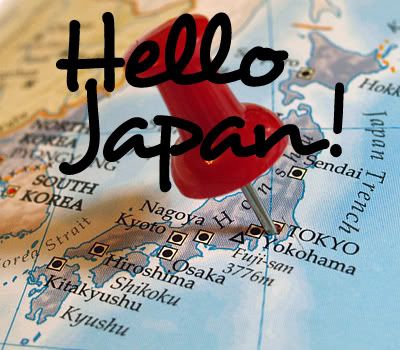 Thank you to everyone who took part in the
Hello Japan! mini-challenge
for November.
November's Hello Japan! task
was a little different from previous months, the Hello Japan! meme, and it was a lot of fun reading everyone's answers to the five questions.
Here are some of the highlights:
Bellezza at
Dolce Bellezza
is working on
folding 1000 origami cranes
! She's promised to show us the final result and I can't wait to see it!
Sam at
Sam Still Reading
would like to visit Tokyo Disneyland and her
favourite city is Sapporo
.
JoV at
Bibliojunkie
's
favourite author is Yukio Mishima
, and she'd love to have her own Japanese garden.
Violet at
Still Life with Books
recommends the psycho-thrillers of Ryu Murakami
and would like to stay at a Zen temple.
Zee at
Zee's Worldly Obsessions
is a big fan of manga and would love to
spend a few months in Japan visiting Tokyo and Okinawa
.
Novroz at
Novroz' Favorite Things
more than anything wants to
see L'Arc~en~ciel live in concert
!
sakura at
chasing bawa
would love
to try shojin ryori
and go to Kagoshima to research her grandfather's history.
Tony at
Tony's Reading List
recommends The Oxford Book of Japanese Short Stories
as a great introduction to Japanese literature, and he'd love to see a live sumo match someday.
Sarah at
Pictures, Thoughts and Comments
would like to
visit Hashima island
, and would love to try traditional Kyoto cuisine.
Mee at
Bookie Mee
's
favourite Japanese food is sashimi
, and she'd really like to go to the Ghibli Museum.
litera of
Litera-tour
highly
recommends Snow Country by Yasunari Kawabata
and would really like to visit an
onsen
in winter and enjoy a bath while snow is falling all around.
Gnoe at
Graasland
really wants to
see the cherry blossoms bloom
in Japan in the spring, and perhaps just a little shopping.
Both my husband and I answered the questions
and no surprise, his favourite food is ramen! Plus we'd both like to visit Hokkaido.
And sneaking in just in time...
dreams at
Between Tunisia and Japan
loves origami, and would like to
travel along the Japanese sea coast
.
So there you have it. I hope I haven't missed anyone. I really enjoyed getting to know you all a little better through your love of Japan. If you haven't visited the other participants yet, please take the time to stop by. You can click on the links above to read their posts.
I also really appreciated getting your feedback on your favourite topics from this year. The two-month comparison challenge was mentioned by several of you, as were food-related topics and manga. So you can expect to see those again next year with perhaps a slight twist, we'll see. There were also some great suggestions of new topics and I'll try to fit those in as well.
Just a reminder that there is no Hello Japan! challenge this month. Whether you celebrate Christmas or not I think it's still a busy time of year for everyone with the New Year fast approaching. But don't worry, there definitely
will
be a new Hello Japan! mini-challenge in January. I'm thrilled that you've enjoyed discovering and sharing your Japanese experiences this year and hope you will continue to do so, and that we can together make Hello Japan! an even more fun event in 2011.
Last, but not least, it's time to let
random.org
tell us who the winner is of the lovely illustrated book,
A Year in Japan
by Kate T. Williamson.
Congratulations, I'll be in touch soon for your mailing address.
I also have an unannounced extra prize this month. After looking at the previous mini-challenges over the last year and a bit, I discovered that
Novroz
has participated in 11 out of 13 of them. That's impressive and also makes me very happy! So Novroz will be getting a small prize too.
What is the prize, you ask? Well, you'll have to wait and see because it's going to be a surprise but it's something I picked up last month especially for her and I'm pretty sure she'll love it!
Thanks again, everyone!
The small print: Links in this post to Amazon contain my Associates ID. Purchases made via these links earn me a very small commission. For more information please visit my About Page.
---