Welcome to the
Japanese Literature Book Group
discussion of
The Temple of the Golden Pavilion
by
Yukio Mishima
.
About the author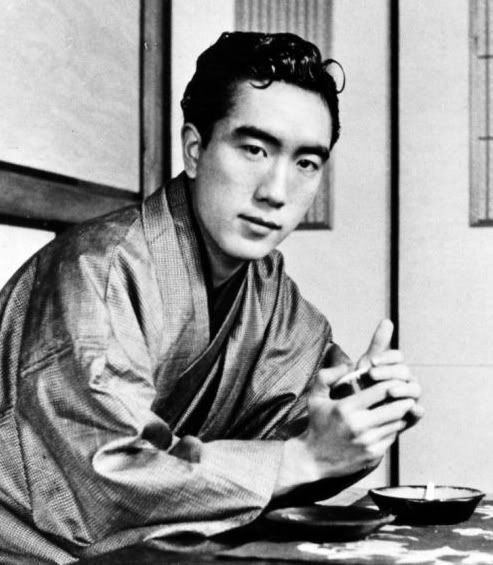 Yukio Mishima
Image source: unknown
Yukio Mishima (三島 由紀夫) was the pen name of Kimitake Hiraoka (平岡 公威) born on January 14, 1925. He was a Japanese author, poet, playwright, actor and film director, and is also famously remembered for his ritual suicide by seppuku on November 25, 1970, after a failed coup d'état. He was nominated three times for the Nobel Prize in Literature, and is considered one of the most important Japanese authors of the 20th century. His avant-garde work displayed a blending of modern and traditional aesthetics that broke cultural boundaries, with a focus on sexuality, death, and political change.
*Factual information courtesy of Wikipedia. For more, refer to the
Yukio Mishima Wikipedia page
.
About the book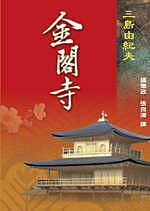 Original Japanese title: 金閣寺 (
Kinkakuji
)
Published in 1956, English translation in 1959
Translated from the Japanese by Ivan Morris
Vintage, trade pb, 247 p., ISBN: 978-0099285670
The Temple of the Golden Pavilion
won the
Yomiuri Prize
for best novel in 1956.
From the back cover:


Because of the boyhood trauma of seeing his mother make love to another man in the presence of his dying father, Mizoguchi becomes a hopeless stutterer. Taunted by his schoolmates, he feels utterly alone until he becomes an acolyte at a famous temple in Kyoto, where he develops an all-consuming obsession with the temple's beauty. This powerful story of dedication and sacrifice brings together Mishima's preoccupations with violence, desire, religion and national history to dazzling effect.
SPOILER
The novel is loosely based on actual events, the burning of the Reliquary (or Golden Pavilion) of
Kinkaku-ji
in Kyoto by a young Buddhist acolyte in 1950. The pavilion, dating from before 1400, was a national monument which had been spared destruction many times throughout history, and the arson shocked Japan. The story is narrated by Mizoguchi, the disturbed acolyte in question, who is afflicted with an ugly face and a stutter, and who recounts his obsession with beauty and the growth of his urge to destroy it. The novel also includes one of Mishima's most memorable characters, Mizoguchi's club-footed, deeply cynical friend Kashiwagi, who gives his own highly individual twist to various Zen parables (
koan
).
*Factual information courtesy of Wikipedia. For more, visit
The Temple of the Golden Pavilion Wikipedia page
.
DISCUSSION QUESTIONS
The questions below are simply a guide to get the discussion going. Feel free to pick and choose, and answer those ones that interest you. Plus if you have any other questions or thoughts on the book, please don't hesitate to bring them up. For anyone who hasn't yet read the book, please be warned that the
questions and comments may contain spoilers
, so
please proceed at your own risk!
What did you think of the novel? Did you enjoy it? Why, or why not?
What did you think of the translation? Of the author's writing style?
Have you read other books by Yukio Mishima? If so, how does this one compare?
How did you feel about the narrator, Mizoguchi? Could you empathize with him? Did your feelings toward him change during the course of the novel?
Was the setting important? Could this story have taken place anywhere else?
In the novel there is much discussion about the concept of beauty. What does beauty mean to you?
Do you have any favourite scenes or quotes to share?
Were you satisfied with how the book ended?
Would you recommend this book to other readers? Are you likely to read other books by Mishima?
The Temple of the Golden Pavilion
has been reviewed by:
Dolce Bellezza
Bibliojunkie
A Guy's Moleskine Notebook
If you've also reviewed
The Temple of the Golden Pavilion
, let me know and I'll link to it here.
Also, I'm so sorry for the delay in getting this discussion started, but I hope that if you've read the book, you'll share some of your thoughts on it. I have to admit that I'm
still
reading, and it's rather slow going for me at the moment. I could certainly use some insight and encouragement to continue.
Thanks in advance,
The small print: Links in this post to Amazon or The Book Depository contain my Associates or Affiliates ID respectively. Purchases made via these links earn me a very small commission. For more information please visit my About Page.
---