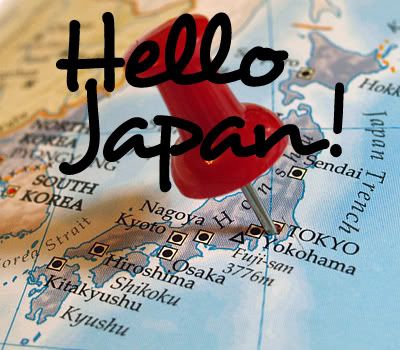 Hello Japan! is a monthly mini-challenge focusing on Japanese literature and culture. Each month there will be a new task which relates to some aspect of life in Japan. Anyone is welcome to join in any time. You can post about the task on your blog. Or if you don't have a blog, you can leave a comment on the Hello Japan! post for the month. Everyone who completes the task will then be included in the drawing for that month's prize. For more information, just click on the Hello Japan! button above, or if you have any questions please feel free to email me at inspringthedawn AT gmail DOT com.
January's Topic
It's a new year! A time to say farewell to the previous year and to think about what we'd like to accomplish in the year ahead. Whether you set yourself specific New Years Resolutions, or not, the New Year is often the the time to encourage ourselves to try something new.
For the November 2010 mini-challenge, the
Hello Japan! meme
, you were asked to answer five questions about your experiences with Japanese literature and culture. One of the questions was
"What is something Japanese that you'd like to try but haven't yet had the chance?"
Well, now you have an opportunity to do just that.
January's Task
This month the task is to
try something Japanese that you haven't before
.
You could read a book by a Japanese author you haven't had a chance to read yet. You could eat a particular Japanese food that you've been wanting to try. You could watch a film by a director or actor you haven't seen before. You could try your hand at doing or making something Japanese, and so on. The key here is simply that whatever you do, it should be something new to you.
January's Prize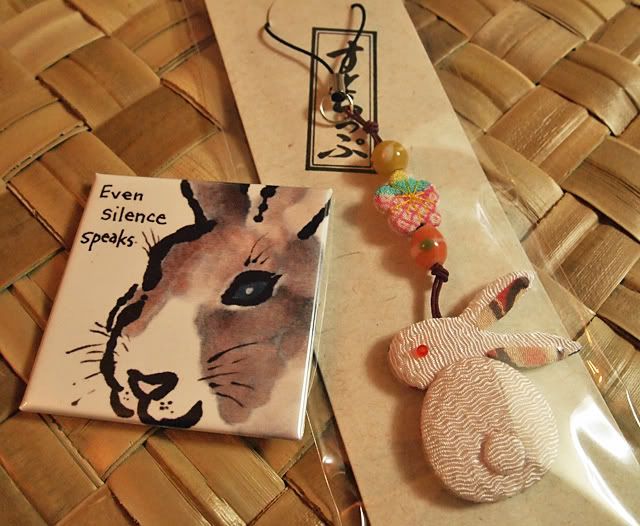 In keeping with the New Year theme, and as 2011 is the Year of the Rabbit, this month's prize is a
chirimen
rabbit strap, and a rabbit magnet, from an original etegami design by
dosankodebbie
. Check out some of dosankodebbie's etegami cards and goods in her etsy shop,
Etegami Emporium
.
To be eligible for the prize, you must complete this month's mini-challenge by writing a blog post and adding a link to your post, or leaving a comment with your answers on this post. Or if you prefer, you can also email me at inspringthedawn AT gmail DOT com with your submission. You are welcome to post or comment more than once and add the relevant links below. I love it when you are enthusiastic about a topic! However, each participant will receive only one entry per month. It doesn't matter if you've won previously, you're eligible each month that you participate. Please let me know if you have any questions.
Once you have
completed the task
, don't forget to come back here to add your link to the Mr. Linky below. Please submit the link to the actual post, not just to your top page, and please only submit links to posts relating to the Hello Japan! task for this month. Any other links will be deleted. Thank you for your understanding.
Happy New Year!
---