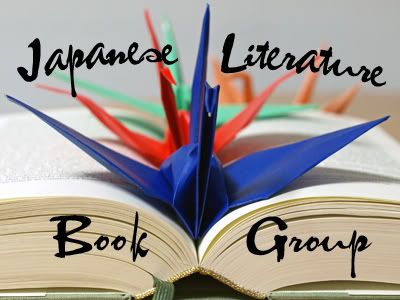 The
Japanese Literature Book Group
is, like the name suggests, an online book group with a focus on reading Japanese literature, hosted here on
In Spring it is the Dawn
. Thank you to everyone who took part in the discussions last year, even when I wasn't a very good host at times. We read a really interesting selection of contemporary and classic Japanese lit together last year, and I look forward to discovering more books with you in 2011.
There will be a few small changes this year. In my over-enthusiasm, last year with the
Japanese Literature Book Group
, the
Japanese Literature Read-alongs
, and the
Hello Japan! mini-challenge
all running concurrently, it was, to put it mildly, a bit hectic. So, this year's schedule will be a little more relaxed.
First of all, for the
Japanese Literature Book Group
selections, instead of putting up a formal discussion post with questions, background information, and in some cases, extensive cultural notes, I will simply post my thoughts on the book in question on the assigned day. And I will welcome you to do the same. It can be a full review, or just a collection of random thoughts, it's completely up to you. I'll link to everyone that posts about the book on their own blog. And if you don't have a blog, or even if you do, you're of course welcome to chat about the book in the comments. My hope is that we can have more casual, interactive discussions about the books, without worrying too much about analysing them.
Secondly, there are currently no read-alongs of longer books scheduled for 2011. I'm still toying with the idea of finally reading
The Tale of Genji
, and would love to read it with others, but I'm still not sure I'm ready to tackle it this year. Let me know if you're interested though and perhaps together we can encourage each other, and we can make up a schedule that suits everyone.
Thirdly, the months when there is a book to read for the JLit Book Group, the
Hello Japan! mini-challenge
will not have a reading month. In other words, on those months when both events take place, the mini-challenge topic will be something that can be completed without reading a book, or occasionally it will be a topic that coincides with the Book Group so that you can complete both by reading only one book. Thanks to this suggestion from Gnoe of
Graasland
, as it's something I hadn't paid attention to last year, adding to the hectic-ness I mentioned earlier when several books overlapped. As much as we may love reading Japanese literature, we all want to read other things too!
I hope these considerations will allow for more of you to participate, in both the
Japanese Literature Book Group
, and the
Hello Japan! mini-challenge
. And please know that you don't have to have ever joined in before. Anyone is welcome to join in anytime.
On to the books and the schedule for 2011. Like last year, the target date for the discussions will be the last Monday of the month, and scheduled approximately every two months. The books making up the list are a combination of books I've personally been wanting to read for a while, and suggestions from some of the people who participated in the discussions last year. I hope you'll find something here that interests you.
Japanese Literature Book Group 2011 Schedule
FEBRUARY 28, 2011
In the Miso Soup by Ryu Murakami
イン ザ・ミソスープ
(In za Misosūpu)
It is just before New Year's. Frank, an overweight American tourist, has hired Kenji to take him on a guided tour of Tokyo's sleazy nightlife on three successive evenings. But Frank's behavior is so strange that Kenji begins to entertain a horrible suspicion: that his new client is in fact the serial killer currently terrorizing the city. It isn't until the second night, however, in a scene that will shock you and make you laugh and make you hate yourself for laughing, that Kenji learns exactly how much he has to fear and how irrevocably his encounter with this great white whale of an American will change his life.

Kenji's intimate knowledge of Tokyo's sex industry, his thoughtful observations and wisecracks about the emptiness and hypocrisy of contemporary Japan, and his insights into the shockingly widespread phenomena of "compensated dating" and "selling it" among Japanese schoolgirls, give us plenty to think about on every page. Kenji is our likable, if far from innocent, guide to the inferno of violence and evil into which he unwillingly descends-and from which only Jun, his sixteen-year-old girlfriend, can possibly save him...
AND/OR
Audition by Ryu Murakami
オーディション
(Ōdishon)
Since the death of his wife seven years ago, docmentary-maker Aoyama has not dated anyone. Now even his teenage son, Shige, thinks that he should remarry, and his best friend Yoshikawa comes up with a plan: to hold fake film auditions from which he can choose a new bride. Of the thousands who apply, it is a beautiful ballerina, Yamasaki Asami, who captivates Aoyama. Infatuated by her fragile nature and nervous smile, he ignores his increasing sense of unease about his new love until it may be too late...
APRIL 25, 2011
The Silent Cry by Kenzaburō Ōe
万延元年のフットボール
(Man'en Gannen no Futtoboru)
Two brothers, Takashi and Mitsu, return from Tokyo to the village of their childhood. The selling of their family home leads them to an inescapable confrontation with their family history. Their attempt to elude the influence of the city ends in failure as they realize that its tentacles extend to everything in the countryside, including their own relationship.
In 1994, Kenzaburo Ōe was awarded the Nobel Prize for Literature. Singling out The Silent Cry, the Nobel Committee stated that 'his poetic force creates an imagined world, where life and myth condense to form a disconcerting picture of the human predicament'.
JUNE 27, 2011
Woman in the Dunes
by Kōbō Abe
砂の女
(Suna no onna)
One of the premier Japanese novels of the twentieth century, Woman in the Dunes combines the essence of myth, suspense, and the existential novel. In a remote seaside village, Niki Jumpei, a teacher and amateur entomologist, is held captive with a young woman at the bottom of a vast sand pit where, Sisyphus-like, they are pressed into shoveling off the ever-advancing sand dunes that threaten the village.
AUGUST 29, 2011
Thousand Cranes by Yasunari Kawabata
千羽鶴
(senbazuru)
With a restraint that barely conceals the ferocity of his characters' passions, one of Japan's great postwar novelists tells a luminous story of desire, regret, and the almost sensual nostalgia that binds the living to the dead.
When Kikuji is invited to a tea ceremony by a mistress of his dead father, he does not expect to become involved with her rival and successor, Mrs. Ota. Nor does he anticipate the depth of suffering that will arise from their liaison. But in the tea ceremony every gesture has a meaning. And in Thousand Cranes, even the most fleeting touch or casual utterance has the power to illuminate entire lives - sometimes in the same moment that it destroys them.
SEPTEMBER 26, 2011
Kokoro by Natsume Sōseki
こころ
(kokoro)
No collection of Japanese literature is complete without Natsume Soseki's Kokoro, his most famous novel and the last he complete before his death. Published here in the first new translation in more than fifty years, Kokoro--meaning "heart"-is the story of a subtle and poignant friendship between two unnamed characters, a young man and an enigmatic elder whom he calls "Sensei". Haunted by tragic secrets that have cast a long shadow over his life, Sensei slowly opens up to his young disciple, confessing indiscretions from his own student days that have left him reeling with guilt, and revealing, in the seemingly unbridgeable chasm between his moral anguish and his student's struggle to understand it, the profound cultural shift from one generation to the next that characterized Japan in the early twentieth century.
NOVEMBER 28, 2011
1Q84 by Haruki Murakami
1Q84
(ichi-kyu-hachi-yon)
*This book will officially be released in English on October 25, 2011.
You'll have noticed there are two books listed for February. This is partly because I've already read
In the Miso Soup
, which was the suggested title, and also because it's a little short notice. So I'd welcome you to read ANY book of Ryu Murakami's that you may have on hand, or can easily get hold of, if you'd like to participate next month, and we can have an open discussion of Ryu Murakami's books.
You can refer to this schedule, as well as see the previous discussions, anytime, just visit the
Japanese Literature Book Group
main page by clicking on the JLit Book Group Tab in the Linkbar above, or by clicking on the button in the right sidebar. Let me know if you have any questions, and I look forward to chatting about these books with you.
Here's to another year of great Japanese literature!
The small print: Links in this post to Amazon contain my Associates ID. Purchases made via these links earn me a very small commission. For more information please visit my About Page.
---