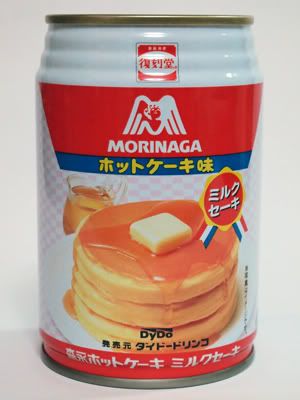 It'll probably sound weird if I say I love Japanese vending machines, at least the drink ones, but it's kind of true. I'm not a huge soda drinker and generally prefer drinks that aren't sweet. In Canada this usually means my only choice is water, if that. But here in Japan there are all kinds of choices available in your average drink vending machine. Different kinds of green teas, Chinese teas, canned coffees of all varieties (with sugar, without, with milk, without, etc.), and of course water, juice, and so on. What's even cooler about Japanese vending machines is that half of the machine is switched to hot in the winter months. Cold outside? No problem, just warm yourself up with a hot green tea, or whatever you prefer. And vending machines are everywhere! As you can imagine, there is plenty of competition between the drink companies. So they're always coming up with new beverages, new blends, new packaging, all to entice people to buy their drinks.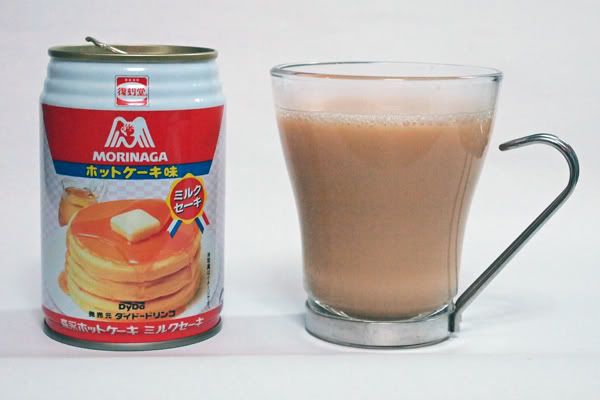 In winter, along with the usual hot coffees and teas, there will usually also be corn soup. I don't know why corn soup, in particular, is so popular, but every winter, there is the corn soup beside the others. I have had it on occasion, and it's surprisingly satisfying if you've missed lunch and are waiting for a train on a cold, windy platform. Anyway, this year it seems that the drink companies decided to go all out trying some new winter offerings. Not only corn potage, but I've seen tomato basil consommé (quite tasty!), curry risotto(!?), and drinkable pancakes(!) The can calls it pancake-flavoured
miruku seki
, or milk shake, but don't forget that this is served hot! So it's a pancake-flavoured hot milk shake! Mm... it sounds so weird and disgusting I decided I had to try it. Plus it ties in nicely with this month's
Hello Japan! mini-challenge
, which is to try something new.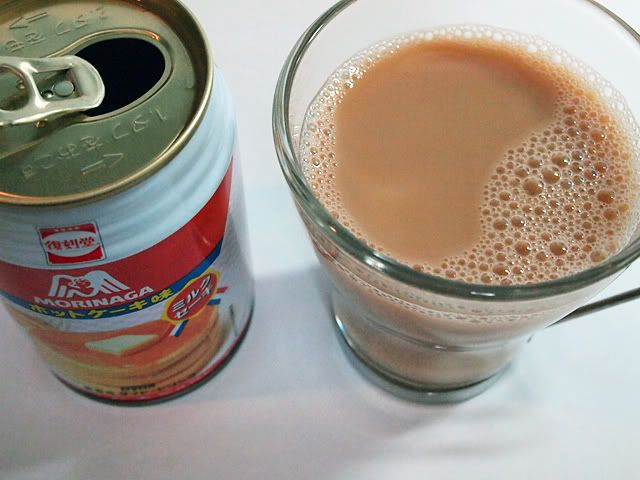 How did it taste? Well, it was nothing like any milk shake I've ever had. It was very thin, like skim milk in consistency. And quite sweet, as if it had been sweetened with syrup, which I suppose was the point. It actually wasn't quite as bad as I'd expected, but I still don't think I'll bother buying it again. It was just too sweet for me. However, if you wanted something hot, sweet and non-caffeinated, I can see how it might appeal to some.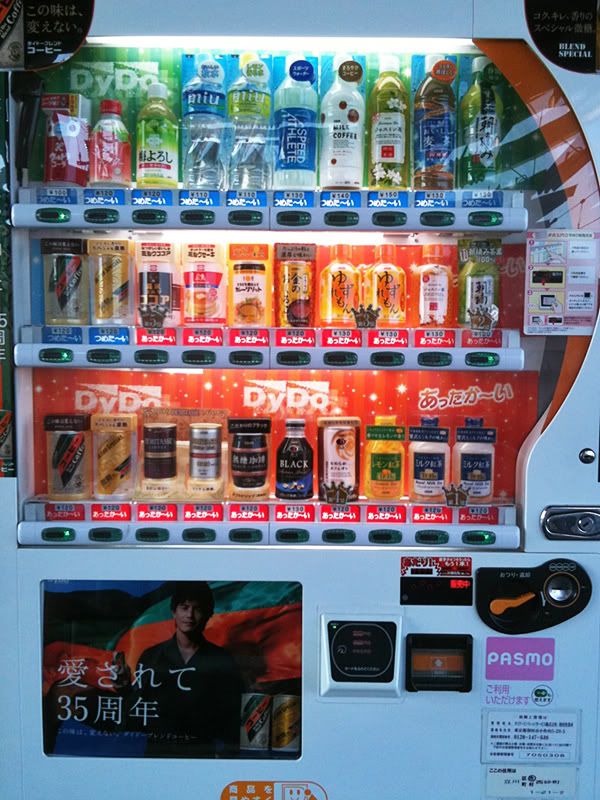 Here's the machine I got the hot pancake-flavoured milk shake from. You can see that all of the bottom row, and most of the middle row have red labels below the cans and above the buttons. This means these drinks are hot. Besides the pancake one, there's hot chocolate, curry risotto, yuzu lemon, green tea, roasted tea, black tea with milk, black tea with lemon, and all the various coffees.
Which one would you choose?
---