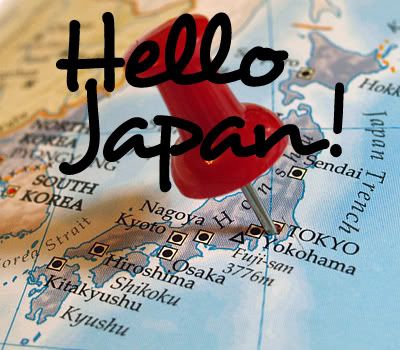 Hello Japan! is a monthly mini-challenge focusing on Japanese literature and culture. Each month there will be a new task which relates to some aspect of life in Japan. Anyone is welcome to join in any time. You can post about the task on your blog. Or if you don't have a blog, you can leave a comment on the Hello Japan! post for the month. Everyone who completes the task will then be included in the drawing for that month's prize. For more information, just click on the Hello Japan! button above, or if you have any questions please feel free to email me at inspringthedawn AT gmail DOT com.
February's Topic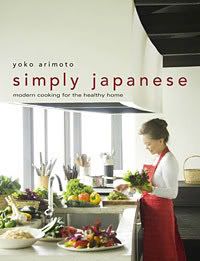 Last November, in addition to the
Hello Japan! meme
, I also asked you which were your favourite mini-challenge topics from last year, or which topics would you most like to cover this year. Well, from your answers, the mini-challenge that people seemed to most enjoy last year was the two-month double challenge, to compare two Japanese works. Next, the topic most requested for this year was food, and specifically making something yourselves. We'll have the double task later this year, but for now, February is all about Japanese cooking. I know some of you have already said that cooking is not your forte. But as always, this mini-challenge is very flexible, and only as difficult as you make it.
February's Task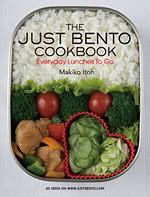 This month the task is
to make something Japanese
. However, like I mentioned above, it can be as simple, or as complicated, as you like. Perhaps share with us a favourite dish, or a favourite recipe. Or as a kind of continuation from last month, try cooking something new.
If you're new to Japanese cooking, start with something easy. You certainly don't need to cook a whole meal. You could try making a Japanese style side dish, or soup, or anything really.
Not sure where to start? Try borrowing a Japanese cookbook from your local library, or feel free to ask the other participants for suggestions.
Here are a few websites to perhaps get you started or provide some inspiration:
Just Bento
Just Hungry
Japanese simple recipes
Easy Japanese recipes
(from About.com)
Sumo Kitchen
The Black Moon
(many vegetarian recipes)
bento.com
(despite the name of the website these are not only bento)
Japanese recipes
(from Allrecipes.com)
Japanese cookbooks
(published by Kodansha International)
And if cooking really isn't your thing, you can always read up on Japanese cuisine instead. For example, the manga series,
Oishinbo
, is a great way to learn about Japanese cooking methods.
Most importantly, don't worry about it too much and have fun.
February's Prize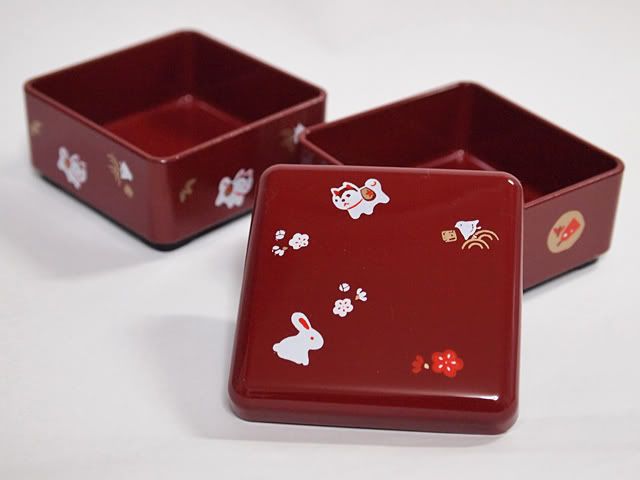 In keeping with the food theme, this month's prize is this mini
ojyu bako
(stackable bento box). It's an actual bento box and can be used for storing food. It's very tiny, but it can hold pickles, candies, nuts, or something else small like that. Otherwise, it makes a cute decoration.
To be eligible for the prize, you must complete this month's mini-challenge by writing a blog post and adding a link to your post, or leaving a comment with your answers on this post. Or if you prefer, you can also email me at inspringthedawn AT gmail DOT com with your submission. You are welcome to post or comment more than once and add the relevant links below. I love it when you are enthusiastic about a topic! However, each participant will receive only one entry per month. It doesn't matter if you've won previously, you're eligible each month that you participate. Please let me know if you have any questions.
Once you have
completed the task
, don't forget to come back here to add your link to the Mr. Linky below. Please submit the link to the actual post, not just to your top page, and please only submit links to posts relating to the Hello Japan! task for this month. Any other links will be deleted. Thank you for your understanding.
In a slight change from last year, I've listed the
Hello Japan! mini-challenge topics
for the rest of the year on the Hello Japan! page. To give you a hint at what's coming up, and this way, you'll be able to plan ahead, if necessary. You can access the list of previous and upcoming topics any time by clicking on the Hello Japan! button in the right sidebar, or the Hello Japan! Tab in the Linkbar at the top of the blog. I hope you'll find some topics there that interest you, or inspire you to participate.
Happy cooking!
The small print: Links in this post to Amazon contain my Associates ID. Purchases made via these links earn me a very small commission. For more information please visit my About Page.
---