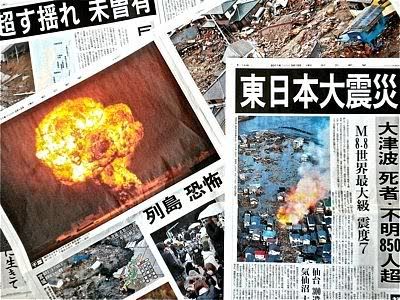 It's now over 80 hours since the earthquake struck at 2:46 PM Friday afternoon local time, with the tsunami starting to hit about 30 minutes after that. Thank you to everyone who has left comments or got in touch. I really appreciate all your good thoughts and wishes, and I thought I'd share with you some of how things are for us in Tokyo after the weekend.
As I mentioned in my previous
Earthquake Update
post, we had a pretty scary shake but didn't suffer much actual damage in our area. It seems that it was actually a little less severe here even than it was in central Tokyo. However, it has still been somewhat of a roller-coaster of emotions. For the first 2 days I was so on edge, something I didn't realise fully how much until my whole body began aching from holding in so much tension. However, the last couple of days have been much calmer. We're both still glued to our laptops and Twitter, wanting to stay up on any developments, but we've also left the TV off for good portions of the day. Our thoughts are of course with everyone in the affected areas but it's been good for our mental health to not watch those devastating images over and over.
There's still the concern of a possible big aftershock. They said yesterday there was a 70% chance of a 7+ aftershock within 3 days, but that has now been lowered to a 40% chance. The main issue is the ongoing worry about the situation at the nuclear plants. Where we are in the Western suburbs of Tokyo, we're about 240 km away from the Fukushima Daiichi (No. 1) Nuclear Plant. There are lots of opinions from one extreme to the other, so it's hard to know which is right. We're just hoping that it doesn't end up being something terrible.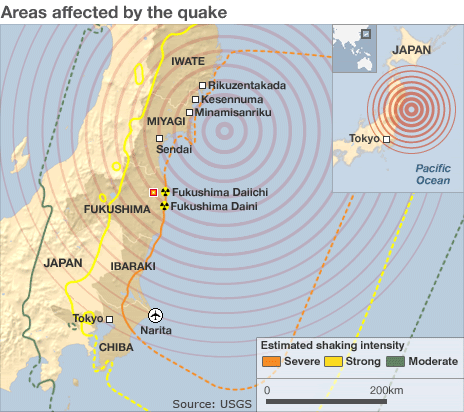 A little closer to home, our daily life has started to be affected by the shortage of both power and supplies of food and other essentials. Due to the nuclear plant issues, and the fact that several plants are still essentially turned off despite the cooling problems, the usual demand for electricity in the Tokyo and Kanto area outstrips the current supply. So they have laid out a plan for rolling blackouts to help limit usage. They are closely monitoring the power and blackouts will be implemented when and as needed. Today, because of the voluntary effort by individuals and companies to conserve power, as well as the low number of trains running, they only needed to go ahead with the blackout in one of the five areas. (Tokyo, Yokohama, Chiba, Saitama, Yamanashi, and other surrounding prefectures of Kanto are included). We've been warned of more possible outages tomorrow though as more of Tokyo gets back to work. And they say that these rolling blackouts may continue for several weeks.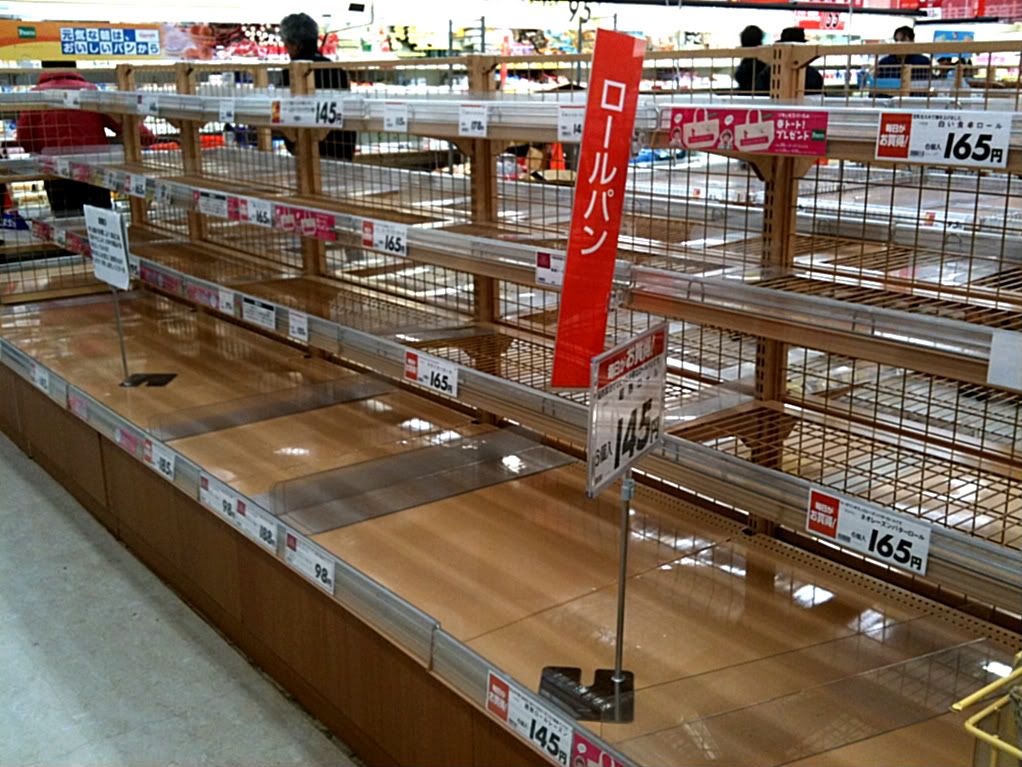 No bread here!
Although Tokyo didn't really experience much damage structurally, because of the ongoing power problem, people were encouraged to stay home today, but many did return to work this morning. H did try to go to work this morning too. It is very much the Japanese way to just get on with life, and I can totally relate to wanting things to return to normal. However, one of the two trains he needs to take to work wasn't running so he worked from home instead. Many of the train lines throughout the Tokyo area were on very limited schedules today or not running at all. However, it seems that many more of them will be returning to their schedules for tomorrow, at least in central Tokyo. According to the announcements tonight, the train lines around us will still not be running tomorrow. We do live in the very Western boonies of Tokyo, so these are more minor lines. H's boss already said to try and come in if the trains are running, but if not, to just work from home again. No trains means I probably will need to cancel my lessons too.
No packaged fish or meat at all!
As for food and other goods, the shops are running out of many items. Due to hoarding to some extent but also because the usual procurement logistics seem to have broken down so new deliveries seemingly haven't yet made it to the shops. Yesterday we went to our big local supermarket and several sections of the store were stripped bare. There was no bread, almost no milk, absolutely no fresh meat or fish, very few fresh vegetables, no instant noodles, no canned tuna, among others. Toilet paper was also apparently a hot commodity, and therefore almost gone. We've got a fairly good stock of basics, bottled water and other drinks so we won't starve by any means but meals are going to get pretty boring pretty soon without fresh produce. Still, all these things considered we really can't complain as we've got it pretty good compared to those in the north in evacuation centres still waiting on food and other aid. Not to mention mourning the loss of family and friends.
While life in the capital is slowly beginning to return to normal, the effects of the disaster will surely be felt for a long time to come. If you'd like to, here are some suggestions of
how you can help
.
Image sources:
Japanese Newspapers:
Ted's Coffeehouse 2
Map:
BBC News
Supermarket shelves: Yours truly, taken on Sunday afternoon
---