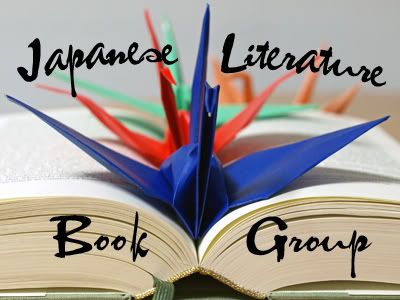 The
Japanese Literature Book Group
was born out of the wish to read and discuss Japanese literature with others, and by doing so to hopefully gain a deeper understanding of the literature and culture of Japan. (Click on the button for more information about past and upcoming reads.) The
schedule for the Japanese Literature Book Group for 2011
is largely made up of suggestions from fellow JLit devotees. Usually we focus on one book to read together and discuss, however for the first selection of 2011, we're looking more generally at author Ryu Murakami. The two suggested titles were
In the Miso Soup
, and
Audition
, but you are welcome to discuss any of his books you've read.
In the Miso Soup by Ryu Murakami
イン ザ・ミソスープ
(In za Misosūpu)
It is just before New Year's. Frank, an overweight American tourist, has hired Kenji to take him on a guided tour of Tokyo's sleazy nightlife on three successive evenings. But Frank's behavior is so strange that Kenji begins to entertain a horrible suspicion: that his new client is in fact the serial killer currently terrorizing the city. It isn't until the second night, however, in a scene that will shock you and make you laugh and make you hate yourself for laughing, that Kenji learns exactly how much he has to fear and how irrevocably his encounter with this great white whale of an American will change his life.

Kenji's intimate knowledge of Tokyo's sex industry, his thoughtful observations and wisecracks about the emptiness and hypocrisy of contemporary Japan, and his insights into the shockingly widespread phenomena of "compensated dating" and "selling it" among Japanese schoolgirls, give us plenty to think about on every page. Kenji is our likable, if far from innocent, guide to the inferno of violence and evil into which he unwillingly descends-and from which only Jun, his sixteen-year-old girlfriend, can possibly save him...
I read
In the Miso Soup
back in 2006 and this is what I said about it at the time:
In the Miso Soup reminded me of Out
[by Natsuo Kirino], with its violence and social commentary on urban loneliness, rampant consumerism, and moral corruption in modern-day Japan. What made it memorable, like Out, was that it went beyond the violence, and into the psychological aspect of what made the characters do what they did, and on the flip side, what they didn't do. A dark and unnerving tale, yet a compelling read with a great element of suspense- I was never sure what would happen next. This was my first time to read anything by Ryu Murakami but I'm curious now to try more.
Since I read this 5 years ago now, I've forgotten many of the details of the story, but what has stayed with me is how violent it was. In fact, there were a couple times over the last couple years when I almost picked up another of his books, but each time I hesitated, not knowing if I was up for something so dark and uncomfortable. That's quite a lasting impact! However, at last, thanks to the Book Group, I decided to read my second book by Ryu Murakami,
Audition
.
Audition by Ryu Murakami
オーディション
(Ōdishon)
Translated from the Japanese by Ralph McCarthy
Since the death of his wife seven years ago, docmentary-maker Aoyama has not dated anyone. Now even his teenage son, Shige, thinks that he should remarry, and his best friend Yoshikawa comes up with a plan: to hold fake film auditions from which he can choose a new bride. Of the thousands who apply, it is a beautiful ballerina, Yamasaki Asami, who captivates Aoyama. Infatuated by her fragile nature and nervous smile, he ignores his increasing sense of unease about his new love until it may be too late...
Audition
also contains some violent and uncomfortable scenes but in many ways it couldn't be more different to
In the Miso Soup
. I don't usually read much horror, or watch horror movies, but reading
Audition
felt very much like watching what I imagine would be a pretty run-of-the-mill horror movie. Appropriately there is a movie version, but I haven't had a chance to watch it to see how it compares. If you have seen the movie, I'd love to know what you thought of it.
As for the story itself, right from the beginning you know that the main character is getting into a bad situation and that there's something not quite right about the woman he becomes infatuated with. He ignores the warnings of his friends, and the rest of the story simply builds up to the final scene.
Along the way, we never really get too much in the way of character development, so I wasn't as engaged in the story or the characters as I would have liked to be, although I did enjoy the relationship between Aoyama and his son. I wish it had been more developed. As the story was also fairly predictable, I didn't find it overly suspenseful. Plus there was a rather graphic sex scene that seemed misplaced. However, despite all of this it was very readable and it certainly helped pass the time on a couple recent train journeys. And the ending
was
quite dramatic, and visual. I can understand why it was made into a movie.
For me
Audition
was a quick, somewhat entertaining read, but without any of the emotional impact, or deeper social commentary, of
In the Miso Soup
. I'm still curious though, and actually
because
these two books were quite different, I would really like to try reading something else by Ryu Murakami. He's an interesting man of varied tastes. In fact, H often watches Ryu Murakami's weekly TV show on business and economics! Unfortunately for those of us who can't read Japanese, only a handful of his books have been translated. And apparently not all of his books are dark and violent.
Any suggestions of which one I should try next?
Have you read either of these, or any of Ryu Murakami's other books?
If so, what did you think? If not, would you like to?
Other thoughts:
Audition:
Always cooking up something (Chinoiseries)
In the Miso Soup:
Litera-tour
Coin Locker Babies
:
Litera-tour
If you've read
Audition
, or
In the Miso Soup
, or have posted anything else about Ryu Murakami let me know and I'll include a link here.
Ryu Murakami on Wikipedia
.
Please feel free to chat about these or any of Ryu Murakami's other books in the comments. I'd love to hear your thoughts.
The small print: The books mentioned in the post were purchased by me and belong to my personal library. Links in this post to Amazon contain my Associates ID. Purchases made via these links earn me a very small commission. For more information please visit my About Page.
---