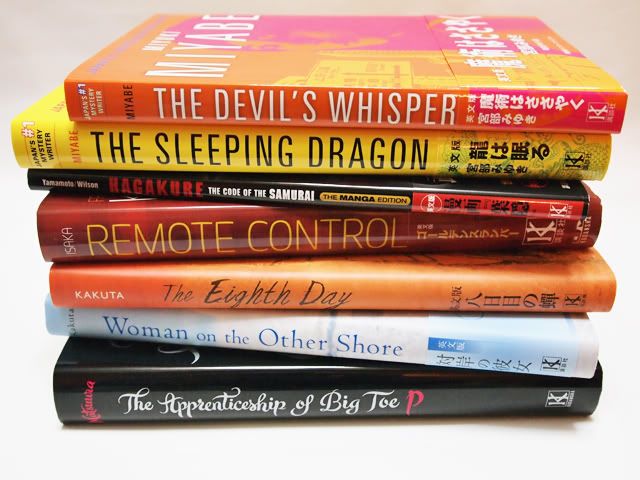 You wouldn't know it from the lack of blog posts showcasing my new book acquisitions during the last few months, but I have actually bought or received quite a few new books, especially in the last couple months of 2010, and a good portion of them are Japanese lit. The photo above is just a hint of the ones that have been added to my "To Be Read" piles. However, since I also don't read nearly as fast as I would like, which means I won't necessarily get to all of these for some time, I've been thinking of a way to share them with you in the meantime. I'll still do occasional posts when I have a stack of new non-Japanese books to tell you about, but for the Japanese ones I thought it would be nice to have more of a spotlight on them to bring them to your attention.
So, I've decided to have a kind of new feature here, in which I preview one or two Japanese literature books each week or so. These will be JLit books that have caught my eye, but that I haven't yet read. I'll include the blurb and perhaps any reviews of the book that I come across, and any other interesting information. They could be new, upcoming titles, or older backlist. Contemporary, or classics. Of any genre. Basically any Japanese literature that I would like to read. Surely some of you will have already heard of, or read, these books, but hopefully some of you will discover something new to read too. And if you've already heard of any of these books, please let me know what you thought, and leave a link to your review if you have one.
I know there are some already existing memes that might fit my purpose, and I was also somewhat inspired by Beth Fish Reads'
Imprint Friday
, but I wanted to do something here on my own schedule that focuses on Japanese books and authors. I hope you'll find some books that interest you.
The book I'd like to tell you about today is one that was in the box of books I received from the publisher
Kodansha International
, late last year (see above photo), and that I just started to read. If you're curious about the other titles in the picture, you can read my
review of Hagakure: The Code of the Samurai
, and I'll be previewing the rest of them this month.
Remote Control
by Kotaro Isaka.
Original title: ゴールデンスランバー (Golden Slumber)
First published in Japan, 2007
English translation published by
Kodansha International
, 2010
Translated from the Japanese by Stephen Snyder
From acclaimed mystery writer Kotaro Isaka comes an exhilarating political thriller that has mesmerized readers internationally with its likable characters, unforgettable dialogue, and riveting plot.Masaharu Aoyagi, a former delivery-truck driver in the city of Sendai, is unemployed. Two years ago he achieved brief notoriety for rescuing a local actress from a robbery attempt while making a delivery to her apartment. Now he is back in the spotlight—this time as the main suspect in the assassination of a newly elected prime minister who had come to Sendai for a hometown victory parade.

Set in a near-future Japan modeled on the United States, Remote Control follows Aoyagi on a forty-eight-hour chase, in a dramatic retelling of the Kennedy killing with Aoyagi in the role of a framed Lee Harvey Oswald. A massive manhunt is underway. As Aoyagi runs, he must negotiate trigger-happy law enforcement and Security Pods set up throughout the city to monitor cell-phone and email transmissions and keep a photo record of street traffic. Can he discover why he has been set up and who is responsible? Can he find the real assassin and prove to the world his innocence—amidst media pronouncements of his guilt—before the conspirators take him out?

Isaka's style and worldview are such that he is often compared to Haruki Murakami; but he defies an easy label as a writer, with a voice, a sense of humor, and an imagination that are truly unique. Now, with this excellent translation by Stephen Snyder, readers everywhere can enjoy one of Japan's finest literary talents.

"Isaka cuts perilously close to the bone of today's politics in this elegant, intricate, enormously satisfying parable of good and evil." - Publishers Weekly
The comparison, however slight, to Haruki Murakami in the blurb above of course grabbed my attention. Plus I like a good thrilling mystery every now and then. I've read about 100 pages so far, and the book has an interesting setup. I don't want to say anything more but it certainly has me curious and eager to read on.
I hadn't heard of him before, but Kotaro Isaka is a well-known author of mystery fiction in Japan, and has been nominated for several awards including the Naoki Prize, Japan's prestigious award for popular fiction.
Remote Control
won the Shugoro Yamamoto Prize and the Japan Booksellers' Prize, and was also No. 1 in Japan's 2009 "This Mystery is Amazing!" Ranking.
Remote Control
has also been made into a movie, which was released in 2010 under the book's original title,
Golden Slumber
.
". . . plot twists and turns keep the narrative riveting and surprising, right until the end. In this character-driven work, dialogue supersedes action, yet the pacing will keep readers interested throughout. Remote Contro is a complicated story, but a quick read. . . . Translating from Japanese to English under any circumstances isn't easy, but maintaining the author's style, wit, and subtle humor when performing that translation is a herculean effort. Stephen Snyder pulled it off flawlessly." - ForeWord Reviews
Stephen Snyder has translated other popular Japanese contemporary novels that I've either loved, or hope to read:
Out
by Natsuo Kirino,
Coin Locker Babies
by Ryu Murakami, as well as
The Diving Pool
,
The Housekeeper and the Professor
, and
Hotel Iris
by Yoko Ogawa.
I don't know if you'd call it good timing or bad timing, but it was definitely coincidental that I'd just started this book when I heard yesterday that
Kodansha International will be closing down
. They've published some wonderful books, and I have several on my shelves, besides the ones in the photo. The article reports that parent company Kodansha is aiming to change its current operations but will focus on digital publishing and overseas markets. So we can only hope that they will continue to publish English translations of popular Japanese titles, in some form or other. Still, sad news indeed.
Buy
Remote Control
at:
Amazon.com
|
Amazon.ca
|
BookDepository.com
|
BookDepository.co.uk
The small print: This book was received free of charge from the author/publisher for review purposes.
Links in this post to Amazon (including book cover) or The Book Depository contain my Associates or Affiliates ID respectively. Purchases made via these links earn me a very small commission. For more information please visit my About Page.
---