Well, we had a fairly strong aftershock on Thursday night, the strongest since the mega quake and tsunami last month. It was again centred near the north east coast of Japan and while it wasn't too bad here, it really shook up north. Luckily the tsunami advisory was soon lifted but I can't imagine how scary it must have been for the survivors. The March 11 quake was such a big rupture that they predict aftershocks and movement for many months, and Thursday night's was definitely a reminder that we can't be too complacent.
Otherwise though, things haven't changed all that much for us in the last couple weeks. Efforts continue at the nuclear power plant, radiation levels in Tokyo still remain only very slightly higher than London and still lower than Hong Kong! Power conservation measures are still in effect with shops and trains and everywhere a little darker. As it's been getting warmer and more spring-like though, and therefore with less need for heating, plus the voluntary efforts of companies and individuals, means that they've been able to cancel further blackouts until the summer. I'm really worried about summer as it's pretty unbearable here as it is, never mind without an air conditioner, but we'll worry about that in another couple months.
It's still difficult to find some things at the supermarket. Namely yogurt and bottled water, and other odd items here and there. Some of this is due to hoarding, particularly the water after the tainted water scare, but also because of problems with supplies. The Tohoku region where the earthquake struck is home to many factories. We're managing though. I also had quite a few cancelled classes after the quake, but those are now getting back on track, so life is somewhat back to normal here.
Life is far from normal yet in the northern hard-hit areas though. Thousands of people are still living in evacuation shelters. There are many organisations helping out but it's so much. I'm still shocked every time I see before and after pictures. Whole villages were washed away. It's going to take a long time for the people in the area to overcome this huge disaster.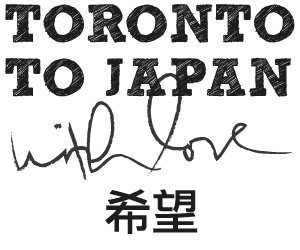 Toronto to Japan
is "a Toronto-based collective of Canadian artists, musicians, writers, activists and business leaders organizing events to raise relief funds for victims of the earthquake/tsunami in Japan." A special fund-raising event will be held in Toronto on April 21. Tickets go on sale next Wednesday and if you're in Toronto or nearby, do check it out, it sounds like a lot of fun.
Hope Blossoms, a night of entertainment inspired by the grand tradition of the Japanese variety show. Canadian icons including Margaret Atwood, Michael Ondaatje, Adrienne Clarkson, Bob Wiseman and Basia Bulat will share the stage to bring Torontonians laughter, tears – and hope. Not only a fundraiser, this is a show of solidarity for the people of Japan.
Also please consider joining in the
Hello Japan! mini-challenge
this month. Every month we focus on some aspect of Japanese literature or culture. For April the task is to learn a little something about Japan. And for everyone that participates I'll donate 500 yen to either the
Japanese Red Cross
, or
JEARS (Japan Earthquake Animal Rescue and Support)
. It doesn't matter if you've taken part before or not, we'd love to have you join us, and help support Japan at the same time.
As well, I'm looking forward to the special Japan aid anthologies that will be out soon.
Write for Tohoku
, which should be coming out soon in ebook form. You can sign up to be notified once it does.
Quakebook
, which will be released on April 15 as a Kindle ebook, and as a print edition later on.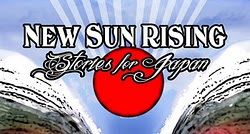 And one I just heard about,
New Sun Rising: Stories for Japan
, which is still accepting submissions until Monday, and sounds great.
We're hoping to get out to see the cherry blossoms tomorrow as they're now in full bloom here in Tokyo. The
sakura
are always tinged with sadness, and this year especially so.
---