The Silent Cry by Kenzaburō Ōe
万延元年のフットボール
(Man'en Gannen no Futtoboru)
First published in Japanese in 1967, English translation 1988
Translated from the Japanese by John Bester
Serpent's Tail trade paperback, 274 p.
Winner of the Nobel Prize for Literature in 1994
Two brothers, Takashi and Mitsu, return from Tokyo to the village of their childhood. The selling of their family home leads them to an inescapable confrontation with their family history. Their attempt to elude the influence of the city ends in failure as they realize that its tentacles extend to everything in the countryside, including their own relationship.

In 1994, Kenzaburo Ōe was awarded the Nobel Prize for Literature. Singling out The Silent Cry, the Nobel Committee stated that 'his poetic force creates an imagined world, where life and myth condense to form a disconcerting picture of the human predicament'.
I picked this book up several years ago, when we lived in Cambridge to be exact, for £1 at a book remainder sale. I'd flipped through the first few pages a few times over the years but never felt any real desire to actually read it. Then I discovered, thanks to
Tony
, that Haruki Murakami has been influenced by Oe's work, and the title of Murakami's early novella Pinball, 1973 is even a nod to
The Silent Cry
(the original Japanese title translates literally to 'Football in the First Year of the
Man'en era
'). I have to admit that this Murakami connection made me more curious about it, so we decided to put it back on the
Japanese Literature Book Group schedule
for this year (it had been tentatively scheduled for 2010 but was later removed).
Besides the title, a character in Murakami's early novels is named Rat, so when the main character in
The Silent Cry
is frequently called a rat, albeit in a very negative way here, I was immediately reminded of the Murakami stories. Mitsu, the main character of
The Silent Cry
, also spends time contemplating his life in the bottom of a hole, and later in a cellar, which of course brought to mind Toru in
The Wind-up Bird Chronicle
. But the surface similarities end there, for me anyway. While Murakami also often writes about male characters at a loss to explain the world around them, trying to find themselves, yet often unwilling to do much about it, there is that certain something about the straightforward way Murakami writes and the touches of surrealism that make for a fascinating, if often confusing, read. However, the main character in
The Silent Cry
was so apathetic and unlikeable, I just couldn't care about him, or any of the other characters, to be honest. The writing was fairly dense and morose, in keeping with the oppressive mood of the remote setting, but I really struggled to keep awake while reading it! Luckily it did improve somewhat in the second half of the book, and I was able to read through it more easily but it just couldn't capture my interest. As the story is only related through the veil of the main character's flawed perspective, perhaps his apathy was contagious?!
As it says in the blurb above, when Oe won the Nobel Prize for Literature in 1994, the Nobel Committee specifically mentioned
The Silent Cry
as an example in which Oe portrays "a disconcerting picture of the human predicament". Having read it, I
can
see what they were getting at. In
The Silent Cry
, the two brothers both struggle to overcome their personal demons. They've returned to the rural village where they grew up and both discover that despite their heritage, after so many years away, they've lost their roots in the village. Takashi, Mitsu's brother, tries to force himself back into the village life through dramatic, violent means, whereas Mitsu remains an outsider, an observer, not wanting to get involved. And that's pretty much how I felt, an observer, on the outside, not interested enough to get involved. Perhaps that was the point but whatever greater truth Oe was trying to explore here about self-sacrifice, suicide, mental illness, dishonor, and so on, ended up just words on the page for me, without any real impact. Sadly, it just didn't speak to me.
Yet, even though my first experience with Oe wasn't very good, I would like to give him another try and read his more recent novel,
The Changeling
, which was shortlisted for the
Man Asian Literary Prize
in 2010, and then see where I go from there.
Have you read The Silent Cry, or anything else by Kenzaburo Oe?
Tell me what I'm missing!
For those of you that couldn't get through it, will you try again?
Kenzaburo Oe (Nobel Prize website)
Kenzaburō Ōe (Wikipedia)
History Repeats by Kenzaburo Oe
(The New Yorker, on the recent natural and nuclear disasters)
Interview with Kenzaburo Oe
(The Paris Review)
Other thoughts:
Tony's Reading List
:
The Silent Cry is a superb book, packing a tremendous amount into its 274 pages. [T]his is a book which demands to be read and reread...
The Reading Life
:
To me the work of Oe is a great world class cultural treasure.
If you've read/reviewed
The Silent Cry
, let me know and I'll link to it here.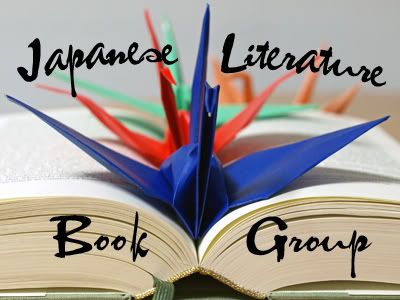 The
Japanese Literature Book Group
was started with the desire to read and discuss Japanese literature with others, and by doing so to hopefully gain a deeper understanding of the literature and culture of Japan. The
schedule for the Japanese Literature Book Group for 2011
is largely made up of suggestions from fellow JLit devotees and we'd love to have you join us. Click on the button for more information about past and upcoming reads.
The small print:
I purchased this book for my personal library.
Links in this post to Amazon contain my Associates ID. Purchases made via these links earn me a very small commission. For more information please visit my About Page.
---