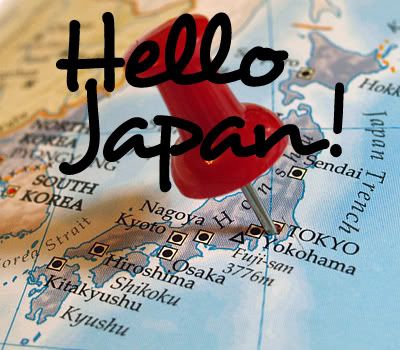 Thank you to everyone who took part in the
Hello Japan! mini-challenge
for April. For April the topic was
Back to School
and the task was
to learn something about Japan
, with a very special prize. Click on the links below to visit everyone's posts. (Also my apologies for the delay in posting these links. It's been a busy couple of days.)
Teresa
started us off with a little bit of Japanese she's learned.
I started to recognize my son's name when he'd write it in kanji and when I told him so in an email, he told me my name was written as テレサ
I've also learned a lot of school-kid slang from him that he learned from his students. The most popular seems to be 'kimoi,' which means 'gross,' but which they seem to use for anything even remotely silly or goofy, reminding me of how my siblings used the word 'weird' for just about everything when we were younger. His students are quick to tell him they aren't being mean or that they are joking if they use this word to him. :)
Novroz of
Polychrome Interest
shared her
reasons for learning Japanese
and even her favourite
kanji
.
Uniflame at
Uniflame Creates
posted about learning to make
origami lucky stars
.
Litera at
Litera-tour
was so busy learning Japanese that she didn't get around to writing a dedicated blog post but still wanted to share her efforts. (Such a great reason!)
The April's topic was a great opportunity for my to repeat hiragana and go back to learn Japanese. I love this language but I'm a little bit lazy sometimes and then I break my learning (I hope this won't recur again!). This month - as I said - I did repeat hiragana, but I still have problems with katakana. Writing Japanese is much more difficult than speaking... I've also turned back to learn words and phrases from a book that my friend gave me last summer - "Conversation Book for Everyday Japanese and English (4)" from the series "Point and Speak Handbook" written by Diane Nagatomo. I just love this book! It's really easy to learn new words and phrases from this book not only because each English word/phrase is translated into Japanese and written in kana and rōmaji but there are also illustrations that help find words very quickly. And learning from this book gives so much fun! :)
Gnoe of
Graasland
has been getting
reacquainted with origami
as well as learning
origata
(the art of gift-wrapping), how to fold an origami bookmark AND learning how to count to 10 in Japanese. Plus Gnoe very generously
pledged to make her own donation to JEARS (Japan Earthquake Animal Rescue and Support)
. Thank you Gnoe!
And I've been learning a little about sake, and how it's made. Despite living in Japan, I haven't really had much sake so I'm pretty much a beginner, but am looking forward to trying some of the different kinds soon.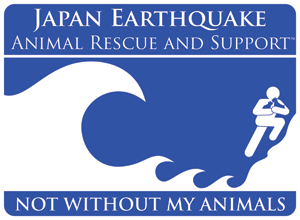 As you know, instead of an individual prize this time, I pledged to donate
500 yen for each participant
to either the
Japanese Red Cross
or
JEARS (Japan Earthquake Animal Rescue and Support)
. I wish we'd had a few more people join in, but every little bit really does help. Since the Japanese Red Cross has already received a lot of money through various charity projects, including some that we have supported as well, I hope you won't mind that I'll direct the total to JEARS. These volunteers are working tirelessly to rescue as many animals as they can and could really use any extra help. So I've already donated an additional
2500 yen
(approx. US$31) to them on your behalf, after my own personal donation. Thank you! If you would like to learn more about the work that JEARS is doing, you can visit the
JEARS website
, or the
JEARS Facebook Page
.
Also, please take a moment to watch this video and share it with anyone you think may be able to help.
On a happier note, if you haven't already seen the new Hello Japan mini-challenge,
May is Mystery Month
. I look forward to hearing about the mystery and mayhem you enjoy this month.
Happy reading!
---