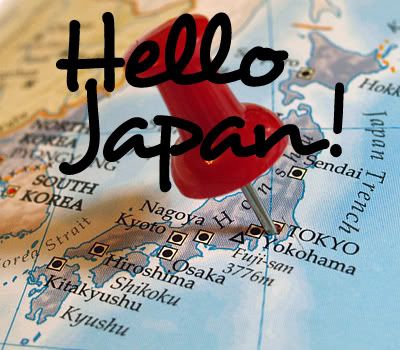 Thank you to everyone who took part in the
Hello Japan! mini-challenge
for May. The topic was
Mystery and Mayhem
and the task was
to enjoy a Japanese mystery story
. Click on the links below to visit everyone's posts.
PhoenixTerran of
Experiments in Manga
reviewed
Naoko by Keigo Higashino
.
Sarah at
semi-fictional
read
Out by Natsuo Kirino
.
Uniflame of
Uniflame Creates
went the manga route and reviewed
xxxHolic, vol. 1 by CLAMP
.
Sakura at
chasing bawa
also read a novel by Keigo Higashino,
The Devotion of Suspect X
.
litera of
litera-tour
watched some mystery dramas. She sent in her contribution by email this month, which you're always welcome to do.
So, May was the mystery month and for me - to be more precise – it was a detective story month, full of cases, investigations, murders, kidnapers, smugglers and... Shun Oguri as a detective and an elite cop. I do like this actor very much and watching him running with a gun and being so cool-headed was a pure pleasure!:)

The first detective drama I've watched to complete the challenge was... well, actually were two specials: Detective Conan: Kudo Shinichi's Written Challenge and Kudo Shinichi Returns! Showdown with the Black Organization. Who does not know the famous teenage detective Shin'ichi Kudō alias Edogawa Conan? Telling about this character would be a kind of waste of time, I suppose. The first volume of manga, on which the drama was based, was released 1994 and the series is still ongoing. I've never read manga with detective Conan, but I did enjoy watching anime, so I also had a great time watching both mentioned specials.

The second mystery drama this month was Tokyo DOGS. The main character, detective Sō Takakura, witnessed his father's murder at an age of 5. He's got only one dream – to catch Jinno, the murder of his father and (later) the Japanese mafia boss. Together with his investigation's partner Kudo Maruo he has to take care of Yuki Matsunaga, a girl who lost her memory and is probably linked to Jinno. Takakura and Maruo are totally mismatched and I was laughing out loud every time they've started to fight. It was a very good drama – at some places serious, at other quite funny, with a little taste of romance. If there is going to be a second season, I'll definitely watch it.
And although I haven't done proper reviews yet, I read a couple of Japanese mysteries. Both of
the Miyuki Miyabe titles
that I posted about earlier in the month. They were both light, fast mysteries and made for some enjoyable reading.
The prize for May was
one Japanese mystery novel of your choice
(up to $15 in price from
The Book Depository
). Letting random.org do its thing, the winner is
Sarah
.
Congratulations! Please let me know which Japanese mystery you'd like to receive and I'll get it ordered for you.
Also, apologies that I'm so late in getting the new challenge posted, it will be up very soon.
---