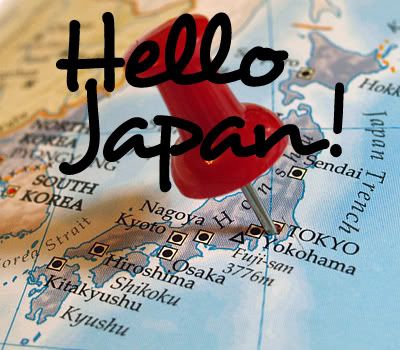 Hello Japan! is a monthly mini-challenge focusing on Japanese literature and culture. Each month there is a new task which relates to some aspect of life in Japan. Anyone is welcome to join in any time. Everyone who completes the task will then be included in the drawing for that month's prize. For more information, just click on the Hello Japan! button above.
July's Topic
Wikipedia
describes non-fiction as "an account, narrative or representation of a subject which is understood as fact. This presentation may be accurate or not; that is, it can give either a true or a false account of the subject in question. However, it is generally assumed that the authors of such accounts believe them to be truthful at the time of their composition." Whatever your interest, non-fiction can be a fascinating insight into real people, places and events. And through non-fiction we can gain a better understanding of the world around us.
July's Task
This month's task is to
enjoy some non-fiction about Japan
.
The most obvious way to complete this month's task is to read a non-fiction book about Japan. It can be about history, or current events. About a Japanese tradition, art or culture. Japanese society. Religion. Economics. Politics. Technology. Fashion. Food. Travel. A biography or memoir. A cookbook!
A few possibilities:
Tokyo Vice: An American Reporter on the Police Beat in Japan
by Jake Adelstein
Geisha
by Liza Dalby
A Geisha's Journey: My Life as a Kyoto Apprentice
by Komomo and Naoyuki Ogino
Princess Masako: Prisoner of the Chrysanthemum Throne
by Ben Hills
The Book of Tea
by Okakura Kakuzo
Goodbye Madame Butterfly: Sex, Marriage and the Modern Japanese Woman
by Sumie Kawakami
A Year in Japan
by Kate T. Williamson
Hitching Rides with Buddha: A Journey Across Japan
by Will Ferguson
The Pillowbook of Sei Shonagon
The World of the Shining Prince: Court Life in Ancient Japan
by Ivan Morris
Quakebook / 2:46 Aftershocks: Stories from the Japan Earthquake
... and so on.
If you don't have time for a book, you could read an article or short piece in a newspaper or magazine or online. You could also watch a documentary. Or view a collection of photographs. Basically, anything that is non-fiction, about real people, events or some aspect of life in Japan.
July's Prize
This month's prize is a copy of the book,
Pray for Japan
. Originally it was a website (
prayforjapan.jp
) compiling the tweets and messages of support from around the world in response to the earthquake and tsunami on March 11th. Now it's available as a bilingual book, with English translation under each entry in Japanese. And all proceeds from the book go to support the Tohoku area affected by the disaster. This article explains more about the project:
Tweets to cheer disaster victims find way into books
.
You can complete this month's mini-challenge by writing a blog post, telling us about what you did, and adding a link to your post, or by simply leaving a comment with your answer(s) on this post. If you prefer, you can also email me at inspringthedawn AT gmail DOT com with your submission. You are welcome to post or comment more than once and add the relevant links below. I love it when you are enthusiastic about a topic!
Once you have completed the task, don't forget to come back here to add your link to the Mr. Linky below. Please submit the link to the actual post, not just to your top page, and please only submit links to posts relating to the Hello Japan! task for this month. Any other links will be deleted. Thank you for your understanding. Please let me know if you have any questions.
The small print: Links in this post to Amazon contain my Associates ID. Purchases made via these links earn me a very small commission. For more information please visit my About Page.
---